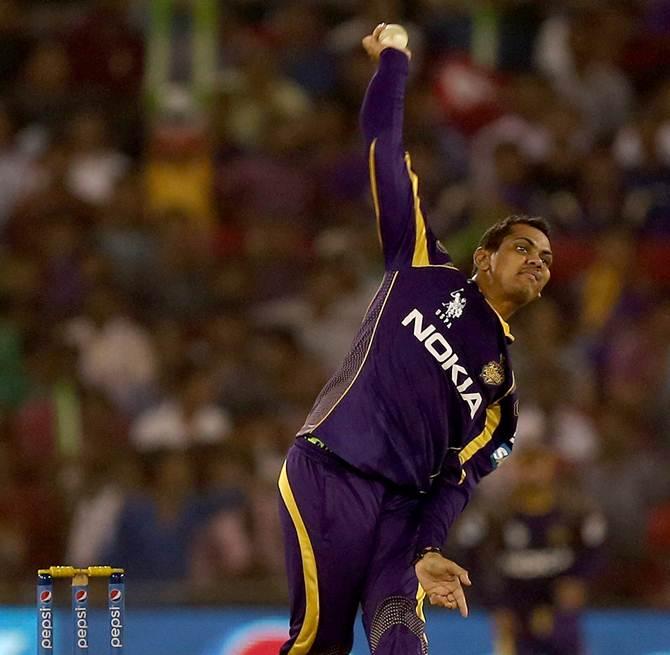 Kolkata Knight Riders' Sunil Narine. Photograph: BCCI
Kolkata Knight Riders' mystery spinner Sunil Narine found a fan in Virat Kohli.
India's Test captain says the West Indies bowler is "a class act in Twenty20 cricket and that is why even the Mumbai batsmen knew that even if he is bowling slower, it is going to be difficult for the batsmen to pick him up".
Narine conceded just 28 runs from his four overs against Mumbai Indians as Kolkata Knight Riders won the opening match of IPL 8 by seven wickets.
"All the issues with the bowling action and what not, he has got the skill and that is why he is able to pitch the ball in the right areas and get so many wickets in the IPL.
"It is not a thing that his action was the reason why he was bowling well, he has got the skill in his hand. Otherwise, you won't be bowling at this level and getting world class batsmen out in the IPL," he said about Narine.
Kohli said Narine is bowling slower but still difficult to pick.
"I saw him bowl. I felt he is bowling slower than what he was bowling before, but even then he was difficult to pick. He has got the skill whatever said and done," Kohli said.
Kohli further said Chris Gayle looks fit and is raring to go, having recovered from a troubled back.
"Yesterday we saw him run, bat and field. It's probably the fittest I have seen him over the last three years. It was pleasing to see him run around and be agile and very active in practice, because him being fit is always a boost for us and a thing to think about for the opposition, because he can field, bat and bowl. So, it's a big positive for us."
He termed Aussie recruit Sean Abott a complete cricketer and expressed hope that he would fill the void left by Mitchell Starc who is ruled out for three weeks.
"Sean is as talented a bowler as anyone is likely to pick in T20 cricket. He bats well, he is a power hitter, bowls really well at the death. He is a complete cricketer and to have someone like that at No 7 or 8 is a huge positive for any team.
"Obviously we will miss Mitchell Starc at the start of the tournament, but him coming fresh at the business end or the middle of the tournament is going to be a huge boost for us. Also it gives someone like Sean an opportunity to come in the IPL and show what he has got and perform and become more confident as a cricketer."