New Zealand all-rounder Scott Styris on Friday announced his retirement from international cricket on his own terms, although he will stay involved in the Twenty20 format for Northern Districts and his Indian Premier League side Chennai Super Kings.
Styris's impact on the New Zealand team since his debut in 1999 lay much deeper than the statistics normally used to rate a player's contribution.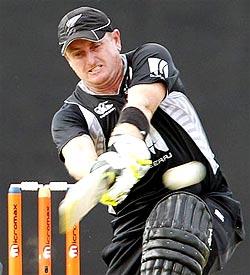 His fierce competitive nature revealed itself out in the middle, as well as his in own dressing room where Styris had a habit of winding up his teammates, who responded by bestowing him with the nickname Pig, as in pigheaded.
"It can rub some people up the wrong way at times because not everyone has the same level of competitiveness. But I would not have it any other way, I enjoyed playing my cricket that way," he told NZPA from England.
Having retired from the Test arena in 2008, the 35-year-old told his New Zealand one-day teammates about his plans after they were eliminated in the semi-finals of the World Cup in March.
"The worst thing about getting older when you play sport is that you feel you can no longer do all the things you used to do. The reason I was an all-rounder was because I loved being involved in the game. If you miss with the bat you get an opportunity to make up for that with the ball," Styris said.
As a team man nothing bettered creating firsts or doing well overseas, stuff.co.nz reports.