New Zealand [ Images ] batsman Ross Taylor [ Images ] has been named as the team captain, replacing Daniel Vettori [ Images ], New Zealand Cricket said on Tuesday.
The current vice-captain, Taylor, 27, had been in a tussle for the top job with wicketkeeper/batsman Brendon McCullum [ Images ] after Vettori retired from the position following the team's semi-final loss to Sri Lanka [ Images ] at this year's World Cup in March.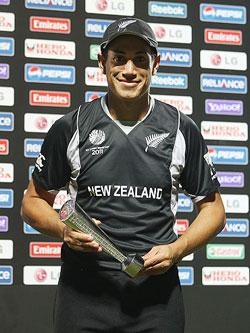 Taylor has played 30 Tests, 107 one-day internationals and 37 Twenty20 [ Images ] internationals since making his New Zealand debut in 2006. The aggressive middle-order batsman averages 41 in test matches and 37 in one-day internationals.
Taylor's first assignment will be a two Test series in Australia [ Images ] in December.
At the time of the World Cup Vettori, 32, said he would continue to play Test matches, but would retire from Twenty20 internationals and was still considering his future in the one-day game.