Keen to hone his leadership skills before next year's Twenty20 World Cup, injured England paceman Stuart Broad is eyeing return to competitive cricket when India host his side for a one-off clash on October 29.
Broad, the new T20 captain of the side, will miss the preceding five-match ODI series against India but he is motivating himself to regain fitness before the T20 clash. Broad had suffered a shoulder injury during the fourth ODI against India at Lord's and had missed out on two T20 games against the West Indies.
"I've got it in mind that I want to play that Twenty 20 game in India. It's a tight target but you've got to have those targets to get you through the mornings in the gym," Broad said.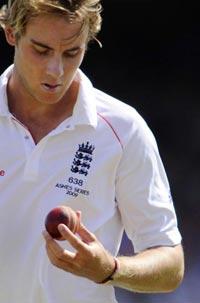 "It's going OK. The muscle's torn so it takes time to heal. I've got another week's rest then it's rehabilitation in October. It's an intense rehabilitation programme and I'm looking forward to getting under way," Broad was quoted as saying by 'Daily Telegraph'.
"It's a two-month injury but it's a right shoulder injury so I've got to be careful; that's my career."
Since England will play only a fewer T20 games before the T20 World Cup in Sri Lanka, Broad is keen to get as much experience of leading the side as possible. "Missing these two games was disappointing. We've got a Twenty20 World Cup this time next year and it's important to learn and build going into that," he said. Broad, who also suffered a stomach muscle tear during last winter's Ashes, acknowledged the packed international calender but refused to blame it for his injuries.
 "It's part of professional sport, you're going to pick up injuries. We do play a huge amount, it takes a toll on your body and when you get time to recuperate you have to use it wisely," he said.