Statistical highlights of the fourth day's play of the third cricket Test between India and Sri Lanka in New Delhi on Tuesday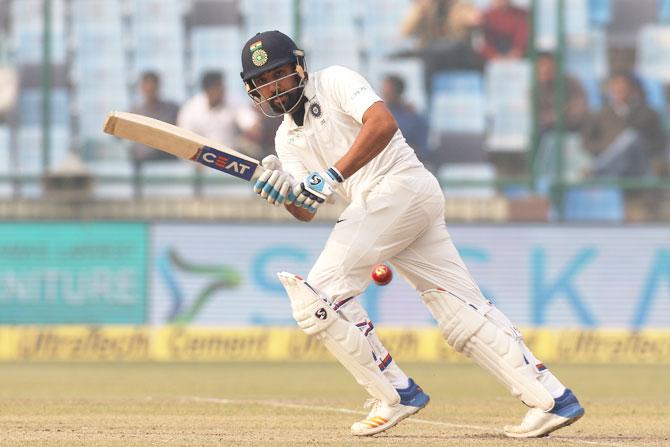 IMAGE: Rohit Sharma bats during his innings of 50 n.o. Photograph: BCCI
# Rohit Sharma has been a consistent performer in recent Tests. For the first time in Tests, he has recorded five successive innings of 50-plus - 82 & 51 not out vs New Zealand, followed by 102 not out, 65 & 50 not out vs Sri Lanka in the present series.
# For the first time, Rohit has recorded strike rate of 100-plus in a Test innings - 102.04 (50 not out off 49 balls). His previous best being 87.40 while scoring 111 not out off 127 balls vs West Indies at Mumbai in November 2013 (in his second Test).
# Cheteshwar Pujara has taken his runs' tally to 1140 at an average of 67.05 including four centuries and five fifties in eleven Tests - the highest by a batsman in Tests this calendar year, eclipsing South Africa's Dean Elgar's tally of 1097 (ave. 54.85), including five centuries and four fifties, in 11 Tests.
# Virat Kohli, with 293 runs (243 + 50) has set a record for most runs by an Indian captain in a Test match, eclipsing Sunil Gavaskar's 289 (107 & 182 not out) vs West Indies in the 1978-79 Kolkata Test.
# Kohli is the second Indian captain after Sunil Gavaskar (205 & 73 vs West Indies at Mumbai in 1978-79) and the seventh to post a double century and a fifty in the same Test match.
# Kohli's tally in international cricket (Tests/ODIs/T20) this year - 2818 runs at an average of 68.73 in 46 matches - is the third highest in a calendar year behind Kumar Sangakkara (2868 at 53.11 in 48 matches in 2014) and Ricky Ponting (2833 at 56.66 in 46).
# Kohli is the second captain to amass 600 runs in a three-match Test series - 610 at an average of 152.50, including three centuries and a fifty - the second highest tally behind Graham Gooch's 752 runs, including three hundreds and two fifties, at an average of 125.33 vs India in 1990.
# Kohli is now the first Indian captain to aggregate 600-plus twice in a Test series. He had first achieved the feat against England in 2016-17 - 655 runs at an average of 109.16, including two hundreds and two fifties, in the five-Test
series. Apart from two instances by Kohli, Sunil Gavaskar remains the only Indian captain to achieve the distinction - 732 (ave.91.50) in six Tests vs West Indies in 1978-79.
# Apart from two captains scoring 600-plus in a three- Test series, two batsmen could manage the feat - West Indian Brian Lara (688 runs at an average of 114.66 vs Sri Lanka in2001-02) and Pakistan's Mohammad Yousuf (665 runs at 133.00 vs West Indies in 2006-07).
# As Kohli had also scored 692 runs(ave.86.50) in the four-match Test series vs Astralia in 2014-15, he remains the only Indian batsman to amass 600 runs in a Test series thrice.
# For the first time in successive calendar years, Kohli has averaged 75-plus in Tests - 1215 runs (ave. 75.93) in 12 Tests in 2016 and 1059 runs (ave.75.64) in 10 Tests in 2017.
# As compared to his home average of 63.50, Kohli is averaging 45.13 in overseas Tests.
# Kohli has become the sixth Indian batsman to complete 1,000 runs vs Sri Lanka in Tests - his tally being 1004 (ave.77.23), including five hundreds and two fifties, in just nine Tests. He has joined Mohammad Azharuddin, Sachin
Tendulkar, Rahul Dravid, Sourav Ganguly and Virender Sehwag to accomplish the feat. Kohli's average is the highest among the Indian batsmen with 1,000 runs or more vs Sri Lanka.
# Shikhar Dhawan (2014 runs at an average of 43.78 in 28 Tests) became the 38th Indian batsman to complete 2000 runs or more in Test Cricket.
# Dhawan's record against Sri Lanka is quite impressive, aggregating 712 in ten innings (six Tests) at an average of 71.20, including three hundreds and two fifties.
# Since recording 132 vs Sri Lanka at Colombo, SSC in August 2017), Ajinkya Rahane has scored only 34 runs in six innings at an average of - his scores are 17, 4, 0, 2, 1 & 10.
# Rahane, in the current rubber, is averaging just 3.40 at a strike rate of 20.73 - the aggregate is 17 runs in five innings. His poor strike rate and the batting average are his worst in a Test rubber.
# Dinesh Chandimal (164) has posted his highest score in Tests, eclipsing the 162 not out vs India at Galle in August 2015.
# Chandimal became the first Sri Lankan skipper to register an innings of 150-plus in a Test innings in India.
# Chandimal's innings is the highest by a visiting captain at Feroz Shah Kotla. Two West Indian captains had scored hundreds at this venue - Clive Lloyd (103 in 1983-84) and Vivian Richards (109 not out in 1987-88).
# For the sixth time in Tests, both captains have recorded 150 or more in the same Test.
# Suranga Lakmal's 13th duck in Tests is his first vs India.