Sri Lankans Thirimanne, Chandimal and Prasad also charged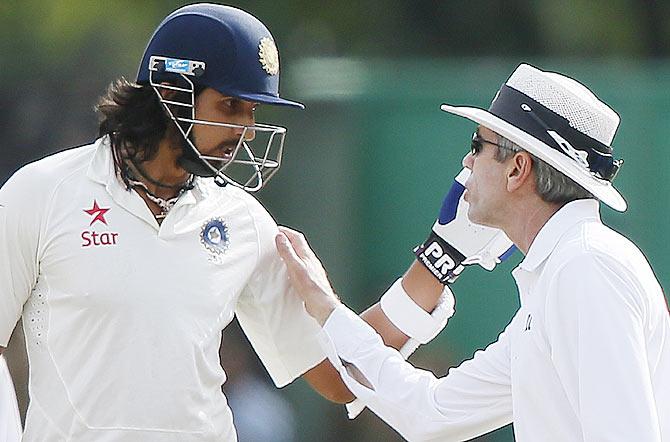 IMAGE: Umpire Nigel Llong, right, speaks with India's Ishant Sharma after an argument between Sharma and Sri Lanka bowler Dhammika Prasad (not pictured) during the fourth day of the third and final Test in Colombo on Monday. Photograph: Dinuka Liyanawatte/Reuters
India pacer Ishant Sharma and three Sri Lankan players have been charged for misconduct during the third Test between the neighbours, the International Cricket Council said on Tuesday.
- Prasad's bouncers make Ishant animated, furious!
- Gavaskar slams on-field rows during India-Lanka series
Sharma, who was fined 65 percent of his match fees for giving send-offs to Lahiru Thirimanne and Dinesh Chandimal in the second Test, landed in trouble with the Sri Lankans in the final contest as well.
Thirimanne, Chandimal and paceman Dhammika Prasad, who had an animated altercation with Ishant on Monday, were also charged with code of conduct breaches, the ICC added.
"Details to be announced after the conclusion of the Test," the governing body said on Twitter.
Tempers flared on Monday when Ishant, after taking a single and running past Prasad, was seen smacking his own head, as if daring the bowler to try and bounce him.
Chandimal joined from slips, brushing shoulders with Ishant.
At the end of India's second innings, as Ishant ran towards the Indian dressing room to change and get ready to bowl, Prasad also charged behind the Indian, as if trying to catch up with him.
Ishant had earlier given animated an send-off to Upul Tharanga and broke into wild celebration after Chandimal's dismissal.
The umpires have spoken to both captains and the players. Ishant face stringent punishment.