'The kids are watching and international players are role models. This is just a sport which should be enjoyed. You don't want the parents to tell their kids that you should not play this sport'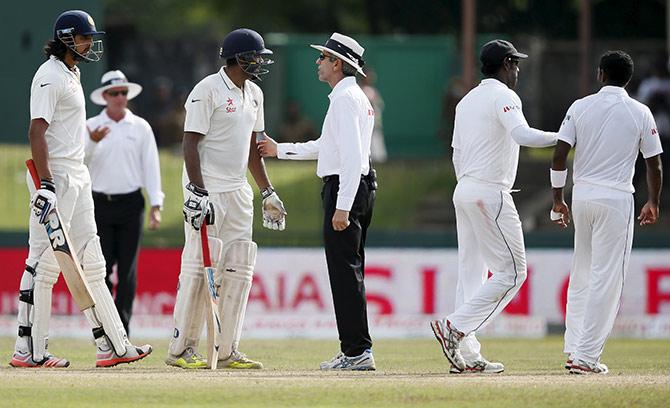 IMAGE: Umpire Nigel Llong, centre, cautions Ishant Sharma, left, and Ravichandran Ashwin (second from left, as Sri Lanka captain Angelo Mathews, second right, leads Dhammika Prasad away on Day 4 of the third Test. Photograph: Dinuka Liyanawatte/Reuters
Former India captain Sunil Gavaskar condemned the ugly on-field altercations between Indian and Sri Lanka players on Day 4 of the third and final Test in Colombo on Friday, saying such incidents are poor advertisement for the sport.
India pacer Ishant Sharma exchanged a few words with Dhammika Prasad and Dinesh Chandimal on Friday, while on Thursday the gangling bowler argued with Rangana Herath and Kusal Perera.
"These are some of the scenes that you don't want to see. The kids are watching and international players are role models. This is just a sport which should be enjoyed. You don't want the parents to tell their kids that you should not play this sport," Gavaskar told NDTV.
However, the batting legend was impressed with Ishant's bowling in the ongoing Test, in which having the hosts have been reduced to 67 for 3 after set a daunting target of 386 for victory.
"He was terrific. The wrist position is better, the seam is upright, the away-going delivery seems to have come back. It's good news for Indian cricket. If he can control (his temperament), it's good (for the team)," he said.
IMAGE: Amit Mishra during his knock of 39 on Day 4 of the third and final Test against Sri Lanka. Photograph: Dinuka Liyanawatte/Reuters
Gavaskar also had some advice for Stuart Binny.
"His partnership with Rohit Sharma steadied the innings. He played as he usually plays. If he can stop thinking about aerial shots, it will be good. He should play his shots, but along the ground."
The former batting ace was also impressed with the way the lower-order batsmen performed.
"It was fantastic. It was good to see the application shown. Amit Mishra was promoted and wickets in first innings must have spurred him on. The determination required was there. You just don't sell your wicket cheaply. Make it hard for the opponents," he said.
Asked about the struggle of the openers of both the teams in the series, he replied: "The credit goes to the new ball bowlers. The kind of line and length they bowled made the job of the openers tough. There surely was technical deficiency. They played with foot forward and missed the range of shots on the back-foot."
- Also read: Prasad's bouncers make Ishant animated, furious!