Although sounds strange, it's a fact that despite having legions of fans in India since he began striding the cricket world like a colossus, Don Bradman never toured this country irrespective of many invites. 
The only time he set foot on Indian soil just for a while was also not by choice but because of circumstances. On way to England in 1953 to cover the Ashes for Daily Mail, his aircraft had to land at the Kolkata airport for refuelling. The news spread like wildfire across the City of Joy.
Though retired, Bradman was still as popular as ever. No sooner did a "visibly reluctant" Bradman enter the Dum Dum waiting room than a horde of people thronged for his glimpse. A livid Bradman ordered the authorities to guard his privacy. 
But since it wasn't possible to control the increasing crowd, he was taken to a quiet, safer place in an army vehicle. He later pulled up the airline for what he considered a "breach of confidentiality".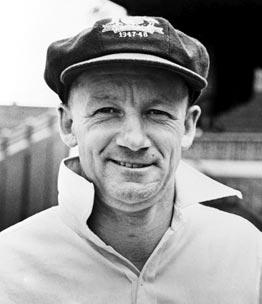 In later years, Bradman regretted having never toured India as a player. Also, he was magnanimous in his praise of many Indian cricketers who played against him in the five-Test series Down Under in 1947-48 and those who subsequently impressed him. 
Bradman led Australia to a 4-0 victory in that rubber and scored 715 runs at 178.75 in just six innings. His scores were: 185, 13 (bowled by Vijay Hazare), 132, 127 not out, 201 and 57 (retired hurt).
RC Robertson-Glasgow narrated an interesting anecdote about Bradman's 100th first-class century, which he completed against India while playing for an Australian XI just before the Test rubber got underway. "At the historical statistical moment, when Bradman was about to go from 99 to 100, Gogumal Kishenchand was trying to deliver the ball with one hand and applaud with the other, a feat that is beyond the most enthusiastic practitioner," observed the English cricket writer.
Hazare, Vinoo Mankad and Dattu Phadkar were some of the players who earned rich encomia from Bradman for their "courageous" batting against the Australian quicks.
Bradman defended Mankad for twice running out Bill Brown in a bizarre fashion, backing up too far at the bowler's end before delivery of the ball. Against Queensland, Brown was warned by Mankad, but he backed up very far a second time during a run chase and was run out. Mankad didn't warn when Brown (18) was found out of his crease in the second Test in Melbourne. 
While the Australian media accused the Indians of being unsporting, Bradman supported Mankad's action.
"The laws of cricket make it quite clear that the non-striker must keep within his ground until the ball has been delivered. If not, why is the provision there which enables the bowler to run him out? Mankad was scrupulously fair that he first of all warned Brown before taking any action. There was absolutely no feeling in the matter as far as we were concerned, for we considered it quite a legitimate part of the game," wrote Bradman in his autobiography Farewell to Cricket. ('Mankad' has long been an officially approved term in the cricketing lexicon and any batsman getting out this way is described as being 'Mankaded'.)
Bradman singled out his Indian counterpart Lala Amarnath for his "positive approach" to batting and captaincy. Bradman was "disappointed" that Amarnath, who struck a purple patch with the willow on the tour, wasn't seen at his best in the Tests. He felt the same at not getting to see Vijay Merchant, who had skipped the tour, and CK Nayudu bat.
Bradman was all praise for Sunil Gavaskar and Gundappa Viswanath for their masterly batting against Jeff Thomson on the greentops down under in 1977-78. To him, Gavaskar was "technically very sound" and Viswanath "all elegance and a sheer delight to watch".
When Gavaskar toured Australia with the Rest of the World in 1972-73, the Don advised him to try and find the perfect blend between defence and attack. Gavaskar followed Bradman's advice and went on to break his world-record of 34 Test centuries. "You're an ornament to cricket" said Bradman in his congratulatory message to Gavaskar.
But it's Sachin Tendulkar whom Bradman had taken to his heart. "I see a very bright future for this lad," he told me in a letter after watching teen Tendulkar's 148 not out at Sydney and 114 in Perth. As Tendulkar scaled dizzier heights over the years, Bradman's admiration for him also grew. "Tendulkar reminds me of my own batting," he once told his wife Jessie Menzies. She endorsed his observation.
As if that weren't enough, Bradman invited Tendulkar to his home in Adelaide on his 90th birthday, an honour he hadn't bestowed even on Vivian Richards. Tendulkar spent one full hour in Bradman's inspiring company, discussed cricket, photographed with him and got his autograph on several bats.
According to Tendulkar, the Don was "courtesy and dignity personified". In fact, Bradman came out to say good-bye to him. "What a bonzer little fellow. He is a lovely chap," he told his son John Bradson after Tendulkar left. (Bonzer in Australian slang means a cheerful, remarkable or wonderful person.)
Later Bradman included Tendulkar in his Dream Team. The Dream Team in batting order was as follows: Arthur Morris, Barry Richards, Don Bradman, Sachin Tendulkar, Gary Sobers, Don Tallon (wicketkeeper), Ray Lindwall, Dennis Lillee, Alec Bedser (England), Bill O'Reilly and Clarrie Grimmett. 12th man: Walter Hammond.