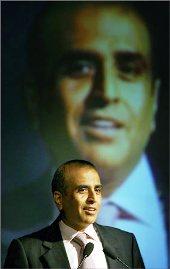 Bharti Airtel's Chairman and Managing Director Sunil Mittal saw his full-year pay package dip to nearly Rs 21.3 crore (Rs 213 million) in 2011-12, even as he is entitled to an annual remuneration of up to Rs 70 crore (Rs 700 million).

Mittal's remuneration in the year ended March 31, 2012, fell by about 22 per cent (about Rs 6.2 crore or Rs 62 million) from close to Rs 27.5 crore (Rs 275 million) in the previous year.

His salary was about Rs 23.5 crore (Rs 235 million) in 2009-10.

As per Bharti Airtel's latest annual report, Mittal's pay package in 2011-12 included salary and allowances of about Rs 9.58 crore (Rs 95.8 million), performance linked incentive of Rs 11.25 crore (Rs 112.5 million) and perquisites worth about Rs 44.7 lakh (Rs 4.47 million).

While Mittal's salary and allowances have remained uncharged from Rs 9.58 crore (Rs 95.8 million) in the previous fiscal, the performance linked incentives have declined from Rs 17.87 crore (Rs 178.7 million) and perquisites have risen from Rs 4,83,000 in 2010-11.

Last year on August 1, Bharti Airtel had proposed an annual pay package of up to Rs 70 crore (Rs 700 million) for Mittal, besides other benefits, till September 30, 2016.

The company, however, had later clarified the same day that Mittal would not get any hike during the fiscal 2011-12.

"The proposal to revise the remuneration of its chairman and managing director Sunil Bharti Mittal up to a maximum of Rs 70 crore (Rs 700 million) as proposed in the company's 2011 AGM notice, is an enabling provision for the next five years, and should be seen in that light," the company had said at that time.

The approved package for Mittal includes a total fixed pay (inclusive of salary, allowances and retirement benefits) of up to Rs 20 crore (Rs 200 million) per annum, variable pay (performance-linked incentives) of up to 200 per cent of the annual fixed pay in a financial year, and also perquisites worth up to 50 per cent of the fixed pay, taking the total package to an amount not exceeding Rs 70 crore (Rs 700 million).

Besides, Mittal is also entitled to other benefits like leave encashments and reimbursements of all 'legitimate expenses incurred by him in performance of his duties'.

During 2011-12, remuneration of Manoj Kohli, CEO (International) and Joint MD, stood at about Rs 1.45 crore (Rs 14.5 million).

Remuneration to Kohli is paid from Bharti Airtel International (Netherlands) BV, a wholly owned subsidiary of Bharti Airtel, where he has been appointed as Managing Director, the company said.

Sunil Bharti Mittal's remuneration is approved by the board within the limits approved by the shareholders on the basis of the recommendation of the HR Committee.

The executive directors' remuneration has two components -- fixed pay and variable pay (performance linked incentive).

While the fixed pay is paid to the directors on a monthly basis, the performance-linked incentive is paid on the basis of individual performance after the end of the financial year.
Image: Sunil Mittal | Photograph: Vijay Mathur/Reuters