South Africa clinched the Twenty20 international series against New Zealand after Marchant de Lange claimed two wickets in an eventful final over to seal a thrilling three-run victory in the third and final match in Auckland on Wednesday.
Having restricted South Africa to a modest 165 for seven at Eden Park, New Zealand cruised to 65 without loss inside six overs but a middle order collapse eventually left them needing seven runs off the last over with five wickets in hand.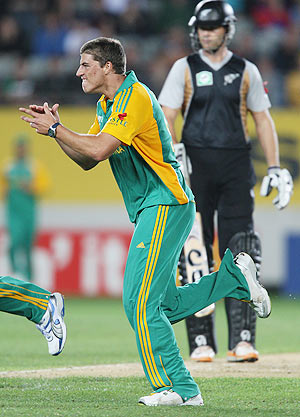 Playing in his second Twenty20 international, 21-year-old de Lang conceded a single off the first delivery of the final over but removed Nathan McCullum and Doug Bracewell for ducks with the third and fifth deliveries.
Needing six off the last delivery, New Zealand were handed a break as de Lange delivered a front-foot no-ball, which James Franklin scored a single off.
A four off the last ball would have sealed victory for the hosts but Tim Southee could not even make contact with the free-hit delivery which de Lang fired past his off-stump.
For New Zealand, Jesse Ryder top scored with 52 but Rob Nicol was the top performer, claiming two wickets, taking as many catches and assisting in a crucial run out before returning to hit a brisk 33.
Earlier put into bat, South Africa found going tough against New Zealand's disciplined bowlers and rode on cameos from JP Duminy (38), Hashim Amla (33) and skipper AB de Villiers (29) to reach 165 for seven wickets.
Opener Richard Levi (11), who blasted the fastest Twenty20 international century in the previous match, could not replicate his Hamilton performance while Albie Morkel (10) failed to justify his promotion to the number three slot.
Duminy looked in great touch but was unfortunate to be run out when he backed up too far at the non-striker's end and bowler Nicol collected the de Villiers straight drive and whipped off the bails.
Despite the victory, an apparent injury to de Villiers will worry South Africa ahead of the three-match one-day series starting in Wellington on Saturday.
The wicketkeeper-batsman appeared to hurt his left hamstring while trying to play a reverse pull shot and was seen limping when he came out to field.
SCORECARD
South Africa
R. Levi c Nicol b Franklin 11
H. Amla c McCullum b Bracewell 33
A. Morkel c Nicol b Southee 10
AB de Villiers b Nicol 29
J.P. Duminy run out 38
J. Ontong lbw b Nicol 6
J. Botha c Guptill b Southee 2
W. Parnell not out 22
R. Peterson not out 11
Extras: (lb-1,w-2) 3
Total: (For 7 wickets in 20 overs) 165
Fall of wickets: 1-20, 2-39, 3-59, 4-121, 5-129, 6-130, 7-137
Bowling: Hira 2-0-20-0(w-1), Bates 3-0-29-0, Franklin 2-0-23-1, Southee 4-0-22-2, Bracewell 4-0-28-1 (w-1), N. McCullum 2-0-22-0, Nicol 3-0-20-2
New Zealand
R. Nicol c Levi b M Morkel 33
M. Guptill c Amla b Botha 26
J. Ryder c M. Morkel b Botha 52
B. McCullum c de Villiers b Peterson 18
K. Williamson c A. Morkel b M. Morkel 6
J. Franklin not out 9
N. McCullum c de Villiers b de Lange 0
D. Bracewell c Amla b de Lange 0
T. Southee not out 0
Extras: (lb-5, w-12, nb-1) 18
Total: (For 7 wickets in 20 overs) 162
Fall of wickets: 1-65, 2-73, 3-112, 4-142, 5-158, 6-160, 7-160.
Bowling: Peterson 4-0-34-1, de Lange 4-0-36-2(nb-1, w-2), A. Morkel 1-0-13-0(w-1), M. Morkel 4-0-31-2(w-2), Botha 4-0-20-2(w-2), Parnell 1-0-14-0, Duminy 2-0-9-0.