Martin Guptill continued his rich run of form as he scored 78 not out to help New Zealand to a six-wicket victory over South Africa in their Twenty20 international at Wellington Regional Stadium on Friday.
Guptill anchored the New Zealand run chase as the hosts scored 148 for four in 19.2 overs after South Africa had scored 147 for six in their 20 overs with JP Duminy scoring 41.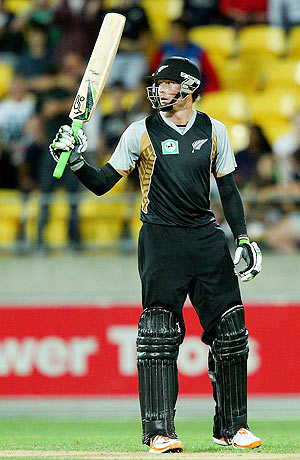 The 25-year-old Guptill had plundered the much weaker Zimbabwean attack in the first series of New Zealand's summer, scoring 232 runs at 77.33 in the three one-day internationals before he smashed 91 not out in his only Twenty20 appearance.
On Friday the opening batsman took on a much stronger attack and hammered four sixes in his 55-ball innings, including two in one Lonwabo Tsotsobe over that went over 100 metres. The second actually hit the roof of the stadium and was measured at 127 metres on the fly.
James Franklin belted the winning runs with a four to the cover boundary with four balls remaining to give the hosts a 1-0 lead in the best of three series.
New Zealand's bowlers had contained the South African batsmen throughout their innings, though Justin Ontong belted part-time off-spinner Kane Williamson for four successive sixes as the visitors took 26 runs off his second, and last, over. Williamson's first over had only cost him one run.
Ontong (32) had combined in a 50-run partnership with Duminy though both fell to Tim Southee, who had the best figures of the New Zealand attack with three for 28, just when they needed to ensure they stayed together to help build an imposing total.
Doug Bracewell conceded just 10 runs off three overs, while off-spinner Nathan McCullum, who opened the bowling, finished with one for 16 off four overs.
The second match is on Sunday at Seddon Park in Hamilton.
Scorecard:
South Africa:
R Levi c Bracewell b Southee 13
H Amla run out 19
C Ingram st B McCullum b N McCullum 0
A B de Villiers c Guptil b Hira 8
J P Duminy c Mills b Southee 41
J Ontong c & b Southee 32
J Morkel not out 13
J Botha not out  14
Extras: (LB-7) 7
Total: (For 6 wickets in 20 overs) 147
Fall of wickets: 1-24, 2-34, 3-38, 4-52, 5-102, 6-127
Bowling: N McCullum 4-0-16-1, Mills 4-0-44-0, Southee 4-0-28-3, Hira 2-0-12-1, Bracewell 3-0-10-0, Williamson 2-0-27-0, Nicol 1-0-3-0.
New Zealand:
R Nicol c Amla b Theron 13
M Guptill not out 78
B McCullum b Duminy 16
K Williamson run out 24
C de Grandhomme c Levi b M Morkel 2
J Franklin not out 8
Extras: (LB-3, W-2, NB-2) 7
Total: (For 4 wickets in 19.2 overs) 148
Fall of wickets: 1-49, 2-90, 3-127, 4-136
Bowling: A Morkel 3-0-20-0, Tsotsobe 3-0-28-0, M Morkel 4-1-26-1, Botha 3.2-0-24-0, Theron 4-0-27-1, Duminy 2-0-20-1.