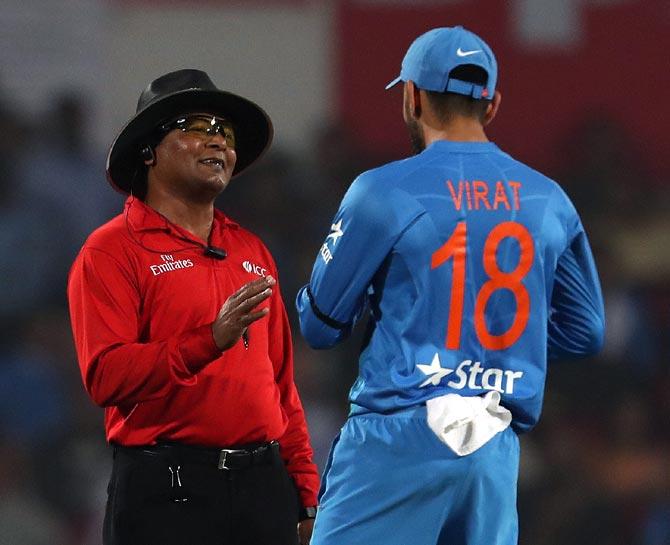 IMAGE: India captain Virat Kohli speaks to umpire Chettithody Shamshuddin. Photograph: BCCI
India pacer Jasprit Bumrah on Tuesday sought to play down the controversy surrounding poor umpiring in the second T20 International between India and England in Nagpur on Sunday, saying both sides will have to move on with the game as decisions do not always go in favour of only one team.

"We don't focus too much on decisions made by umpires. Sometimes it goes in our favour and sometimes in their favour. That happens in cricket, so we have to move on with the game," Bumrah told reporters on the eve of the third and final T20 International against England, in Bengaluru, on Wednesday.

He was replying to a query on Morgan's frustration over the quality of umpiring after the visitors had lost the second T20 match by five runs. Joe Root was given out leg before wicket despite an inside edge by umpire Chettithody Shamshuddin in the final over of the match, as India snatched a five-run victory in a close finish.

Bumrah said the guidance from veteran pace colleague Ashish Nehra has been of great value.

"I have played a few matches with him. Also played a World T20 match. His guidance is always valuable because he has played a lot of international matches and in a nice position to share his experience with us," he said.

On his back of length deliveries executed in death overs, Bumrah said it is not right to have one kind of line and length balls in every match and should be adjusted according to the kind of wicket.

"It depends on the wicket. The back of length and slower deliveries on a big ground are helpful, but it is not the case on a smaller ground, because you may be hit for runs. The margin of error is less for any bowler in smaller grounds," he said.

The fielding of the Indian players were sloppy in the previous match but Bumrah said the team is working on how to make improvement in that department of the game.

"It's always difficult when there is dew. In the last match, there was a lot of dew. The ball comes faster than you expect. The high catches also become difficult because the ball is wet. It happens, we are working on it," Bumrah said.

"As a fielding unit, we have been doing well in the ODI series. It happens. Let's see how it goes in next match."