Members of the Sialkot Stallions team that went to South Africa late last year to play in the Champions League Twenty20, remain unhappy with the share given to them from the appearance fee of $ 500,000 by the Pakistan Cricket Board.
A well-placed source said that the Sialkot Stallions had only been paid $ 100,000 from the appearance fee of $ 500,000 received by the PCB from the organisers of the CLT20.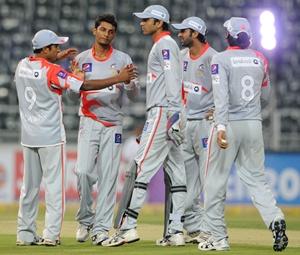 "The $ 100,000 was distributed among the players and officials who went with the team," the source said.
He added that the players, in particular, had expected another installment from the board from the appearance fee but so far nothing has come their way.
"The players were expecting they would get at least half of the $ 500,000 appearance fee but so far this has not happened," the source said.
Former Pakistan Test captain Shoaib Malik had led the Sialkot Stallions side in the CLT20 but the team failed to qualify for the main rounds.
Sialkot Stallions became the first domestic team from Pakistan to be allowed to compete in the tournament by the organisers, which include the boards of India, South Africa and Australia.
A official in the board, on condition of anonymity said the PCB had done nothing unusual.
"It was decided before the Champions League and before the team left for South Africa how the money distribution would take place. If the players had qualified for the main round and got prize money they would have been allowed to distribute it among themselves," the official explained.
"But it was pre-decided that the board would keep majority chunk of the appearance fees," he added.
Another source said that the organisers of the CLT20 usually pay the appearance fees to the home boards of the participating teams.
The PCB has to survive on its share of money from the International Cricket Council for participating in ICC events and earnings from its own commercial ventures.
The source said there was no doubt that the expenses at the moment were high and majority of the expenses pertained to payments to players, on regional domestic cricket and on development projects.
"There has been no international cricket in Pakistan since 2009 and since then our earnings from home series have gone down as these have had to be held at neutral venues because of refusal of teams to play in Pakistan due to security reasons," he explained.
Photograph: Lee Warren / Gallo Images / Getty Images