Pakistan's former Test spinner Hasib Ahsan, who as a selector was credited with discovering all-rounder Wasim Akram, died on Friday at the age of 73.
The Karachi City Cricket Association said in a statement that he had passed away after a prolonged illness having been on dialysis for the last two years.
- Check out the IPL 2013 schedule
He played 12 Tests between 1958 and 1962 but his bowling action was questioned several times.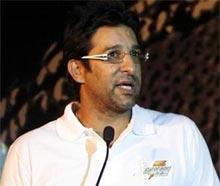 Ahsan had more of an impact as an administrator.
"He was the one who saw me first and than took the courageous decision of sending me to New Zealand in 1984 after our captain Javed Miandad was also convinced by him of my talent," Akram told reporters.
Ahsan also served on the organising committee of the 1987 World Cup and played an influential role in backing Pakistani umpire Shakoor Rana in the infamous 1987 spat with England captain Mike Gatting.
"Hasib was a strong personality and big believer in Pakistan cricket and he was right to back the umpires then," said Ijaz Butt, a close friend and former chairman of the Pakistan Cricket Board.
Photograph: Buddhika Weerasinghe/Reuters