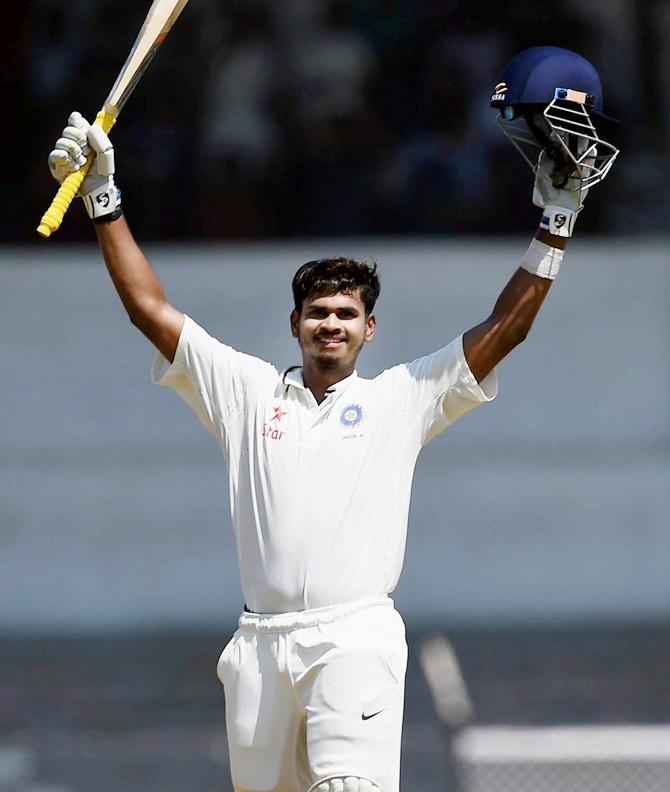 IMAGE: Shreyas Iyer celebrates scoring a century for India 'A'. Photograph: BCCI
Mumbai youngster Shreyas Iyer was included in India's team for the upcoming three-match Twenty20 International series against New Zealand, while Hyderabad pacer Mohammed Siraj earned his maiden international call-up.
Shreyas replaced Kedar Jadhav, who was dropped from the T20I squad after a below-par showing in the three-match series against Australia.
In a strange move, veteran pacer Ashish Nehra too was included in the T20I squad, but only for the first match of the New Zealand series after which he will quit international cricket.
Siraj, who impressed in domestic cricket last season after a good showing in this year's Indian Premier League, is the 16th member of the squad, which will come down to 15 following Nehra's departure after the first game.
Nehra will bow out of international cricket after the first T20 against New Zealand at his home ground in New Delhi on November 1.
Asked if Nehra was picked for just one game to give him a chance to say farewell to cricket in front of his home fans, Prasad did not give a clear reply, but hinted that he would have been dropped anyway after the New Zealand series to make way for youngsters.
"There are lot of apprehensions going on about Ashish Nehra. I will make it very clear and candid, you all know that communication has been our strong point. We have clearly communicated to the player, that is Ashish Nehra, and the team management that we are only looking at him till the New Zealand series. After that, if you see the pattern with which we have selected India 'A' players, the same bowlers we have been continuing for the past one-and-half years, in all the 'A' tours; that means they are very much in line, and they have really done well in South Africa and also at home against New Zealand.
"So this message has been very clearly communicated and we are happy that the player also took it in the right spirit that the new generation is coming up and instead of waiting till the end of New Zealand series, he felt that after the Delhi game itself he will quit so that the others can (get a chance)."

Asked whether Nehra will play the Delhi game since it is his last match in international cricket, Prasad replied: "We can't say that. Whether is going to play or not, it is the team management and selectors who will take the call. There is no assurance from our side whether he is going to play or not; it is purely the team management that will decide on that particular day."
Chairman of selectors MSK Prasad said both Iyer and Siraj merited selection following their consistent showing in domestic cricket and also for India 'A' and in the Indian Premier League.
"Shreyas Iyer has been prolific in all forms of the game, be it Test, ODI, T20, IPL. Name anything, he is performing; so we will stick with this policy.
"If we pick a player we will give him an extended run and we will continue with him for some point and nurture him and see that he goes on to become successful.
"Same with Siraj; he is doing well and has been duly rewarded," he added.
Interestingly, the selectors also named the team for the first two Tests of the three-match series against Sri Lanka, starting next month.
There were reports that captain Virat Kohli may skip the third and final Test against Sri Lanka and also the limited-overs series that follows to take a break before the team embarks on the tour of South Africa.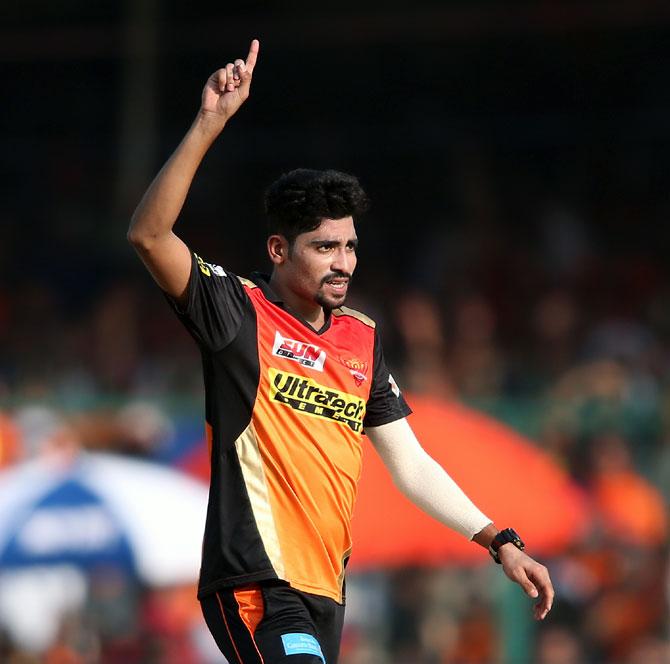 IMAGE: Mohammed Siraj celebrates a wicket during IPL-10. Photograph: BCCI
Prasad made it clear that some of the players, including the likes of Kohli who has been playing across all formats, will definitely be given rest.
"Considering the workload and the international schedule that we have right now, we are definitely rotating the players, and it is too premature to say right now to whom we are (resting). If you see the pattern with which we are selecting, you can clearly see and we will let you know at the appropriate time. One thing is for sure we are definitely going to rotate and monitor the workload."
As expected, senior spinners Ravichandran Ashwin and Ravindra Jadeja retained their places in the 16-member Test squad after being ignored for the last few limited-overs series.
Opener Murali Vijay made a comeback into the Test squad after missing the Sri Lanka series with injury; he replaced Tamil Nadu teammate Abhinav Mukund.
KL Rahul, who was dropped for the New Zealand ODIs, kept his place in the T20 side.
"The potential that KL Rahul is, it is unfortunate that we are not able to accommodate; so we tried him at the number four slot, and, unfortunately, that it did not work out. But, basically, we know that KL Rahul is an opener, but since Ajinkya Rahane has done well (in ODIs), it makes sense to continue with Rahane (as opener) and bring in a specialist (Dinesh Karthik) at No. 4 spot," said Prasad.
Asked if they considered bringing in leg-spinner Yuzvendra Chahal to the Test squad following his excellent showing in the limited-overs' series in recent months, he replied in the negative, saying they are happy with Ashwin and Jadeja's bowling in the longer format.
"We have No. 1 and 2 in the world bowling for India. Having a wrist spinner is always an added advantage but we are very happy with the way Ashwin and Jadeja have been bowling for us and the way they have been winning matches for us," he said.
The selectors also named a 13-member Board President's XI squad which will take on Sri Lanka in a two-day warm-up match in Kolkata on November 11 and 12. The team will be led by Naman Ojha and comprises players from the four domestic teams not scheduled to play in the next round of the Ranji Trophy.
Indian team for New Zealand T20Is:
Virat Kohli (captain), Rohit Sharma, Shikhar Dhawan, KL Rahul, Shreyas Iyer, Mahendra Singh Dhoni, Dinesh Karthik, Manish Pandey, Hardik Pandya, Kuldeep Yadav, Yuzvendra Chahal, Axar Patel, Jasprit Bumrah, Bhuvneshwar Kumar, Ashish Nehra (only for first match), Mohammed Siraj.
Indian team for first two Sri Lanka Tests:
Virat Kohli (captain), Shikhar Dhawan, Cheteshwar Pujara, KL Rahul, Murali Vijay, Ajinkya Rahane, Rohit Sharma, Wriddhiman Saha, Ravichandran Ashwin, Ravindra Jadeja, Kuldeep Yadav, Hardik Pandya, Umesh Yadav, Mohammed Shami, Bhuvneshwar Kumar, Ishant Sharma.
Board President XI for 2-day warm-up tie against Sri Lanka: Naman Ojha (captain, w/k), Sanju Samson, Jiwanjot Singh, B Sandeep, Tanmay Agarwal, Abhishek Gupta, Rohan Prem, Akash Bhandari, Jalaj Saxena, C V Milind, Avesh Khan, Sandeep Warrier, Ravi Kiran.