It is very difficult not to respect Mohmmed Shami for his mastery over his craft.
Also, how much a player means to the dressing room speaks volumes about his worth.
Just as he was coming off the field after a match-turning 5/51 against Australia, it was rested pacer Mohammed Siraj who came out and was engaged in a bear hug with his senior pace bowling partner.
Shami didn't bowl a devastating spell like Siraj did in Colombo last week, but considering the quality of opposition combined with sultry and unhelpful conditions for fast bowling in Chandigarh, this spell was as lethal, if not more.
Siraj knew it more than anyone else as to what Shami had done for the team.
"We enjoy each other's success a lot. We have spent the last so many years together and this is a result of the same," Shami said during a snap interview with host broadcasters Jio Cinema.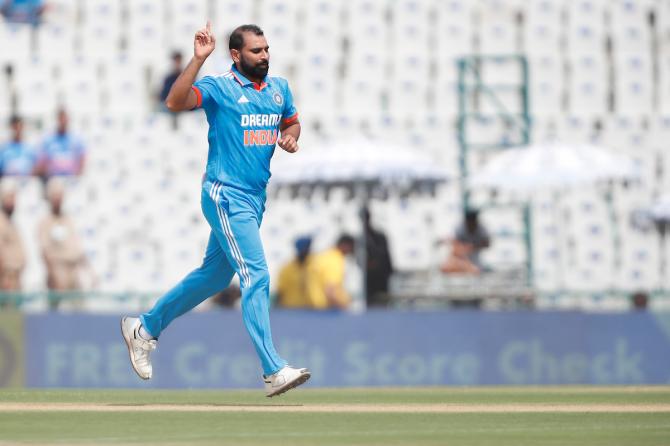 If one looked at the kind of bowling composition India played against Pakistan, it is difficult to imagine how Shami would fit in if India is playing two spinners and Hardik Pandya is the third seamer during most matches.
It is also impossible in Indian conditions for any pacer to play 11 games in the World Cup (if India reaches final) in six weeks, including travel, but Shami cooling his heels during important games would be a travesty as India is looking at multi-skilled cricketers, especially those who can bolster the batting.
It can be very difficult to adjust being in and out of the playing XI, but after 179 international games for India across formats in the last 10 years, Shami knows how to adjust current demands.
The first spell to David Warner, where the left-hander faced 11 balls and scored only one run, was where Shami's skills were in full bloom. It didn't matter that it wasn't a red Dukes or SG Test ball with a pronounced seam in his hands.
"When you operate with the new ball, you have the responsibility of finding the right line and length, set the tempo and that's exactly what I wanted to do today," he said.
It was a white Kookaburra which wouldn't have done much in these conditions, but then those supple wrists have learnt the art of positioning itself perfectly when the need arises.
That white ball obeys the orders delivered by flick of his fingers and when it lands on length and deviates away, someone like Mitchell Marsh is made to look like that driver, who knows that he is hitting a dead end but still can't help himself.
The bat followed the ball and the only place Marsh could have been was in the cooler confines of the pavilion.
Marsh's dismissal did have its desired effect on Warner. It did mess with his head and it seemed that Shami could have gotten him out on at least a couple of occasions when the ball missed the edge of his bat by a whisker.
Even after attaining stardom, there is something earthen about Shami and he can nonchalantly say things which a lot of his peers won't out of political correctness.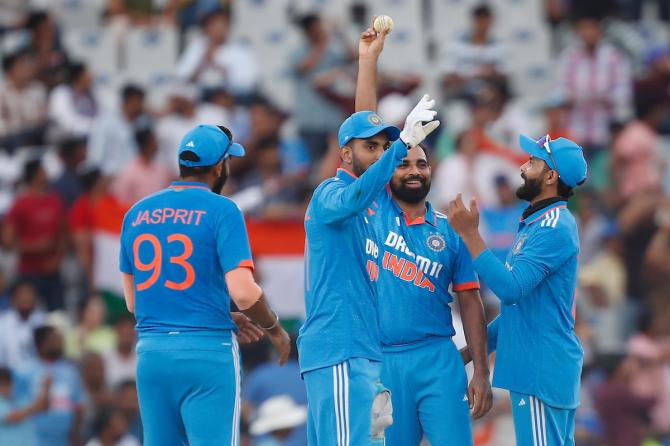 "You guys were in the AC, I was there out in the heat. There was not much the fast bowlers were getting out of the wicket so the slower deliveries were a good option to turn to.
"If they land in the right areas, the results can really go in your favour. It's important to mix things up," Shami said about how he mixed it up his subsequent spells.
Every time, a batter seemed to be settled, Shami was there to change the course of the game.
If the ball he bowled to Marsh shaped away, again the wrists didn't play truant as it braced up to send down a vicious in-cutter that hurried Steve Smith.
When Marcus Stoinis, the big-bodied middle-order bully was just loosening his muscles, Shami turned to proverbial wicket to-wicket bowling — 'you miss, I hit' — and Stoinis did miss.
The last two wickets were slower ones and tail-enders couldn't have negotiated those.
So his bouquet of dismissals had every variety — an away swinger, an off-cutter, a wicket-to-wicket length ball and an off-break slower and a wide slower.
"The team needed and it's good feeling to get wickets when you're putting in so much effort. It's good for the team and your own confidence," said Shami.
When India meet Pakistan on October 14 on one of the flattest of decks in Motera, Ahmedabad, the Indian team management would need a compelling argument to leave the 'Amroha Express' out of playing XI.