Purnendu Maji and Srinivas Bhogle present the top 100 players in the World T20.
Cricket tournaments have such a short shelf life.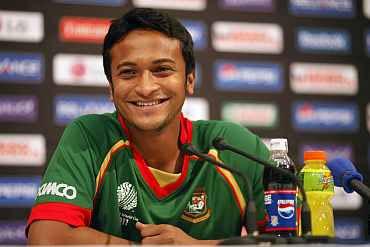 As we get ready for the seventh edition of the Indian Premier League, how many of us remember that the fifth edition of the ICC World T20 ended less than two weeks ago?

Virat Kohli was unquestionably the top player, but the most valuable player index (MVPI) suggests that Shakib Al Hasan had an equally good World T20 even though his team Bangladesh fared poorly.

Apart from Shakib, three players from the Netherlands also feature in the top 10 list.
Interestingly, there are no players from Australia or England in the top ten. Both the teams had failed to make it to the semi-finals stage.



| | | | | | | | | | | | |
| --- | --- | --- | --- | --- | --- | --- | --- | --- | --- | --- | --- |
| Rank | Player | Team | Runs | Four | Six | Str Rate | W | Eco | Ct/St | M | MVPI |
| 1 | Shakib Al Hasan | BAN | 186 | 15 | 9 | 129.2 | 8 | 5.7 | 2 | 7 | 442 |
| 2 | Virat Kohli | IND | 319 | 24 | 10 | 129.1 | 0 | - | 5 | 6 | 438 |
| 3 | Tom Cooper | NET | 231 | 22 | 10 | 137.5 | 3 | 8.7 | 2 | 7 | 378 |
| 4 | Stephan Myburgh | NET | 224 | 26 | 13 | 154.5 | 0 | - | 1 | 7 | 334 |
| 5 | Imran Tahir | SA | 17 | 1 | 1 | 154.5 | 12 | 6.6 | 0 | 5 | 299 |
| 6 | R Ashwin | IND | 2 | 0 | 0 | 66.7 | 11 | 5.4 | 2 | 6 | 274 |
| 7 | Rohit Sharma | IND | 200 | 19 | 6 | 123.5 | 0 | - | 4 | 6 | 271 |
| 8 | Samuel Badree | WI | 0 | 0 | 0 | - | 11 | 5.7 | 1 | 5 | 267 |
| 9 | Ahsan Malik | NET | 1 | 0 | 0 | 33.3 | 12 | 6.7 | 2 | 7 | 265 |
| 10 | Hashim Amla | SA | 185 | 21 | 3 | 131.2 | 0 | - | 1 | 5 | 258 |
| 11 | Alex Hales | ENG | 166 | 19 | 7 | 158.1 | 0 | - | 3 | 4 | 249 |
| 12 | Jean-Paul Duminy | SA | 187 | 14 | 8 | 140.6 | 1 | 9.3 | 1 | 5 | 246 |
| 12 | Anamul Haque | BAN | 184 | 22 | 8 | 118.7 | 0 | - | 0 | 7 | 246 |
| 14 | Angelo Mathews | SL | 100 | 6 | 4 | 142.9 | 5 | 6.7 | 3 | 6 | 241 |
| 15 | Glenn Maxwell | AUS | 147 | 13 | 12 | 210 | 1 | 8 | 6 | 4 | 235 |
| 16 | Amit Mishra | IND | 0 | 0 | 0 | - | 10 | 6.7 | 0 | 6 | 219 |
| 17 | Mahela Jayawardene | SL | 158 | 20 | 3 | 125.4 | 0 | - | 3 | 6 | 217 |
| 18 | Ahmed Shehzad | PAK | 138 | 13 | 5 | 162.4 | 0 | - | 1 | 4 | 209 |
| 19 | Mahmudullah | BAN | 59 | 5 | 2 | 122.9 | 5 | 5.3 | 2 | 7 | 206 |
| 19 | Aaron Finch | AUS | 158 | 17 | 7 | 130.6 | 0 | 18 | 1 | 4 | 206 |
| 21 | Wesley Barresi | NET | 143 | 10 | 7 | 124.3 | 0 | - | 7 | 7 | 197 |
| 21 | AB de Villiers | SA | 129 | 15 | 3 | 163.3 | 0 | - | 5 | 5 | 197 |
| 23 | Al-Amin Hossain | BAN | 1 | 0 | 0 | 20 | 10 | 7.3 | 1 | 7 | 195 |
| 24 | Timm van der Gugten | NET | 8 | 0 | 0 | 66.7 | 9 | 6.8 | 0 | 7 | 194 |
| 25 | Nuwan Kulasekara | SL | 7 | 1 | 0 | 140 | 8 | 6.4 | 0 | 6 | 189 |
| 26 | Kusal Perera | SL | 125 | 12 | 7 | 150.6 | 0 | - | 0 | 6 | 187 |
| 27 | Umar Akmal | PAK | 128 | 11 | 4 | 140.7 | 0 | - | 2 | 4 | 184 |
| 28 | Shahid Afridi | PAK | 68 | 4 | 5 | 161.9 | 4 | 6.5 | 0 | 4 | 182 |
| 29 | Kane Williamson | NZ | 146 | 20 | 2 | 124.8 | 0 | 15 | 3 | 4 | 179 |
| 29 | Dale Steyn | SA | 6 | 1 | 0 | 85.7 | 9 | 8 | 1 | 5 | 179 |
| 31 | Kevin O'Brien | IRE | 59 | 4 | 5 | 210.7 | 4 | 7.2 | 2 | 3 | 176 |
| 31 | Chris Gayle | WI | 143 | 11 | 6 | 107.5 | 0 | 9 | 2 | 5 | 176 |
| 33 | Sunil Narine | WI | 7 | 0 | 1 | 350 | 6 | 4.6 | 0 | 5 | 175 |
| 34 | Brendan Taylor | ZIM | 123 | 10 | 4 | 133.7 | 0 | - | 1 | 3 | 172 |
| 35 | Krishmar Santokie | WI | 0 | 0 | 0 | - | 8 | 6.8 | 1 | 5 | 170 |
| 36 | Tillakaratne Dilshan | SL | 132 | 13 | 3 | 105.6 | 0 | - | 2 | 6 | 166 |
| 37 | Peter Borren | NET | 111 | 15 | 4 | 120.7 | 1 | 6.6 | 5 | 7 | 163 |
| 38 | Mushfiqur Rahim | BAN | 118 | 14 | 2 | 116.8 | 0 | - | 6 | 7 | 159 |
| 38 | Rangana Herath | SL | 1 | 0 | 0 | 100 | 6 | 4.6 | 0 | 3 | 159 |
| 40 | Sean Williams | ZIM | 42 | 3 | 1 | 135.5 | 4 | 5.3 | 1 | 3 | 157 |
| 41 | Darren Sammy | WI | 101 | 12 | 5 | 224.4 | 0 | 10.3 | 3 | 5 | 154 |
| 42 | Dwayne Bravo | WI | 103 | 7 | 7 | 174.6 | 1 | 9.3 | 7 | 5 | 153 |
| 43 | Dwayne Smith | WI | 125 | 19 | 4 | 105.9 | 0 | 11 | 0 | 5 | 151 |
| 44 | William Porterfield | IRE | 111 | 10 | 4 | 123.3 | 0 | - | 3 | 3 | 150 |
| 45 | Shafiqullah | AFG | 103 | 10 | 4 | 143.1 | 0 | - | 0 | 3 | 149 |
| 46 | Paul Stirling | IRE | 75 | 12 | 1 | 156.3 | 2 | 6.7 | 0 | 3 | 148 |
| 47 | Ravi Bopara | ENG | 84 | 5 | 2 | 133.3 | 1 | 4.7 | 0 | 4 | 147 |
| 48 | Faf du Plessis | SA | 95 | 10 | 3 | 150.8 | 0 | - | 4 | 3 | 141 |
| 49 | Nadeem Ahmed | HONG | 7 | 0 | 0 | 53.8 | 6 | 6.6 | 1 | 3 | 140 |
| 50 | Marlon Samuels | WI | 86 | 7 | 1 | 81.1 | 3 | 7 | 0 | 5 | 137 |
| 51 | Sachithra Senanayake | SL | 18 | 1 | 1 | 150 | 4 | 4.9 | 2 | 6 | 134 |
| 52 | Andre Russell | WI | 7 | 0 | 1 | 116.7 | 6 | 8 | 1 | 5 | 131 |
| 53 | Chris Jordan | ENG | 38 | 2 | 1 | 111.8 | 4 | 7.4 | 3 | 4 | 127 |
| 54 | Paras Khadka | NEP | 83 | 9 | 0 | 107.8 | 1 | 5.5 | 3 | 3 | 126 |
| 54 | David Warner | AUS | 91 | 11 | 4 | 126.4 | 0 | - | 1 | 4 | 126 |
| 56 | Brendon McCullum | NZ | 85 | 5 | 5 | 141.7 | 0 | - | 1 | 4 | 124 |
| 57 | Elton Chigumbura | ZIM | 75 | 6 | 5 | 208.3 | 0 | - | 3 | 3 | 123 |
| 57 | Andrew Poynter | IRE | 84 | 8 | 4 | 144.8 | 0 | - | 0 | 3 | 123 |
| 59 | Basant Regmi | NEP | 0 | 0 | 0 | - | 5 | 5.6 | 0 | 3 | 122 |
| 60 | Eoin Morgan | ENG | 89 | 10 | 2 | 118.7 | 0 | - | 0 | 4 | 120 |
| 60 | Ross Taylor | NZ | 80 | 5 | 4 | 150.9 | 0 | - | 0 | 4 | 120 |
| 62 | Gyanendra Malla | NEP | 83 | 9 | 2 | 138.3 | 0 | - | 1 | 3 | 119 |
| 63 | David Miller | SA | 84 | 6 | 2 | 125.4 | 0 | - | 5 | 5 | 117 |
| 64 | Sharad Vesawkar | NEP | 91 | 12 | 0 | 108.3 | 0 | - | 1 | 3 | 115 |
| 65 | Ed Joyce | IRE | 93 | 5 | 2 | 102.2 | 0 | - | 4 | 3 | 113 |
| 65 | Yuvraj Singh | IND | 100 | 8 | 4 | 98 | 0 | 13 | 0 | 6 | 113 |
| 67 | Lendl Simmons | WI | 88 | 6 | 4 | 106 | 0 | - | 3 | 5 | 112 |
| 68 | Corey Anderson | NZ | 27 | 2 | 1 | 150 | 4 | 7.7 | 5 | 4 | 111 |
| 69 | Khurram Khan | UAE | 73 | 8 | 0 | 100 | 1 | 8 | 2 | 3 | 110 |
| 69 | Lasith Malinga | SL | 0 | 0 | 0 | 0 | 5 | 6.1 | 1 | 6 | 110 |
| 71 | Abdur Razzak | BAN | 0 | 0 | 0 | 0 | 5 | 6.3 | 1 | 5 | 109 |
| 72 | Shakti Gauchan | NEP | 0 | 0 | 0 | 0 | 5 | 6.7 | 0 | 3 | 108 |
| 73 | Subash Khakurel | NEP | 86 | 10 | 1 | 104.9 | 0 | - | 2 | 3 | 107 |
| 74 | Haseeb Amjad | HONG | 23 | 1 | 1 | 109.5 | 4 | 7.6 | 1 | 3 | 106 |
| 75 | Umar Gul | PAK | 4 | 0 | 0 | 57.1 | 6 | 9.1 | 0 | 4 | 101 |
| 76 | Jos Buttler | ENG | 74 | 6 | 1 | 115.6 | 0 | - | 2 | 4 | 99 |
| 77 | B Kumar | IND | 0 | 0 | 0 | 0 | 4 | 5.4 | 1 | 6 | 97 |
| 77 | Jitendra Mukhiya | NEP | 0 | 0 | 0 | - | 4 | 5.8 | 1 | 3 | 97 |
| 79 | Trent Boult | NZ | 3 | 0 | 0 | 37.5 | 4 | 5.6 | 0 | 2 | 96 |
| 80 | Shaiman Anwar | UAE | 68 | 5 | 3 | 128.3 | 0 | - | 1 | 3 | 95 |
| 81 | Michael Swart | NET | 76 | 9 | 1 | 93.8 | 2 | 9.8 | 2 | 7 | 94 |
| 82 | Tamim Iqbal | BAN | 83 | 8 | 1 | 85.6 | 0 | - | 3 | 7 | 92 |
| 82 | Mohammad Shahzad (wk) | AFG | 74 | 7 | 3 | 104.2 | 0 | - | 1 | 3 | 92 |
| 82 | Lahiru Thirimanne | SL | 71 | 7 | 2 | 110.9 | 0 | - | 0 | 3 | 92 |
| 85 | Nathan McCullum | NZ | 6 | 1 | 0 | 46.2 | 4 | 6 | 2 | 4 | 91 |
| 85 | Thisara Perera | SL | 70 | 6 | 4 | 155.6 | 0 | 10.7 | 1 | 5 | 91 |
| 87 | R Jadeja | IND | 3 | 0 | 0 | 100 | 5 | 7.4 | 4 | 6 | 90 |
| 88 | Kumar Sangakkara | SL | 71 | 8 | 1 | 100 | 0 | - | 3 | 6 | 89 |
| 88 | Sikandar Raza | ZIM | 32 | 5 | 0 | 94.1 | 2 | 5 | 1 | 3 | 89 |
| 88 | Mashrafe Mortaza | BAN | 42 | 7 | 1 | 150 | 3 | 7.9 | 0 | 5 | 89 |
| 91 | Shapoor Zadran | AFG | 1 | 0 | 0 | 9.1 | 4 | 5.9 | 0 | 3 | 88 |
| 92 | Suresh Raina | IND | 63 | 7 | 2 | 128.6 | 1 | 7.2 | 4 | 6 | 87 |
| 93 | Nizakat Khan | HONG | 21 | 0 | 1 | 80.8 | 3 | 7 | 2 | 3 | 86 |
| 93 | Brad Hodge | AUS | 50 | 2 | 1 | 106.4 | 1 | 6.5 | 0 | 3 | 86 |
| 95 | Tinashe Panyangara | ZIM | 0 | 0 | 0 | - | 5 | 8.9 | 2 | 3 | 85 |
| 96 | Zulfiqar Babar | PAK | 3 | 0 | 0 | 75 | 4 | 7 | 0 | 3 | 84 |
| 97 | Sompal Kami | NEP | 0 | 0 | 0 | - | 4 | 7.3 | 1 | 3 | 82 |
| 97 | Nathan Coulter-Nile | AUS | 0 | 0 | 0 | 0 | 4 | 7.6 | 0 | 2 | 82 |
| 99 | Nasir Hossain | BAN | 67 | 4 | 1 | 106.3 | 0 | 7.3 | 3 | 6 | 81 |
| 100 | Quinton de Kock | SA | 64 | 7 | 1 | 98.5 | 0 | - | 8 | 5 | 79 |
| 100 | Asghar Stanikzai | AFG | 62 | 4 | 1 | 108.8 | 0 | - | 2 | 2 | 79 |
| 100 | Mitchell McClenaghan | NZ | 0 | 0 | 0 | - | 4 | 6.6 | 1 | 4 | 79 |