An agitated Shahid Afridi, who stunningly quit international cricket to protest his sacking as Pakistan's ODI captain, has accused selection committee member Mohammad Illyas of orchestrating a campaign against him.
"There is a lobby that works against me, and Illyas is their head. He blames me for his son-in-law Imran Farhat being dropped from the team. He cares a damn about rest of the selections," Afridi told Dawn TV on Tuesday.
Afridi said Illyas a former Test player made life difficult for him and he had faced problems on and off the field.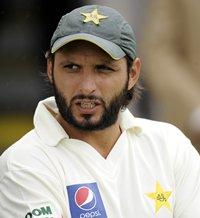 "I can't continue to play in these circumstances. I didn't retire because I was removed as captain. I am ready to play under anyone, even a junior player. I have done it in the past. But I didn't like the way they sacked me as captain without the chairman even bothering to meet me or speak to me," he said.
The flamboyant all-rounder also made it clear that until the present PCB remains in power he is unlikely to play for Pakistan again.
"I don't see myself coming back to international cricket under this board, because it has no respect for players and it never gave me any respect," he added.
Afridi noted that it was absolute nonsense that his statement on returning from the West Indies and his differences with Waqar Younis were made the ground for removing him as captain.
"What indiscipline have I done. I gave a statement in which I took no names. Chief selector Mohsin Khan had openly blamed head coach Waqar Younis for creating problems in the team and yet the chairman called him to Lahore and met him to sort out things. Why couldn't I have been called to Lahore the same way? The thing is they didn't respect me," he said.
Afridi said he always gave 100 per cent on the field as captain and player and did not make captaincy a prestige issue.
"I did what I did because I don't want to be treated like this board has treated other senior players. That is why I stepped down myself."