Adequate security measures have been put in place by the Saurashtra Cricket Association (SCA) and Rajkot Rural Police ahead of the first T20 match to be played between India and Australia at Khanderi stadium in Rajkot on October 10.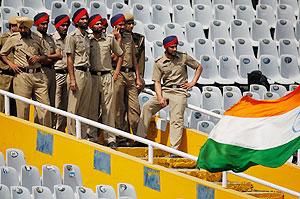 Over 1,000 policemen including 19 DYSPs and SRPs have been deployed at the stadium and the hotel where the two teams would stay, Rajkot Rural Superintendent of Police Vishal Kumar Vaghela said.
The security arrangement has been divided into 14 sectors and a DYSP cadre official would monitor each sector, the SP said.
The police have also issued guideline for viewers and banned electronic equipments like mobile phones, torches, laptops, posters, pamphlets, water bottles, pens and fire crackers inside the stadium, he added.
While SCA too has taken adequate security measures by installing as many as 52 CCTVs to keep an eye on spectators, SCA media manager Himanshu Shah said.
"The match has been given insurance cover of Rs 6.5 crore," he added.
Six Indian players Shikhar Dhawan, Virat Kohli, Ishant Sharma, Amit Mishra, Bhuvneshwar Kumar and Yuvraj Singh arrived here last night, while rest of the Indian team and Australian players would arrive on Tuesday, Shah added.
Photograph: Getty Images