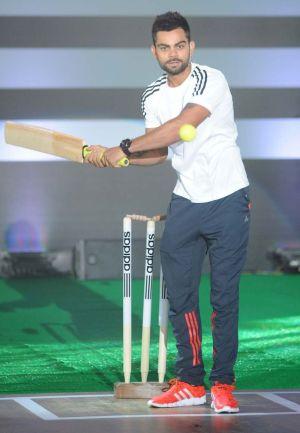 Virat Kohli is among the fittest fielders in the Indian squad, yet he feels he needs to get better, and be as agile as iconic batsman Sachin Tendulkar.
"Hope I can play for the country for such a long span as Sachin (Tendulkar) has and remain as fit as he is when I am 40," he told newspersons in Delhi on Thursday.
"His fitness level," he said, "is amazing.
"If I can achieve even 60-70 per cent of what he has achieved so far in his career, I will be more than happy."
Kohli added that the 40-year-old Tendulklar, who is on the threshold of attaining the milestone of 200 Tests, "is an inspiration for the younger generation".
India's latest batting sensation was also in awe of Yuvraj Singh, saying his inclusion in the side will make Team India stronger.
"Credit to Yuvraj. He wanted to get away from all the glare and work on his fitness and come back strongly to the Indian team.
"There was never a doubt that he would make a comeback. With his inclusion the middle order looks much stronger," added Kohli.
Talking about the upcoming ODI home series against Australia, the 24-year-old said the Aussies will be strong despite the absence of Michael Clarke, who has been ruled out because of a back injury.
"Whatever that's happened in the Test series [India scored a historic 4-0 clean sweep over Australia earlier this year] is past. The ODI team, despite Clarke's non-availability, is strong.
"This will be the start of a new season and the series, I'm sure, is going to be competitive. But I'm confident about winning the series," added Kohli.
Image: Virat Kohli