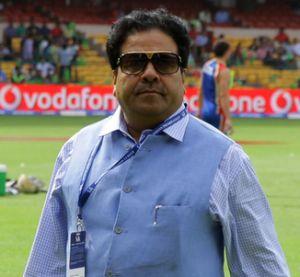 The newly appointed BCCI vice-president Rajeev Shukla said that N Srinivasan "wouldn't assume charge as per Supreme Court directive" and the Tamil Nadu strongman has made it clear to the members of the board.
"He (Srinivasan) has made it very clear that elections have taken place. He (Srinivasan) told us, "Now after AGM, new office-bearers will take over but except me." As per Supreme Court directive, he would not assume charge," Shukla told the waiting mediapersons after the AGM got over.
Saurashtra Cricket Association chief Niranjan Shah, who has been unceremoniously dumped from the post of vice-president by Srinivasan put up a brave face in front of mediapersons.
"It is a democratic process and you go by what the majority thinks," Shah said when asked about his ouster.
When questioned as to whether he has felt bad, Shah gave a vague reply, "That is a different matter. It is a part of election but I have no grudge."
Another senior administrator Jagmohan Dalmiya also tried to play down the issue of not being appointed the IPL chairman.
"I was a BCCI president as well as an ICC president. I have spent time in high offices," Dalmiya said as he prepared to leave the hotel venue.
Image: Rajeev Shukla
Photograph: BCCI