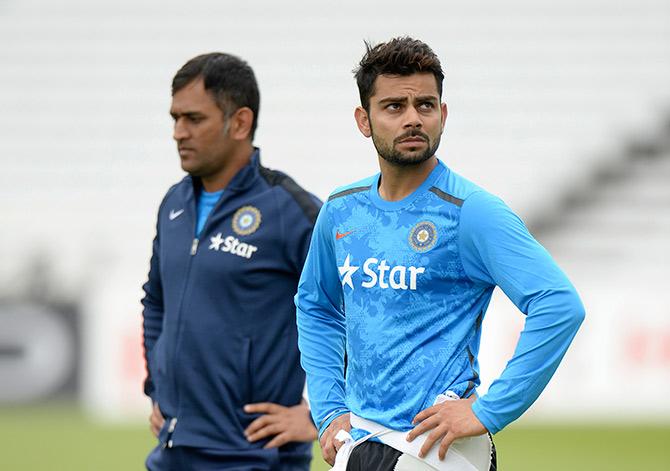 IMAGE: Mahendra Singh Dhoni and Virat Kohli attend a training session. Photograph: Philip Brown/Reuters
Former India skipper Kapil Dev feels it is too early to compare Virat Kohli's Test captaincy to that of Mahendra Singh Dhoni's as the leadership role is still very new to the team's batting star.
"Baap Baap hota hain aur beta beta hota hain," was Kapil's witty reply when asked who is a better captain between Dhoni and his successor in Tests.
"There is a still long way to go before Kohli the captain matches the achievements of Dhoni. Having said that, Kohli has been doing great as a batsman and I am sure he will be equally good as India's captain," said Kapil at the launch of Wonder Cement's Cricket Mahotsav.
India go into the four-match Test series against South Africa having lost the T20 and ODI contests. Kapil said the outcome of the series will depend on the kind of pitches prepared.
"India will do well if the pitches are prepared keeping their strength in mind. That is to have good batting wickets that also offer assistance to their spinners. It will be tough to win if the curators end up preparing surfaces that suit South Africa."
'We should have had a Wankhede pitch that suited India'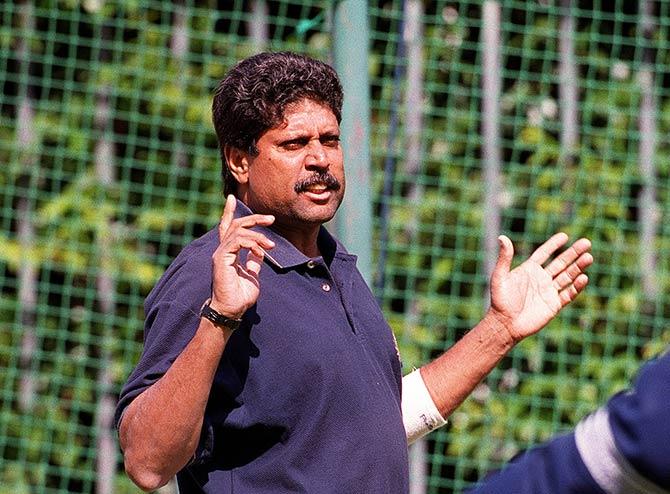 IMAGE: Former Indian captain Kapil Dev. Photograph: Hamish Blair/ALLSPORT
And for having this point of view, it wasn't a surprise that he came out in support of Team Director Ravi Shastri after his controversial argument with Mumbai pitch curator Sudhir Naik post India's defeat in the fifth ODI.
"I am with Ravi on what happened. It was 2-2, the series was on the line and we should have had the pitch that suited India. But that wasn't the case.
"There is nothing wrong if the home team captain wants a pitch of his choice. We play on fast and bouncy tracks when we travel to South Africa," reasoned Kapil.
'It is not possible to give everyone a farewell game'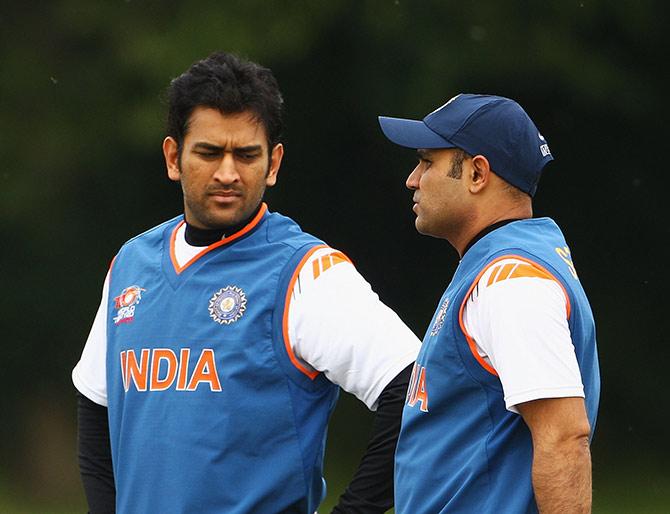 IMAGE: India's MS Dhoni talks to Virender Sehwag during a nets session. Photograph: Matthew Lewis/Getty Images
Talking about Virender Sehwag's retirement, the World Cup winning captain felt the former India opener deserved a farewell game but the lack of it did not make him a lesser legend.
"We should leave it to selectors to decide. It is not possible to give everyone a farewell game. If you ask me, it doesn't matter whether Sehwag played one more game for India.
"The fact is that he remains a great player. Azharuddin who played 99 Tests wanted one more game but it didn't pan out that way," he added.
Post announcing his retirement, Sehwag himself had expressed the desire of getting a fitting farewell from the game.