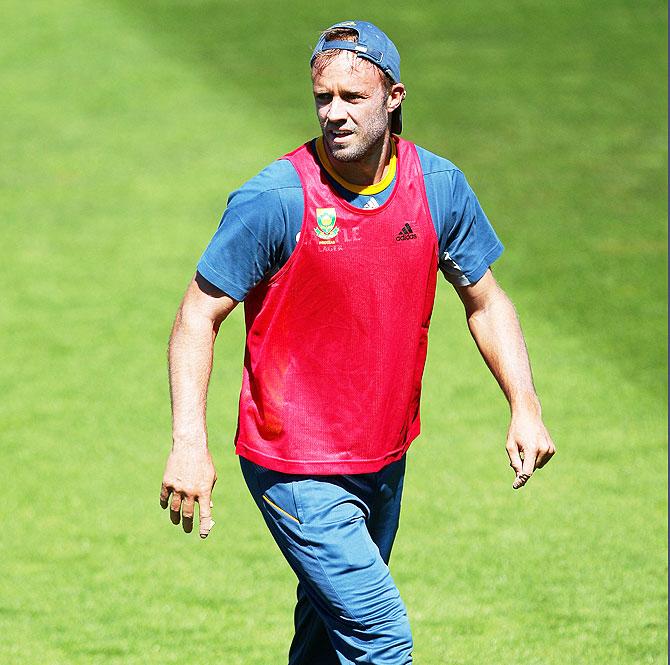 IMAGE: South Africa's AB de Villiers looks on during a nets session. Photograph: Hagen Hopkins/Getty Images
With South Africa's AB de Villiers on the threshold of the unique landmark of 100 Test matches, some of his young Indian Premier League teammates from Royal Challengers Bangalore paid glowing tributes to the batting genius.
De Villiers will become only the seventh South African to achieve the feat when he takes the field in the second Test against India, starting, in Bangalore, on Saturday.
He will join an elite list of batsmen that includes Graham Gooch, Brian Lara, Sachin Tendulkar and Ricky Ponting, to name a few, who played their 100th Test as No.1-ranked batsmen.
India's young batting stars Mandeep Singh and Sarfaraz Khan, who played alongside AB in this year's Indian Premier League, said it was like a dream come true for them to share the same dressing room with the South African.
While Mandeep revealed he received vital technical inputs in batting, the 16-year-old Sarfaraz said he got advice on how to take his career forward.
The two players spoke with Harish Kotian/Rediff.com on the impact de Villiers had on them during their two-month stint in the IPL earlier this year.
Mandeep Singh: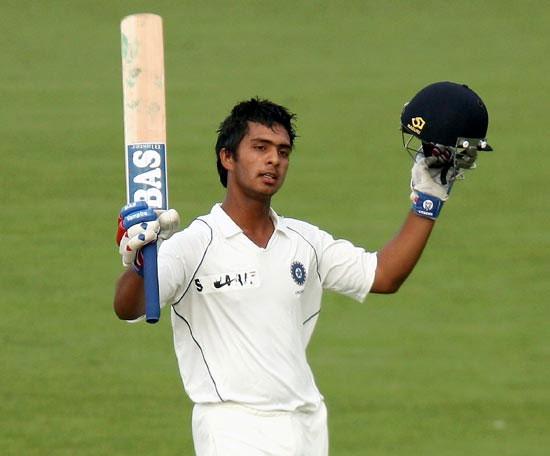 IMAGE: Mandeep Singh. Photograph: Quinn Rooney/Getty Images
I discussed a lot of technical things with him with regard to batting when we were playing together for RCB in this year's IPL. I worked on those things during the IPL and even now during the ongoing domestic season and I must tell you it is working really well for me.
I also spoke to him about mindset, about the mental preparation for a match.
In fact, today's generation idolise batsmen like AB and even Virat Kohli, so it was a big thing for me to play alongside and learn from them.
We met for the first time during this IPL but it never felt like I was meeting him for the first time because he was so friendly and accommodating.
I remember I played a good innings against Rajasthan Royals (in the Eliminator match) when I hit a half-century (54) and AB also hit 60-odd (66 from 38 balls) in that game. I played a few good innings before that match also but he didn't say much about them. But after this particular match he came up to me and appreciated my knock. He told me 'you have it in you to make it big; you will definitely play for India someday. Your temperament and mindset is very good and you will make it big'.
So those words from him were definitely a big motivating factor; I hope to live up to his expectations.
We discussed about the technical side of my batting, because my head was falling over and he helped me with the same. I followed the advice he gave and it has really helped me improve my batting in the last few months.
The main thing for me was his attitude and his down-to-earth nature. Overall, he is a very nice human being and that is what I like the most about him.
He says whether you become a good cricketer or not, you should strive to be a good human being.
Sarfaraz Khan: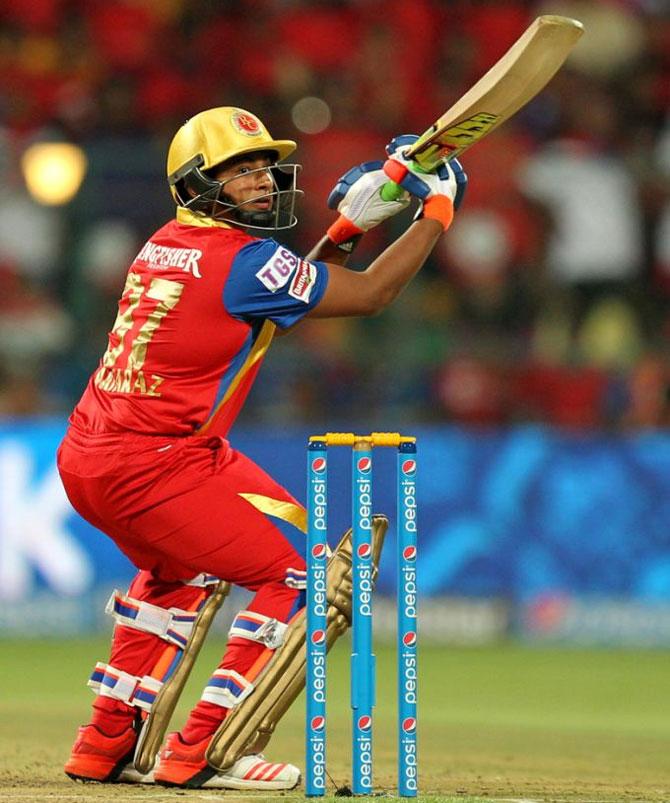 IMAGE: Sarfaraz Khan of Royal Challengers Bangalore. Photograph: BCCI
It was a good experience to play alongside AB; I learnt a lot from him.
I always used to tell him, 'I want to become a big batsman like you' and he told me that I should look to become a better human being first.
I also discussed my batting with him and he gave me tips on how to bat against fast bowlers and spinners.
He is very different and I really enjoyed talking to him about batting and other technical things involved with it. He used to speak to me as if we were old friends, even though we met for the first time in this year's IPL.
He said I am doing very well for my age and he was not as good at the same age. He told me that my shuffling, stance and everything else at the crease is good and he would not want to suggest any changes. He suggested that I should play as much cricket as possible and I would learn from every match I play.
He said when he was my age he also looked to learn by playing as much cricket as possible and told me also to continue playing the way I am and work hard and improve every day.
I asked him how he manages to play the risky shots, like paddle-sweeps and the scoops, against fast bowlers, and he replied that as I gain more experience and confidence I would also add more shots to my batting.
Also read:
- AB@100: 'I am not a nice guy on the field'
- REVEALED! Kohli spills the beans on Gurkeerat's surprise selection
- Why Ishant's return is a big boost for Team India...
- South Africa in a mess as Steyn ruled out of Bangalore Test!