Ravichandran Ashwin was again the highest wicket-taker for India with figures of 4 for 70 on Day 1 of the 2nd Test in Bangalore on Saturday. India's top off-spinner reveals how a new-found confidence allows him to place the odds in his favour whenever he bowls to a new batsman.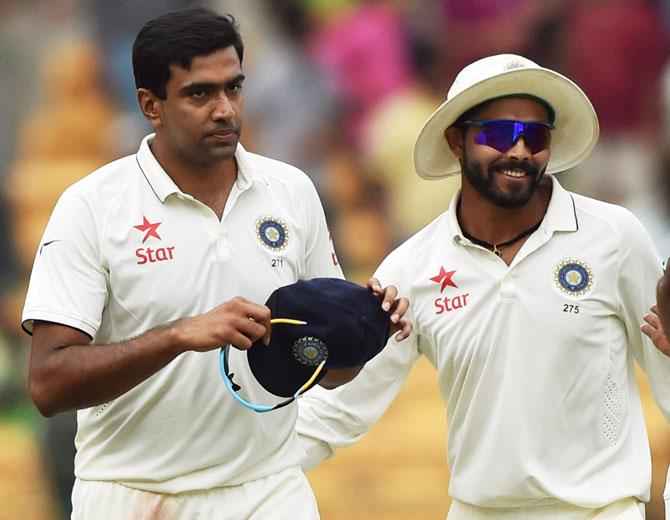 IMAGE: India's Ravichandran Ashwin and Ravindra Jadeja return to the pavilion after the end of the South Africa's firdy innings on Saturday. Photograph: Shailendra Bhojak/PTI
The year 2015 has seen the emergence of Ravichandran Ashwin, from being just another off-spinner to one of the best in the world.
Only about a year ago Ashwin was not even considered the leading spinner for India. He was dropped in favour of Karn Sharma for the first Test match against Australia in Adelaide in December last year.
- Reasons why South Africa batsmen crumbled against spin on Day 1
- 2nd Test: Spinners put India in control
- PHOTOS: India v SA, second Test, Day 1
Not the one to give up so easily, Ashwin came back with a vengeance.
He claimed four wickets in the second innings of the fourth and final Test in Sydney and has since then, claimed a bagful of wickets in every Test he has featured in.
The off-spinner claimed five wickets in the one-off Bangladesh Test and followed it up with 21 wickets in the three-Test series in Sri Lanka.
In the ongoing series against South Africa, he has already bagged 12 wickets in the three innings played so far and looks hungry for a lot more.
He finished with figures of 4 for 70 on Day 1 of the 2nd Test in Bangalore on Saturday.
The new-found confidence in Ashwin's bowling is evident by the fact that he doesn't even feel the need to place a fielder in the cover region despite being generous with his flight.
"From Sri Lanka I have not put a cover in place. There have been times when I have been cut through backward point where I have tried to really drop the ball short of the batsman, and all that, but even when those runs have gone it's been conscious. It's not like it's fallen in the wrong place, but it gives me a chance to open up the gate, to open my options in the slip region as well.
"So, that way I think it's the confidence, and also a bit of planning that goes into not having a cover fielder," he said after the first day's play of the ongoing second Test against South Africa in Bangalore on Saturday.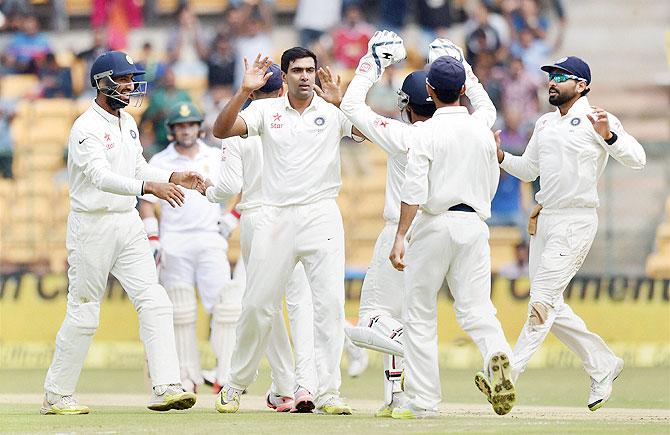 IMAGE: India's Ravichandran Ashwin and with teammates celebrate the wicket of South Africa's Stiaan Van Zyl. Photograph: Shailendra Bhojak/PTI
Ashwin, 29, also revealed how he goes about setting up batsmen, especially when they are new to the crease, and lot of it is down to observing carefully how the batsmen tend to play early on.
"Whenever anybody walks into the middle I give myself a 60-40 chance. I think I have the best chance when he is around for the first 15-20 minutes, especially the way it's coming out of my hand and the kind of pace variations I am able to use now.
"I'm very confident of the fact that I can beat anybody in the air in the first 20 minutes, and from there on, after the first 20 minutes, every batsman comes out with a different plan for a particular game. After the first 15-20 minutes you gauge as to what are the shots he is looking for, and where essentially I should not be bowling to that batsman in that particular innings. These are the kind of observations I try and make, but initially, first 15-20 minutes, I give myself a fair chance of getting him out," he stated.
- PHOTOS: AB's baby, parents witness his landmark 100-Test in Bengaluru
Ashwin, claims the SG balls used in India do not help spinners as they tend to lose their shape especially in the last few years.
"I don't want to pick on a brand and get into trouble, but I think the same ball that I bowled with, in first-class cricket, five-six years ago, it's not the same. There are definitely a lot of balls that are going out of shape. The arm ball -- especially for a spinner, when you're trying to bowl an arm ball, the seam is not sitting high at all. So at this point of time, I seem to be enjoying the Kookaburra a lot more," he said.
Ashwin also pointed out that the improvement in India's catching around the batsmen, especially Ajinkya Rahane in the slips, has been a big boost for the spinners.
"Ajinkya at slip has been amazing. He seems to be pulling off all the catches that are coming his way at this point of time. It is very important -- we are not even thinking in the region of, saying okay, changing someone, chopping and changing, that's not even happening. We want Ajinkya at slip and that's the kind of confidence that's very important for the bowler at the top of his mark," he trailed off.