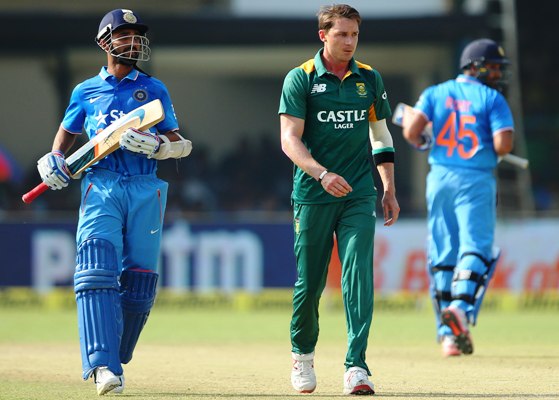 IMAGE: South African fast bowler Dale Steyn in action against India. Photograph: BCCI
South Africa paceman Dale Steyn is wary of India's fightback but says his team is motivated to seal the one-day series on Thursday and complete a dominating overseas victory.
After winning the Twenty20 series, South Africa are now one win away from pocketing the one-day series which they are leading 2-1.
"There's no guarantee in cricket. We can come out tomorrow and India can play extremely well. And they have played well this series. We can have a bad day. That's cricket. We can only commit 100% and let the result take care of itself," Steyn said on the eve of the fourth ODI in Chennai.
"But it will be nice to seal it here and go to Mumbai. We've spoken about it in team meetings, we want to go overseas and dominate the opposition. We have a good chance now to be able to do that. We definitely have an advantage. We have to win one more to win the series and if we play good cricket we'll do that."
'I'm not saying Dhoni's captaincy is bad, but we're playing really good cricket'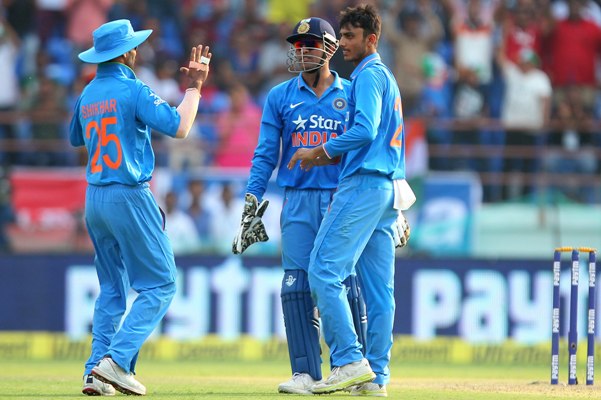 IMAGE: MS Dhoni, captain, of India and Axar Patel celebrate the wicket of AB de Villiers with Shikhar Dhawan. Photograph: BCCI
There is a lot of debate going on MS Dhoni's batting and captaincy in the wake of poor results against Proteas but Steyn said he does not find anything wrong in Indian skipper's style of leadership in this series.
"No comment on Dhoni as a captain because I've never played under him. I've played against him. But you have to look at who you are playing against. In our camp, every batsman is hitting the ball sweetly and every bowler is landing where he wants to. We've been executing very well.
"In terms of Dhoni's captaincy, I don't think he's doing anything too different to what he has done in the past. It's just that they're up against a side that's playing really good cricket. And you can't underestimate that. I'm not saying his captaincy is bad, I'm just saying we're playing really good cricket."