Ravichandran Ashwin claims five wickets as India dismiss South Africa for 143 in second innings.
3-0 series triumph enabled India to rise to No 2 in the ICC Test rankings.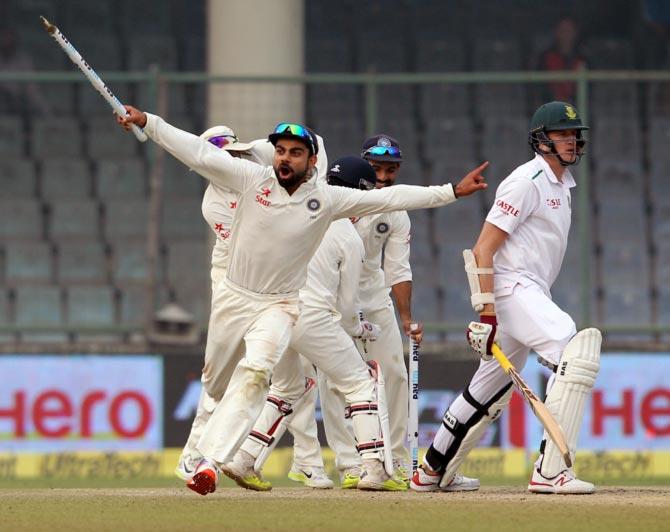 IMAGE: India skipper Virat Kohli celebrates after the fall of South Africa's last wicket in the fourth Test at the Feroz Shah Kotla, in New Delhi, on Monday. Photograph: BCCI
India's bowlers, led by Ravichandran Ashwin, displayed outstanding perseverance to end South Africa's dogged resistance and register a comprehensive 337-run victory in the final Test at the Feroz Shah Kotla, in Delhi, on Monday.
Needing a mammoth 481 for victory, South Africa adopted an ultra-defensive strategy before being bowled out for 143 in 143.1 overs, the last five wickets falling for a mere seven runs in a dramatic collapse after tea on the last day of the match.
The 3-0 series triumph enabled India to rise to No 2 in the ICC Test rankings.
Fittingly, Ashwin (5 for 61 in 49.1 overs) got the final wicket with an angular delivery that Morne Morkel left and was bowled, triggering scenes of celebration in the Indian dressing room and among the players on the ground.
Skipper Virat Kohli and Man of the Match Ajinkya Rahane picked the stumps as souvenirs as the players engaged in hearty celebrations and also thanked the spectators, who gave them a standing ovation.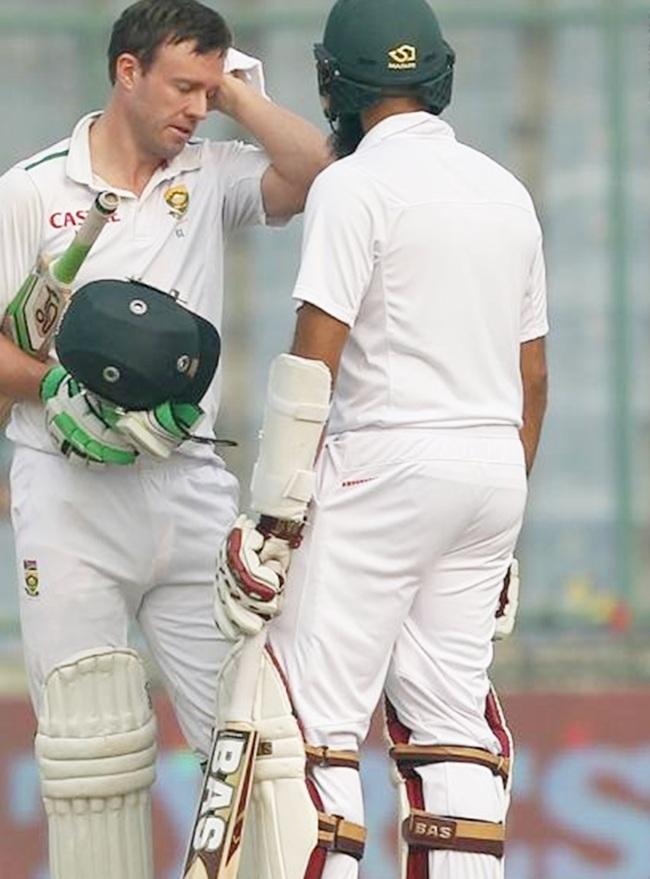 IMAGE: South Africa's AB de Villiers, left, and Hashim Amla react. Photograph: BCCI
The Proteas, courtesy AB de Villiers's 43 off 297 balls, looked like pulling off an improbable draw from the jaws of defeat before India's bowling came to life in the final session courtesy pacer Umesh Yadav's fiery spell and Ashwin ending De Villiers's near six-hour resistance.
Ashwin produced a magical delivery – a sharp bouncing off-break that de Villiers played awkwardly and the resultant catch was taken by Jadeja at leg-slip.
The emphatic Test series victory more than made up for the losses in the ODIs and Twenty20s played earlier.
Credit should also be given to Umesh Yadav (3 for 9 in 21 overs) for starting the slide in the final session by rattling Dane Vilas and Kyle Abbott's stumps.
Dane Piedt was gone when Wriddhiman Saha took a stunner.
Visions of victory were raised in the post-lunch session after Faf Du Plessis's (10, 97 balls) resistance ended when Ravindra Jadeja bowled an armer which the right-hander intended to play for the turn. It hit plumb in-front, much to the delight of Jadeja.
Ashwin got his 30th victim when JP Duminy (0) was caught plumb on the backfoot after placing a dozen deliveries.
Having got a couple of wickets, the drooping shoulders of the Indian fielders suddenly had some life in them.
The Proteas, who continued with their 'Blockathon' added only 21 runs in the first session of the final day, consuming another 35 overs, while the post-lunch session produced 42 runs in 31 overs.
With a session left, it looked as if South Africa were inching towards one of their most creditable draws in Test history.
However, the Indian bowlers ensured that the hosts wrapped up the series in style.
While the pitch made it easier for the South Africans but no credit can be snatched away from currently the world's best batsman, De Villiers, who showed that a class player can change and adapt his game according to adverse situations.
De Villiers was in that zone where he did have only one thing in mind: defend dourly and destroy the opposition's confidence.
It was not destructive T20 batting for which he is so revered but slow disintegration of a team that has been on top on 10 out of the 12 days of Test cricket that has happened during the series.
There were times when the odd boundary was hit and the players carried out the formality of picking the ball from the boundary and throwing it back to the bowler.
In the morning session, Jadeja ended Hashim Amla's dogged vigil with a beautiful delivery but de Villiers frustrated the Indian bowlers no end.
Amla faced 244 balls for his 'epic' 25 before Jadeja bowled him with one that drifted in and then straightened knock the off-stump.
If Amla was not enough, in came Du Plessis, who surpassed his skipper's South African record, set on Sunday, of playing 46 dot balls before opening his account.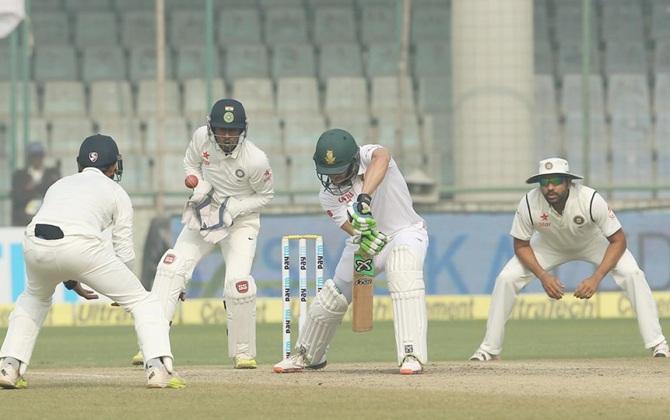 IMAGE: South Africa's Faf du Plessis blocks. Photograph: BCCI
Du Plessis played 52 dots before taking a single of the 53rd delivery. He in fact also surpassed Grant Flower (51 balls vs New Zealand in 2000) to become the third slowest player of all time to open his account.
Make no mistake, Du Plessis had done this kind of defending earlier in Adelaide (2012) when he batted close to eight hours (7 hours and 46 minutes) to score 110 and denied the Aussies what looked like an inevitable win.
And his partner in crime was none other than de Villiers, who had played 220 balls for his 33 in that particular match.
Amla's strike-rate of 10.44 might have put everyone to sleep but his was a perfect example of how to save a Test match from a miraculously hopeless position.
Amla's innings might set future templates on how to save a match as the art of drawing a Test match has become virtually extinct.
Obviously, the drab Kotla wicket, which became literally lifeless on the final morning, did help but it is never easy to save a Test match by batting out more than 160 overs though outh Africa nearly did the unthinkable.