Mahendra Singh Dhoni's brand value worth millions of dollars will undergo a change after his retirement from Tests but it is unlikely that the poster boy from Ranchi will go downhill in the world of endorsements, ad-gurus Prasoon Joshi and Prahlad Kakkar said on Tuesday.
- What are your favourite memories of Dhoni in Tests? Tell us!

"Dhoni has reached a stage where retirement from Tests should not affect his brand value. A brand goes through ups and downs, a brand also has a life cycle. He would now be known for diffferent attributes after today's retirement. His image will go through a change of course but would it be downhill for him? I don't think so," Joshi, an advertising guru and noted Bollywood lyricist said.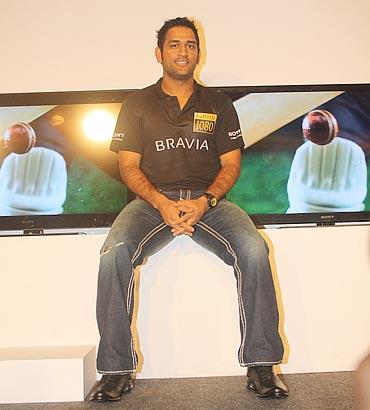 According to the 2014 figures, Dhoni endorses more than 20 brands, charging approximately Rs 13 crore per annum for each product.

The 33-year-old is also the sole Indian in Forbes' lists of world's most valuable athlete brands where he is ranked fifth with a brand value of US$ 20 million.

Kakkar, on the other hand, believes Dhoni's saleability would have dropped had he also quit from One-Day Internationals and T20 Internationals.

"All sportsperson eventually retire in the mid or late 30's. He now has more time to venture into unfamiliar territory. He certainly does not have to worry about the money. What he has earned by now should be enough for the remainder of his life," said Kakkar.

He further added: "Anyway Dhoni's brand value was not because of Test matches, it was because of ODIs and T20s. So as long he is playing, he should be fine."

Joshi, however, feels that people will look at Dhoni differently.

"There is a different dimension added to the personality. Every stage of the career brings in different dimensions and attributes. It is not just about cricket for him. He is seen as a story whose life is good enough for a book or a film," he said.

"Every step somebody takes will change the way the brand is consumed. In his case whether it will take a turn for good or worse it remains to be seen."

Joshi emphasised on how the game is perceived in this day and age, saying a cricketers' career doesn't end with calling it a day on the field.

"Now cricket is not a game played on the ground. It is played in newspapers, drawing rooms, films. You can be an expert or a commentator. The meaning of retirement has changed," he added.

Dhoni's departure from the longest format can only raise the profile of Virat Kohli, who is already considered the "biggest thing" in Indian cricket.

Joshi sees Kohli only growing rapidly as a brand.

"If Kohli is seen as the hottest property in Indian cricket, he has surely earned that tag. Nobody has done a favour to him," he said.

Kakkar concluded by saying that "Kohli is certainly the man to look out for."

However, he hastened to add that the stylish batsman "would have to curtail his brashness".

"He needs to be more diplomatic now as he is going to be the captain. He is already the biggest thing. He is as exciting as Dhoni if not more," said Kakkar.
Image: Mahendra Singh Dhoni
Photograph: Hitesh Harisinghani/Rediff.com