Mahendra Singh Dhoni and several Indian cricketers are expected to fly to Rajkot to attend the reception.
Haresh Pandya reports for Rediff.com from Rajkot.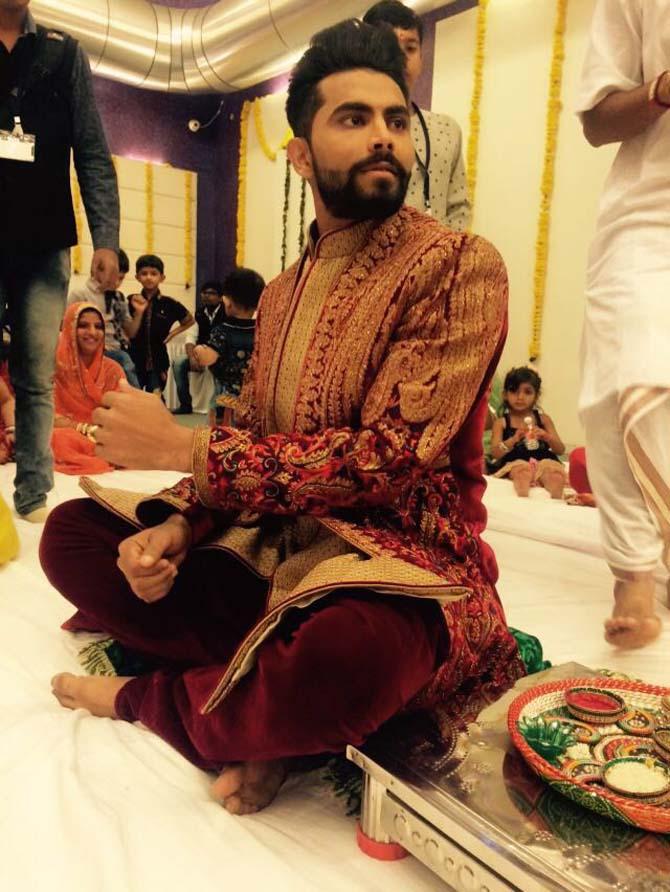 IMAGE: Ravindra Jadeja at one of his pre-wedding ceremonies in Rajkot. Photograph: Haresh Pandya
India's star allrounder Ravindra Jadeja, who hails from the erstwhile princely state of Jamnagar famous for its rich cricketing heritage, is tying the knot on Sunday with his fiancee Reevaba Solanki, who is from Rajkot. The couple got engaged on February 5.
On Saturday, while his Gujarat Lions team-mates were preparing to take on the Mumbai Indians at the Wankhede Stadium, he performed several rituals amid Vedic chants recited by the priest and customary wedding songs sung by ladies in the true Rajput tradition at the Hotel Seasons in Rajkot.
It was a splendid sight to see Jadeja, flanked by his elder sisters Nainaba and Padminiba and other female relatives, do all that. Indian cricket's livewire would be quiet sometimes and suddenly laugh heartily when someone teased him or pulled his leg.
No more were there the white flannels or blue of Team India nor the orange and blue dress of Gujarat Lions. Instead, the unassuming cricketer was in an expensive sherwani and turban when he arrived for the rituals in the morning.
He performed all the ceremonies to the letter, watched by his "humbly proud" father, Aniruddhsinh Jadeja, who was clad in black trousers and a blazer.
To begin with, there was the puja of Lord Ganesh. It was followed by the pithi ceremony in which the women present applied turmeric and sandalwood paste on the bridegroom's face. Jadeja arrived for this ceremony in a loose T-shirt and trousers. He seemed to enjoy every moment as his sisters and others applied the sandalwood paste on his bearded face and forehead.
This was followed by a couple of other ceremonies. Interestingly, there were no professional singers. Instead, the traditional songs were sung by women relatives and well-wishers who had come from Jadeja's ancient village as well as Jamnagar, Rajkot and other places.
While all this was going on, Jadeja was being constantly photographed by many, including children, on their cell phone cameras. Of course, the Jadejas have hired the services of professional lensmen to cover every event during the two-day wedding ceremonies and celebrations.
Unlike most Hindu communities, in the Rajput community no baraat or wedding party goes to the bride's home. Instead, a vel with a handful of people from the bridegroom's side goes there.
The vel -- a decorated car in this case -- that started from the Hotel Seasons in the morning was welcomed by Reevaba's family at The Imperial Hotel. Those who went along with the vel were ceremoniously offered a traditional meal.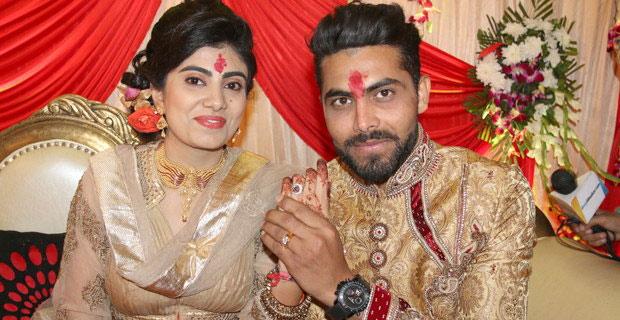 IMAGE: Ravindra Jadeja and Reevaba Solanki at their engagement in February. Photograph: Haresh Pandya
On Friday, the traditional henna ceremony had taken place at Jadeja's home in Jamnagar, where his sisters Nainaba and Padminiba and other women had followed the customs and rituals. The same ceremony was organised at Reevaba's place in Rajkot.
Clad in a yellow panetar (a type of saree the bride wears) and her arms designed in henna, Reevaba looked stunningly beautiful.
There was also a musical night, where no member of Jadeja's family was present. As per Rajput customs, nobody from the bridegroom's family can attend any ceremony at her home.
Jadeja's family had also organised a grand musical night, attended by the who's who of the city, at the Hotel Seasons on Saturday.
His sisters were visibly delighted during the events related to their celebrity brother's wedding. "I'm so happy that Ravindra has finally found some time from his tight schedule and is getting married," Padminiba told this correspondent, one of the three journalists invited to attend the two-day celebrations at the Hotel Seasons.
"This is a big event and it means so much for all of us," she added. "We have spared no efforts to make Ravindra's wedding grand and memorable. We all are missing our beloved mother on this occasion."
Though the sisters did not reveal anything, nor Jadeja for that matter, it is widely assumed that many members of the Gujarat Lions will attend the reception on Sunday evening after the traditional wedding ceremony in the morning.
Suresh Raina and Dwayne Bravo are reported to have said that not only would they attend the reception, but also dance at the event. Mahendra Singh Dhoni and several Indian cricketers are expected to fly to Rajkot to attend the reception.
"There will be a wedding procession in Rajput tradition in the morning before the bridegroom ceremoniously enters the pandal," said the priest who came in from Jamnagar for the ceremonies.
The wedding procession may be one of the many surprises in store for the people of Rajkot. Already, Nainaba is on record saying that her family has "many surprises for all, not just Ravindra and Reevaba." On more than one occasion she has said that the people of Rajkot would remember her brother's wedding for years to come.
"Of course, we have a surprise for Ravindra Jadeja," Gujarat Lions owner Keshav Bansal told this correspondent. "If I reveal it now, it will not remain a surprise!"