Skipper Laxmi Ratan Shukla's valiant unbeaten half-century helped Bengal stage a remarkable fight-back against Railways in their controversy-marred Ranji Trophy quarter-final at the Eden Gardens.
The third day's proceedings saw both the teams engaged in heated exchange of words as about 2,000-odd spectators also played their part in shouting and booing Murali Kartik.
Bengal players also levelled allegations of ball tampering against Railways skipper Kartik, for which, the left-arm spinner was warned by the on-field umpires. The ball was replaced in the 15th over of the Bengal's second innings.
But, it was Shukla with his 78-ball 63 (8x4, 1x6) that stole the show as he led the recovery after Bengal were reduced to 40/4.
Shukla found a perfect ally in cool-headed reserve Test specialist Wriddhiman Saha, who played a patient unbeaten knock of 31 from 105 balls (3x4) for the undefeated 93-run stand for the fifth wicket with the skipper as Bengal led by 136 runs with six wickets in hand on the third day.
Only 76.3 overs were possible in the day, including 51 in Bengal's second innings, something that sums up the time lost in the middle with Kartik engaging in a mind game and apparent sledging.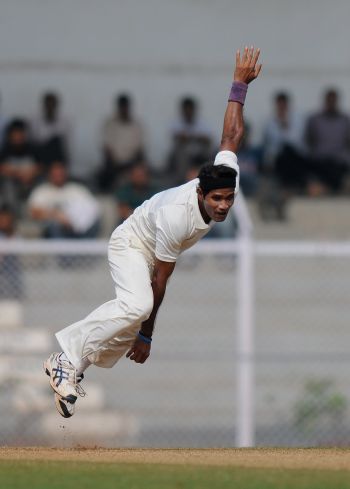 Mercurial pacer Ashoke Dinda dismissed Arindam Ghosh for 97 (13x4) en route his 6/105 to give hosts a slender three-run lead, which led to wild celebration in the Bengal camp as if they had made the semi-finals.
The Bengal pacer was lifted on shoulders by his teammates with loud cheers from the fans just before lunch.
But Bengal's joy was shortlived as in no time their scorecard read 40/4 in 21.5 overs with Anureet Singh scalping Abhimanyu Easwaran (0), Subhomoy Das (19) and Sudip Chatterjee (8).
Railways' strike bowler Anureet stepped up the pressure with five maiden overs on the trot in his marathon spell of 13-7-22-3.
When it needed to show application, seniormost batsman Arindam got out going for a wildish swing. Subhomoy had some anxious moments in the middle before his innings was cut short by Anureet.
Such was the pressure that young gun Chatterjee, who had impressed with his career-best 96 in the first innings, panicked and slashed an away going delivery to be caught at first slip by Amit Paunikar.
With Bengal tottering in their second innings, there was a barrage of sledging from the Railways duo of Kartik and Anureet. In his every run-up, Anureet went up to the striker and uttered something, while Kartik too engaged in verbal duel with opposition batsmen.
It was Subhomoy who was at the receiving end after he survived a dubious caught behind appeal as the Railmen targetted the Bengal batsman. Subhomoy even fell down while chasing a wide ball that slipped out of Mali's hand to go near the second slip.
That Bengal were 15/2 after 14 overs at the drinks break in the second essay summed up their misery.
But a positive looking Shukla led Bengal's recovery with Saha in the post-tea session.
When all other Bengal batsmen showed lack of intent, Shukla had everything going in for him and also survived a run out scare in the middle.
With Anureet out of the Railways attack after his long first spell and Mali not being so effective, Shukla took off the pressure with a flurry of boundaries. He was not even afraid to take risk, slashing Mali over point region for a six.
Shukla notched up his half-century in 52 balls, hitting Anureet for a boundary in the long-on region.
Earlier, resuming the day at 233/5, Railways were bundled out for 314 in 93.3 overs with Dinda claiming his 15th five-for in first-class cricket.
Scorecard
Bengal 1st innings: 317
Railways 1st innings
S Shukla lbw b Paul 6
A Paunikar b Dinda 12
N Bhille c Saha b Dinda 20
R Jonathan c Easwaran b Paul 0
A Ghosh lbw b Dinda 97
K Sharma c Saha b Dinda 4
M Rawat c Saha b Paul 119
M Kartik c Saha b Sarkar 23
A Singh not out 18
K Upadhyay b Dinda 2
R Mali c & b Dinda 4
Extras (LB 8, W 1) 9
Total (all out in 93.3 overs) 314
Fall of wickets: 1-13, 2-28, 3-38, 4-38, 5-42, 6-260, 7-285, 8-296, 9-307
Bowling: Ashoke Dinda 28.3-5-105-6, S Sarkar 24-6-83-1, L R Shukla 13-2-36-0, S Paul 21-7-47-3, S Lahiri 3-0-19-0, W B Chatterjee 4-0-16-0.
Bengal 2nd innings:
A Easwaran b Anureet 0
Arindam Das c Rawat b Upadhyay 5
S Das b Anureet Singh 19
S Chatterjee c Paunikar b Anureet 8
W P Saha not out 30
L R Shukla not out 63
Extras (B 4, NB 4) 8
Total (for 4 wickets in 51 overs) 133
Fall of wickets: 1-4, 2-7, 3-24, 4-36
Bowling: Anureet 19-7-41-3, K Upadhyay 15-6-33-1, R Mali 12-3-46-0, K Sharma 5-1-9-0.