Jammu and Kashmir skipper Parveez Rasool continued his brilliant all-round performance with a five-wicket haul as their Ranji Trophy quarter-final match seemed headed for an exciting finish with Punjab leaving them with a target of 324 for a historic victory in Vadodara.
At stumps, J&K were 77 for two needing another 247 runs with eight wickets in hand to make it to their maiden semi-final appearance in the national championship. Hardeep Singh (20) and Ian Dev Singh (17) were at the crease at close on an eventful third day's play.
Although two days are still left in the match, an outcome is expected tomorrow with Jammu and Kashmir batsmen showing a lot of positive intent in the 20 overs they batted.
After scoring a sparkling century to keep the first innings lead down to 24, Rasool grabbed five for 58 in 14.2 overs, polishing off Punjab's middle and lower-order to bowl them out for 296. This was Rasool's sixth five-wicket haul in 29th first-class match.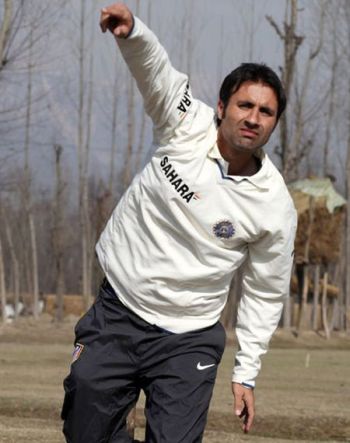 Mandeep Singh (101) and Gurkeerat Singh (66) had a 113-run partnership for the seventh wicket after Punjab were reduced to 112 for six with the dismissal of India discard Yuvraj Singh (40).
Rasool got into the act with his classical off-breaks as he first dismissed Yuvraj, who after hitting the offie for a six tried to repeat the shot only to be caught by Samiullah Beigh at long on. Yuvraj hit six fours and a six in his 58-ball knock.
Mandeep and Gurkeerat scored runs at a quick clip as they added 113 runs at an average of over four runs per over.
Mandeep in his 151-ball knock hit 14 boundaries while Gurkeerat faced 77 deliveries to hit nine fours and a six.
Gurkeerat was finally dismissed when Rasool got one to turn enough as the batsman missed the line to be adjudged leg before.
Harbhajan Singh tried to play an ugly hoick across the line and was caught plumb in-front as Rasool had his revenge in the 'battle of captains' after being hit by his opposite number in the first innings.
At 225 for eight, Mandeep found an able ally in Manpreet Gony (31), who used the long handle to good effect spanking four boundaries and a six.
Mandeep-Gony duo added 52 runs for the ninth wicket before Gony was caught behind to give Rasool his fourth victim. En route his seventh first-class centuries, the 22-year-old Mandeep hit some lovely pull-shots as he reached the century with last man VRV Singh for company.
He was finally bowled when he went for a slog shot and missed the line of the ball to give Rasool his fifth victim of the innings.
Starting the chase of 324, Adil Rishi smacked six boundaries in his knock of 34 as J&K batsman showed a lot of positive intent without being bogged down. Rishi's opening partner Bandeep Singh (4) was caught by substitute fielder Vinay Choudhary.
But that didn't deter Rishi from going for his shots as he played the cuts and drives at will in company of Hardeep before VRV got an outside edge to keeper Gitansh Khera.
Ian Dev, who hasn't had a great season, started off well hitting Harbhajan over mid-wicket for a big six and also hit a boundary taking 12 runs off the only over he bowled on the day.
Scoreboard
Punjab 1st Innings :304
J&K 1st Innings: 277
Punjab 2nd innings (Overnight 15/2)
M Vohra b Nazir 7
J Singh c Beigh b Mudhasir 8
S Sharma b Nazir 5
RI Singh c Rishi b Dayal 1
G Khera lbw Mudhasir 13
Y Singh c Beigh b Rasool 40
M Singh b Rasool 101
G Singh lbw Rasool 66
H Singh lbw b Rasool 0
MS Gony c Rishi b Rasool 31
VRV Singh not out 0
Extras (b-8, lb-6, w-5, nb-5) 24
Total (All out; 72.2 overs) 296
Fall of wickets: 1-15, 2-15, 3-18, 4-25, 5-50, 6-112, 7-225, 8-225, 9-287
Bowling: Beigh 13-1-69-0, Nazir 22-4-72-2, Mudhasir 10-2-47-2, Dayal 13-4-36-1, Rasool 14.2-0-58-5.
Jammu & Kashmir 2nd innings (target: 324 runs)
A Rishi c Khera b VRV 34
B Singh c sub (Choudhary) b Gony 4
H Singh batting 20
ID Singh batting 17
Extras (lb-1, nb-1) 2
Total (For 2 wickets; 20 overs) 77
Fall of wickets: 1-21, 2-55
Bowling: Sharma (1) 7-1-30-0, Gony 6-2-18-1, VRV 6-0-16-1, Harbhajan 1-0-12-0.
Image: Parveez Rasool