Railways' experienced campaigner Mahesh Rawat proved to be the thorn in the flesh for Bengal as he stood tall with an unbeaten century to lead the visiting team's recovery on day two of the Ranji Trophy quarter-final in Kolkata on Thursday.
Propelled by Rawat's unbeaten 105 in an undefeated 191-run partnership with Arindam Ghosh (78 batting) Railways ended day two at 233/5, trailing Bengal by only 84 runs with five wickets in hand.
In reply to Bengal's challenging first innings total of 317, Railways were tottering at 42/5 after losing three wickets for four runs just after lunch when Ashoke Dinda was firing on all cylinders with veteran Shib Shankar Paul giving a good back-up.
But the Railways wicketkeeper-batsman, counter-attacked Dinda with six successive classical boundaries before turning around the match for the visitors.
The flurry of boundaries against Bengal's strike bowler derailed the home side and it failed to recover from the slide. Luck too went in favour of Rawat, who survived a run-out scare when he was on 28. Barring this, it was a chance-less knock by Rawat and he executed his shots to perfection. Bengal's bowling was reduced to a two-pace attack in Dinda and Paul with Sourav Sarkar lacking in intensity.
In no time, Rawat raced to his ninth 50-plus score from 10 matches this season, notching up his 28th first-class half century in 48 balls.
Such was his domination that Rawat scored 78 runs in (18) fours and sixes in his 125-ball unbeaten innings. The batsman has over 700 runs under his belt at an average of over 70 this season.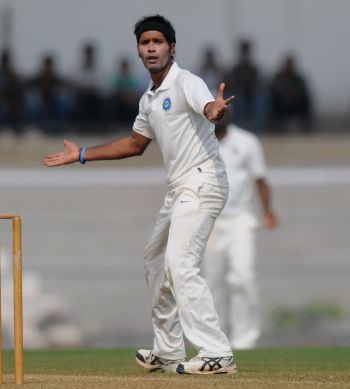 In local-lad Ghosh, Rawat found a perfect ally as the two leading run-getters of Railways staged yet another recovery act.
The duo notched up the 100-partnership in 37.1 overs and Ghosh also got a reprieve, dropped on 44 at the second slip by Sudip Chatterjee.
The former Bengal batsman, Ghosh, steadily completed his fourth first class half-century in 117 balls to frustrate the home camp.
With no assistance from Sarkar, Shukla went back to Dinda and Paul towards the fag end of the day and Rawat was happy to step up the attack again to notch his third century of the season.
Rawat hit two consecutive boundaries off Dinda to race to 99 before notching the century in style with a single.
Earlier, resuming at 274 for eight, Bengal's first innings folded for 317 in less than an hour this morning after Saha's defiant innings came to an end for 87 when the wicketkeeper-batsman was caught by Kartik at second slip off the bowling of Upadhyay.
Dinda was the first to be dismissed in the third over of the day when he was castled by Mali without any addition to his overnight total of 17.
Just when it looked like Bengal would fold inside 300, Paul produced a cameo of 14 not out in a 38-run last wicket partnership.
Scorecard
Bengal 1st innings
A Easwaran c Rawat b Sharma 65
Arindam Das b Anureet 2
S Das b Anureet 0
S Chatterjee c Rawat b Anureet 96
W Saha c Kartik b Upadhyay 87
L Shukla c Rawat b Kartik 17
W Chatterjee c Rawat b Anureet 0
S Lahiri c Shukla b Kartik 2
S Sarkar run out 4
A Dinda b Mali 17
S Paul not out 14
Extras: (b-4, lb-3, w-2, nb-4) 13
Total: (all out in 101.5 overs) 317
Fall of wickets: 1-3, 2-3, 3-166, 4-190, 5-211, 6-212, 7-217, 8-233, 9-279
Bowling: Anureet Singh 32.2-6-88-4, K Upadhyay 23.5-6-70-1, R Mali 14-4-57-1, K Sharma 13.4-4-37-1, M Kartik 18-3-58-2.
Railways 1st innings
S Shukla lbw b Paul 6
A Paunikar b Dinda 12
N Bhille c Saha b Dinda 20
R Jonathan c Easwaran b Paul 0
A Ghosh batting 78
K Sharma c Saha b Dinda 4
M Rawat batting 105
Extras: (lb-8) 8
Total: (For 5 wkts in 68 overs) 233
Fall of wickets: 1-13, 2-28, 3-38, 4-38, 5-42
Bowling: A Dinda 21-4-83-3, S Sarkar 14-4-46-0, L Shukla 10-2-25-0, S Paul 16-6-36-2, S Lahiri 3-0-19-0, W Chatterjee 4-0-16-0.
Image: Ashok Dinda
Photograph: Pal Pillai/Getty Images