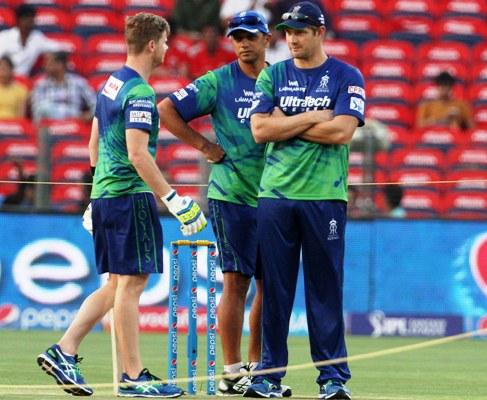 Rajasthan Royals' captain Steve Smith, mentor Rahul Dravid and Shane Watson. Photograph: BCCI
After masterminding Rajasthan Royals' nine-run win over Kolkata Knight Riders with an all-round show to take them into the play-offs, Shane Watson has said it has given them a chance to make the May 24 final.
Rajasthan had a fine start of five wins on the trot before hitting a trough and now that they are in the play-offs.
"We were a bit up and down after first five games. We certainly lost a lot of momentum, lost a couple of games and there were a couple of washouts and it was a battle to get back to winning ways. It was a knock out game and the win gives us a chance to make the final. We can just go out and play with a lot of freedom," the World Cup-winning Australian team member said.
Watson said that he had worked hard ahead of the crunch Indian Premier League game.
"I performed very well. Battingwise I am relieved. I have not scored as many runs as I wanted to, got decent sort of starts before fading away. One thing is (the advantage) of 3-4 days (break) to prepare for this crucial game.
"I just spent a couple of training sessions to try and get my batting to where I can strike the ball more cleanly. I had spent the last couple of days bowling yorkers too," said Watson at the post-match press conference at the Brabourne Stadium.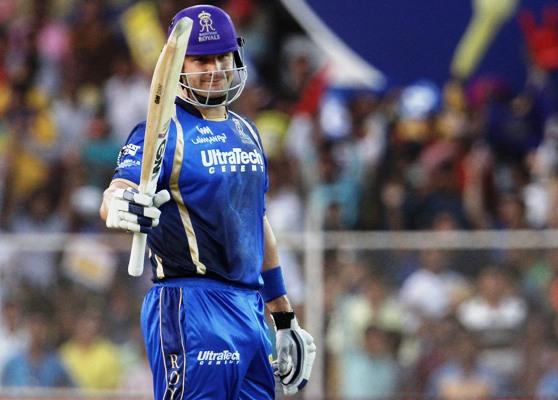 Rajasthan Royals' opener Shane Watson acknowledges the crowd after scoring a century. Photograph: BCCI
Watson fired Rajasthan to an imposing total of 199 for six with a dominating 59-ball innings of 104 not out, his first century in the tournament and the fourth by all batsmen, spiced with five sixes and nine fours. He then turned in a fine bowling display as well to take 2 for 38 as KKR stumbled and ended at 190 for 9 to lose the make-or-break game.
"I have been working really hard on my bowling and trying to be effective in T20 cricket. Obviously, the injury at the start of IPL meant I could not do much skill work to execute my yorkers and change of pace as well.
"The last couple of days were the first time that I spent time concentrate on getting
the few balls right. Under pressure I executed my yorkers pretty well," said the Australian all-rounder.
"Batting through 20 overs was more physically than mentally taxing. My body certainly is more used to the high temperatures (now) than during the first couple games that I played," Watson added.