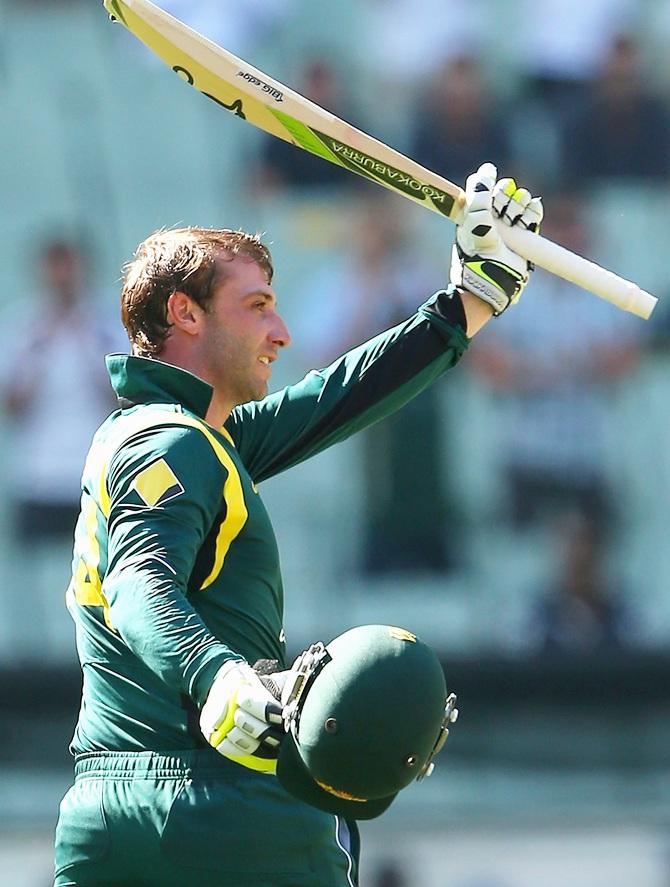 Phillip Hughes of Australia. Photograph: Quinn Rooney/Getty Images
Phil Hughes has always been something of a maverick in Australian cricketing circles.
A pugnacious left-hander brimming with self-confidence, he has been in an out of the Australian national team for the past five years.
His ability to score runs has never been questioned but his unorthodox batting technique, especially against short-pitched bowling, has restricted his appearances to 26 Tests and 20 One-Day Internationals.
Before Tuesday's horrific incident, when he was struck in the head by a ball while batting in a domestic first-class match, Hughes was pushing for a recall to the Test team.
He underwent emergency surgery and remains in a critical condition in a Sydney hospital with the thoughts and well-wishes of the cricketing world with him.
Hughes took the cricketing world by storm when he made his Test debut in 2009, scoring a mountain of runs despite often looking uncomfortable at the crease, stepping away from short-pitched deliveries and slashing the ball over backward point.
Like many Australian cricketers, Hughes was raised in rural New South Wales. The Australian bush can be a harsh and often remote environment with limited opportunities for children, but is one that has produced a long line of tough, single-minded players.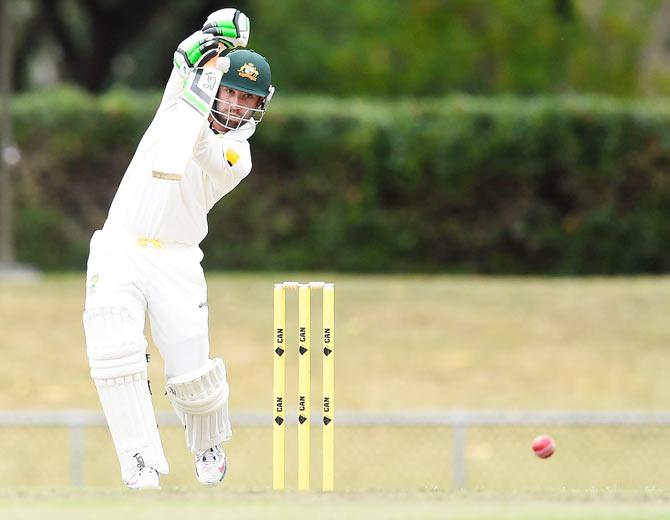 Phil Hughes of Australia 'A' bats during the match between Australia 'A' and South Africa 'A' at Tony Ireland Stadium on August 9, 2014. Photograph: Ian Hitchcock/Getty Images
Hughes grew up on a banana plantation in Macksville, a town of 3,000 in the state's subtropical north, halfway between Sydney and the Queensland capital Brisbane.
He honed his skills through hours of monotonous practice.
During the day, he would relentlessly hit balls in his backyard. At night, he would perfect his unique strokeplay by playing shots in front of a full-length mirror.
By the age of 12 he had run out of junior players to challenge him so was forced to play against adults, who gave him his first real Test of courage with a barrage of bouncers.
He made his first-class debut at 18 and finished the season by becoming the youngest player to score a century in the final of Australia's domestic Sheffield Shield competition.
It was not just his timing at the crease that was perfect.
A vacancy suddenly opened up in the Australian team after Matt Hayden retired and Hughes won a place in the Test side for the tour of South Africa in 2009.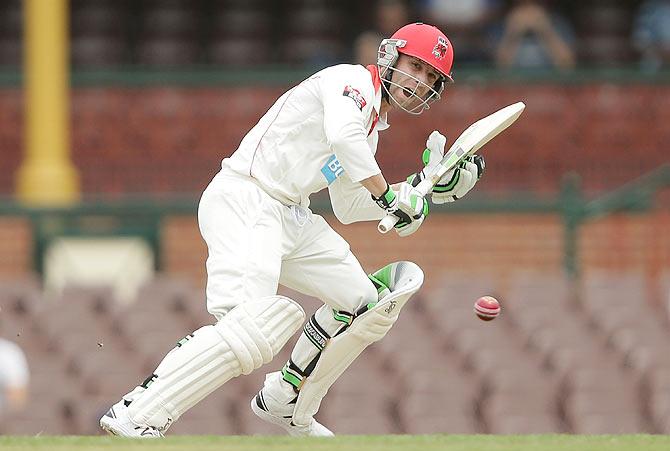 Phillip Hughes of South Australia bats on Day 1 of the Sheffield Shield match between New South Wales and South Australia before getting hit at Sydney Cricket Ground on Tuesday. Photograph: Mark Metcalfe/Getty Images
Riddled with nerves, he was dismissed for a fourth-ball duck after an ugly swipe in his first Test innings, but he quickly rebounded and showed he was made of sterner stuff.
Short for an opener, he made an assured 75 in the second innings then scored hundreds in each innings of his second Test, becoming the youngest man to achieve the feat at Test level.
But his meteoric rise was matched by his sudden fall.
He was dropped from the team during the Ashes series that same year and although he made it back several times since, he has never managed to cement his spot in the team, despite his widespread popularity.
From his 26 Tests, he has scored 1,535 runs at an average of 32.65, with three centuries. He has also scored two ODI hundreds.
For now the cricket world is just hoping he can recover from his injuries.