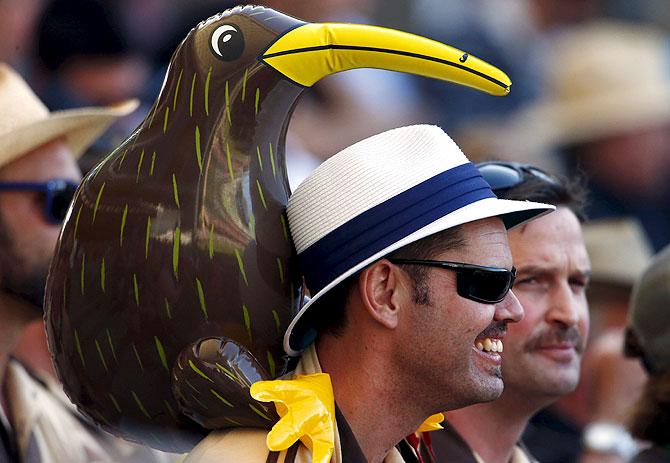 IMAGE: A New Zealand supporter, with an inflatable Kiwi on his shoulders, watches during the third day of the third cricket test match against Australia at the Adelaide Oval on Sunday. Photograph: David Gray/Reuters
Cricket's inaugural day-night test between Australia and New Zealand finished within three days but bumper crowds helped to compensate for the pink ball's dominance of the bat.
- Day-night Test, PHOTOS: Australia edge out New Zealand in thriller
Australia went down as victors of the first floodlit test after sealing a nerve-jangling, three-wicket victory late on Sunday but organisers will also claim a win, with 120,000 fans flocking to Adelaide Oval through the match.
"The whole test match was a great innovation, it was a great spectacle and to get 120,000 people through the gate in three days is absolutely amazing," Australia captain Steven Smith told reporters.
After batsmen dominated the earlier tests in Brisbane and Perth, the highest innings total in Adelaide was 228 and only 821 runs were scored at a venue traditionally regarded a batsman's paradise.
Fears for the pink ball's endurance undoubtedly played a part and the curator prepared a wicket cushioned with grass to ensure it would not degrade too quickly.
In the end no team came near to taking a new ball after 80 overs, with the longest innings lasting 72.5 overs.
Many of the batsmen succumbed to poor shots and Australia wicket-keeper Peter Nevill's first innings 66 was the highest score.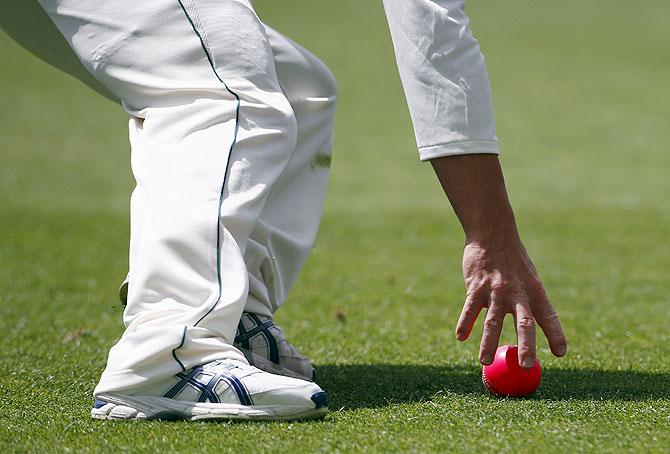 IMAGE: Australia's David Warner fields the pink ball during the first day of the third cricket Test match against New Zealand at the Adelaide Oval on Friday. Photograph: David Gray/Reuters
The vagaries of the ball undoubtedly played a big part, however, and it swung more during the evening sessions when it was also tougher for the batsmen to see under the floodlights.
While Smith shrugged off the bowlers' dominance as just "one of those games", opposing captain Brendon McCullum felt there was room for fine-tuning.
Overall, he thought the match was an emphatic success.
"As pink-ball cricket evolves, which I'm sure it will in the global game, I think we'll see that pitches won't have quite as much grass on them," he said.
"Day-night cricket is meant to allow test cricket to be played at night time, it's not meant to differ. It's not meant to change how test cricket is played.
"Under lights, the ball probably responded a bit too much, but I would say that as a batter.
"Overall, it's a roaring success -- 120,000 people turning up over three days. People are voting with their feet. I think it's here to stay, which is great."