Images from the fourth Twenty20 International between India and England, in Ahmedabad, on Thursday.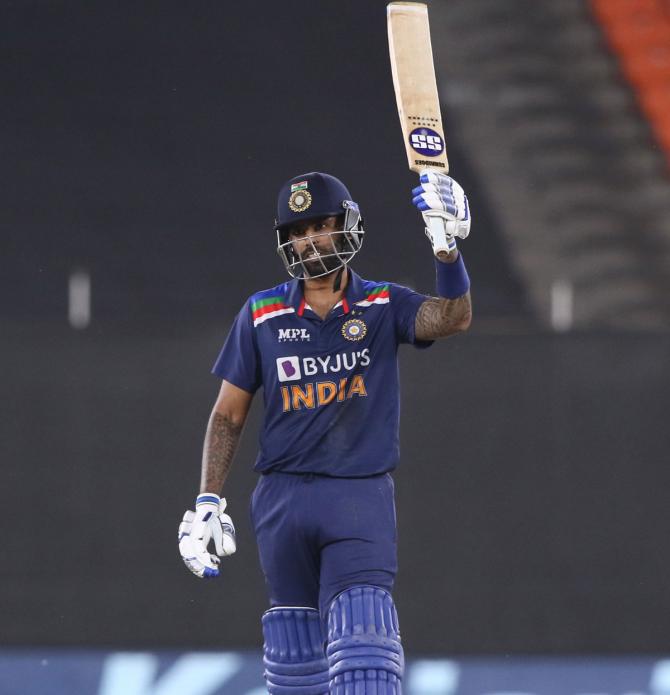 Suryakumar Yadav sizzled in only his second outing in international cricket as India beat England by eight runs in the fourth Twenty20 International, in Ahmedabad on Thursday, to level the five-match series 2-2.
The 30-year-old Mumbai Indians batsman scored a whirlwind 57 off 31 balls, as India piled on the runs despite the loss of skipper Virat Kohli (1), Rohit Sharma (12) and K L Rahul (14) cheaply, to finish with an impressive 185 for 8 after being put in to bat.
Shreyas Iyer contributed a quickfire 37 off 18 balls at the end, while Rishabh Pant stroked 30 off 23 balls, as the home side scored 57 runs from the last five overs.
In reply, England were restricted to 177 for 8.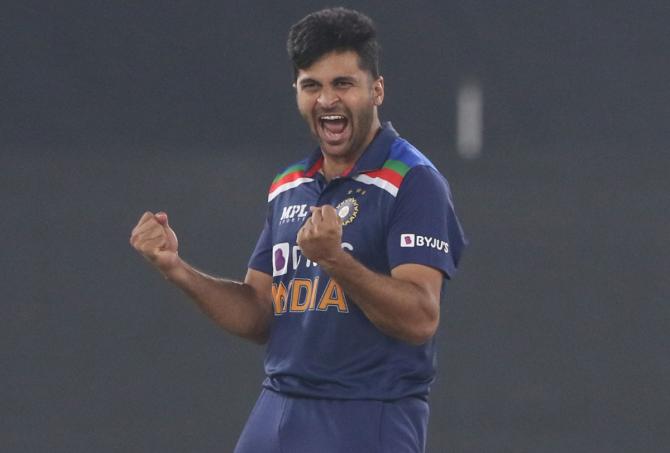 Ben Stokes was their top-scorer with 46 from 23 balls, including four fours and three sixes.
Opener Jason Roy (40) and Jonny Bairstow (25) also made useful contributions before pacer Shardul Thakur put a spoke in the wheel.
Thakur, who bagged the key wickets of Stokes and Eoin Morgan (4) off successive deliveries in the 17th over, was India's best bowler, finishing with three wickets for 42 runs.
Earlier, Suryakumar started with a six and finished with two more in a brisk 57 off 31 balls to set the platform for India's huge total.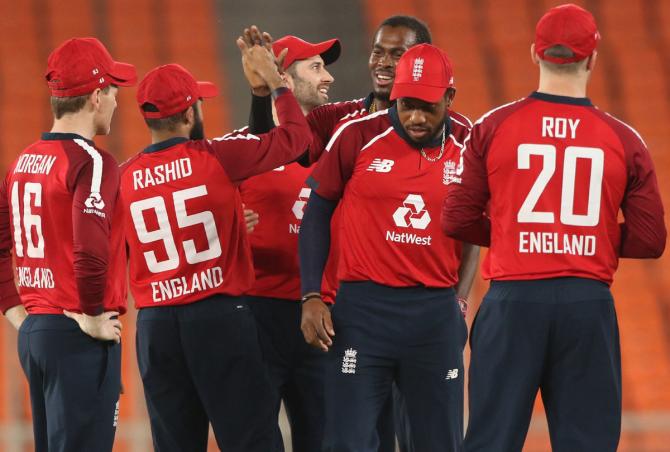 England captain Eoin Morgan won the toss and elected to bowl.
India made a couple of changes in a must-win game for them. Ishan Kishan made way for Suryakumar, while Rahul Chahar came in for fellow leg-spinner Yuzvendra Chahal.
Opener KL Rahul retained his place in the team despite failing in the first three games of the series, logging two ducks in the last two games.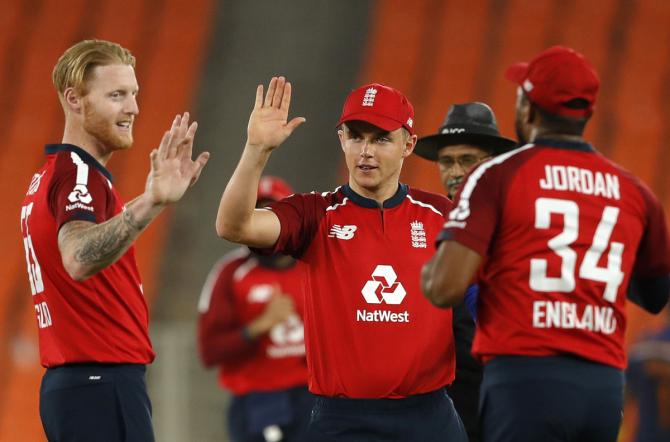 India captain Virat Kohli said Kishan is down with a groin injury, which he picked up while fielding.
Jofra Archer gave England the breakthrough after the opening pair of Rohit Sharma and K L Rahul saw off the first three overs in some style. The former was done in by the slower delivery, chipping a simple return catch back to the bowler.
Rohit was out for 12 and India 21 for 1 in the fourth over.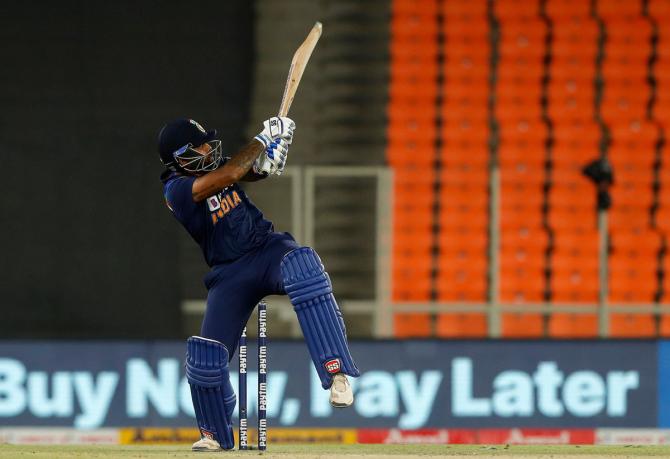 Suryakumar, promoted to No 3, got off the mark in grand style, pulling a short delivery from Archer over fine leg for a six.
That was the catalyst the debutant needed, and he and Rahul rallied India after the early dismissal of Rohit to 45 for 1 after the six powerplay overs.
However, Rahul then suffered his fourth successive failure in the series. He tried to loft Ben Stokes down the ground but was unable to hit cleanly and the resultant chip was taken at mid-off by Archer.
He was out for 14 and India 63 for 2 in the eighth over.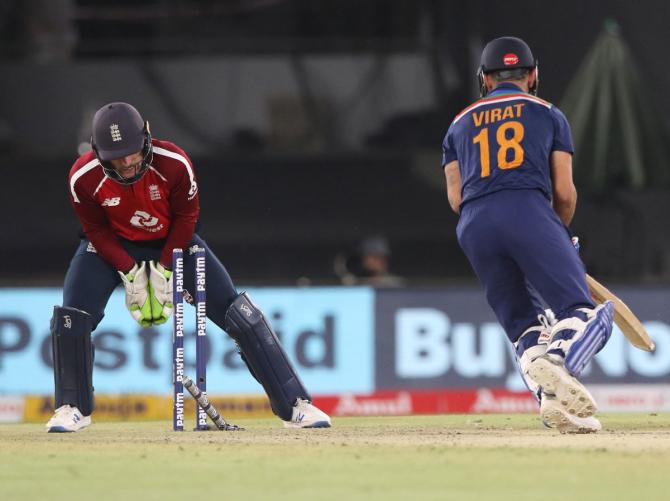 Six balls later, England got the big wicket of Virat Kohli.
India's skipper Kohli decided to take the attack to Adil Rashid. He came down the track, but was beaten by a googly and stumped by Jos Buttler for one.
India were reduced to 70 for 3 in the ninth over.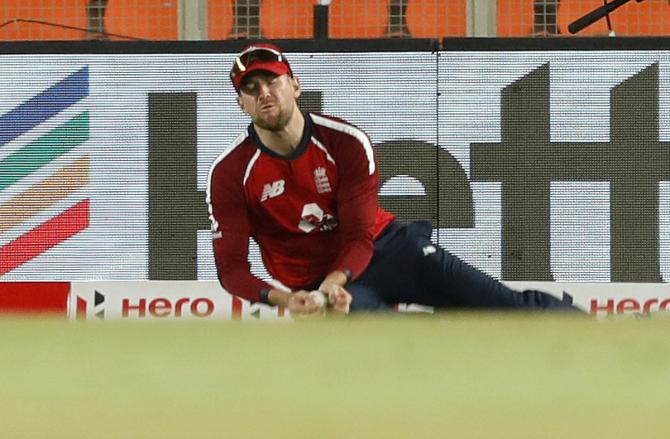 Suryakumar though continued to take the fight to the England bowlers, hitting his second six and six fours before bringing up his 50 off just 28 balls.
He then hit his third six, but perished soon after for 57 off 31 balls, caught by Dawid Malan a few metres from the boundary off Sam Curran's second delivery of the match.
India were 109 for 4 in the 14th over.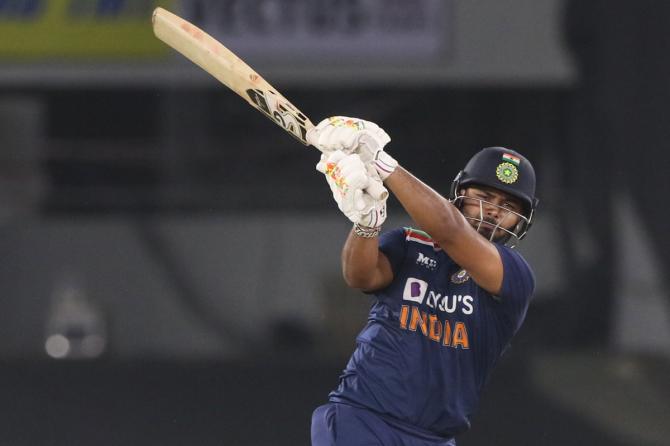 New-man in Shreyas Iyer and Rishabh Pant continued to throw caution to the wind in a 34-run partnership before Archer came back into the attack and ended it off his second delivery in the 17th over as Pant played all over a full delivery and was bowled for 30 off 23 balls.
India were 143 for 5.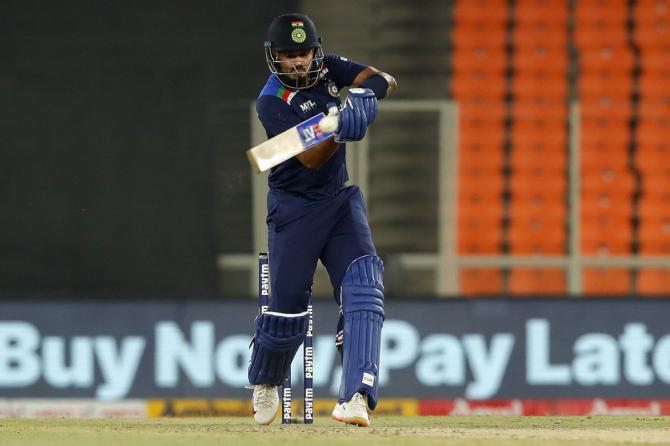 It was six down when Hardik Pandya was out for 11. He chased a wide ball from Mark Wood and appeared to have found the gap, but Stokes dived to his left and plucked the offering at mid-off.
Shreyas Iyer soon followed Hardik back after a god knock of 37 off 18 balls and Washington Sundar (4) became Archer's fourth victim as India finished with a commanding 185 for 8.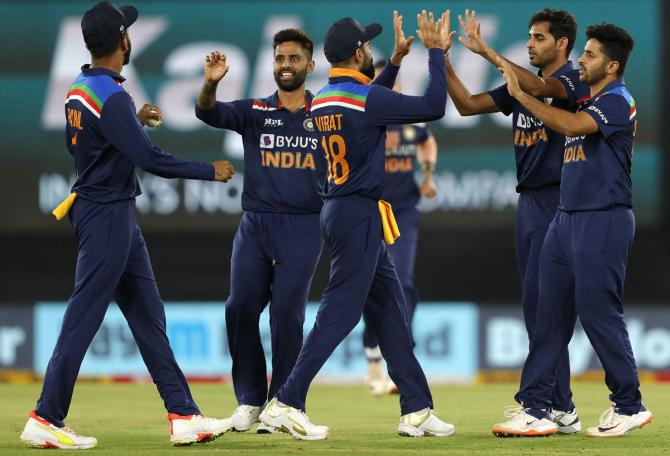 Jason Roy and Jos Buttler got England off to a sedate start, unable to dominate Bhuvneshwar Kumar and Hardik Pandya who opened the bowling for India. But the former struck with the fifth delivery of his second over, taking the huge wicket of the in-form Jos Buttler.
The batsman was foxed by a slow leg-cutter. He tried to hit it over the leg side but got a leading edge and was caught by Rahul at mid-off to perish for nine.
England were 15 for 1 in the third over.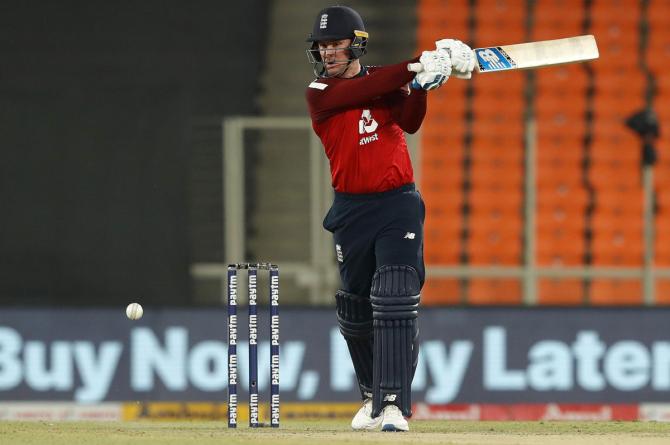 New-man in Dawid Malan and Roy went about steadying the innings and scored 17 runs from spinner Washington Sundar's first as England reached 48 for one from the first six overs.
Rahul Chahar ended the partnership with the wicket of the struggling Malan, who tried to reverse sweep but misread the googly and was bowled round his leg for 14. England were 60 for 3 in the eighth over.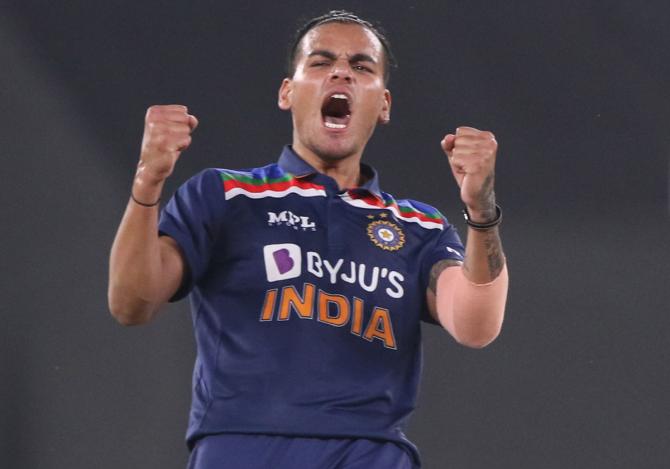 It got worse for England when Roy was dismissed by Pandya after a brisk 40 off 26 balls in the next over. Pandya struck with the last delivery of his over as Roy took on the short ball and was caught by Suryakumar Yadav at deep midwicket.
England were 66 for 3.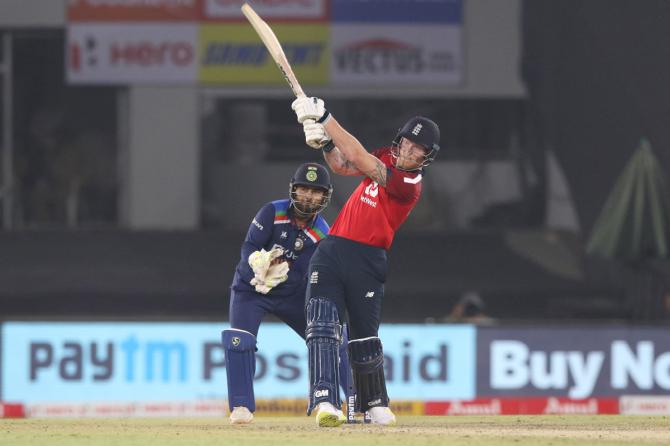 Jonny Bairstow and Ben Stokes were involved in a 50-run stand for the fourth wicket from just 29 balls as England chipped away at the runs.
Washington Sundar suffered the wrath of the two batsmen, conceding 18 in his final over to finish with 52 runs from his four overs -- the first time he has conceded 50 runs or more in a T20 International.
Chahar broke the partnership as Bairstow came down and sliced a simple catch to Sundar at point.
Bairstow scored 25 from 19 balls, having put on 65 off 36 for the fourth wicket.
Just when England got back into the contest pacer Shardul Thakur, retuning to the attack, struck first ball with the big wicket of Stokes, who mistimed the slower delivery and was caught at long-off.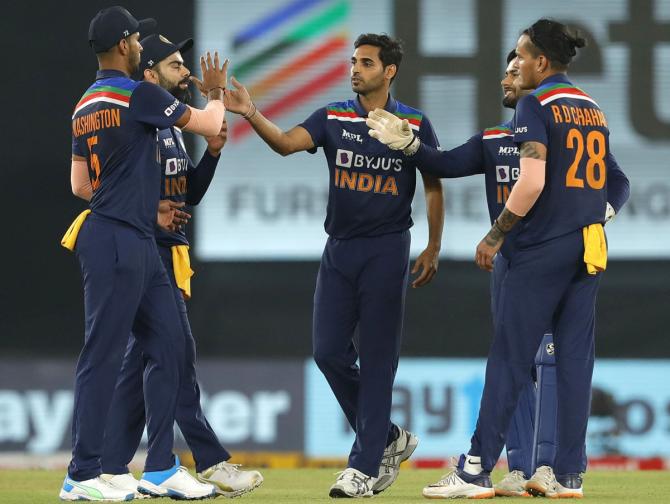 Stokes walked back after a cracking knock of 46 from 23 balls, inclusive of four fours and three sixes.
Thakur struck again with his next delivery as Eoin Morgan sliced the slower ball straight into the hands of Sundar at sweeper cover and perished for four.
India were not firmly in control as England slipped to 140 for 6.
It was all over for England when Sam Curran missed the pull and was bowled off Pandya's last delivery, trying to slog it over the leg side.
Pandya finished with wonderful figures of 1 for 16 in four overs.