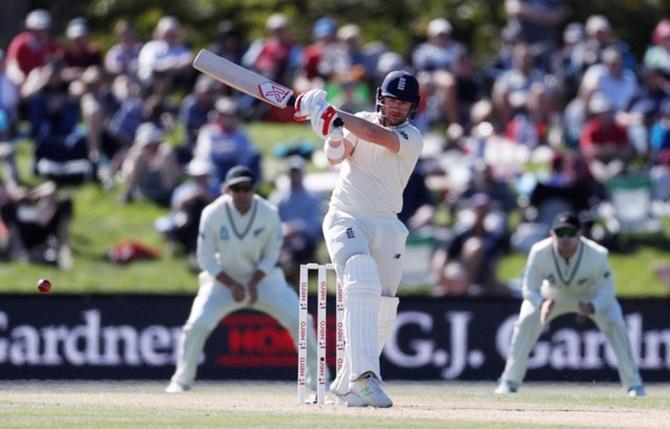 IMAGE: England's Mark Stoneman bats during Day 3 of the second Test against New Zealand. Paul Childs/Reuters
England were in a strong position to win the second Test against New Zealand and level their two-match series as they extended their lead to 231 runs when bad light stopped play three overs early on the third day at Hagley Oval on Sunday.
Captain Joe Root was 30 not out, while Dawid Malan was on 19 with the visitors on 202 for three in superb batting conditions.
Barring an unlikely batting collapse on Monday, the outcome of the match is now firmly in Root's hands with the major decision to be made on how long he wants to bat on the fourth day to give his side enough overs to bowl New Zealand out.
James Vince and Mark Stoneman, who had consolidated England's lead in the middle session, were the only wickets to fall after tea with both no doubt ruing the missed opportunity of scoring their first Test centuries.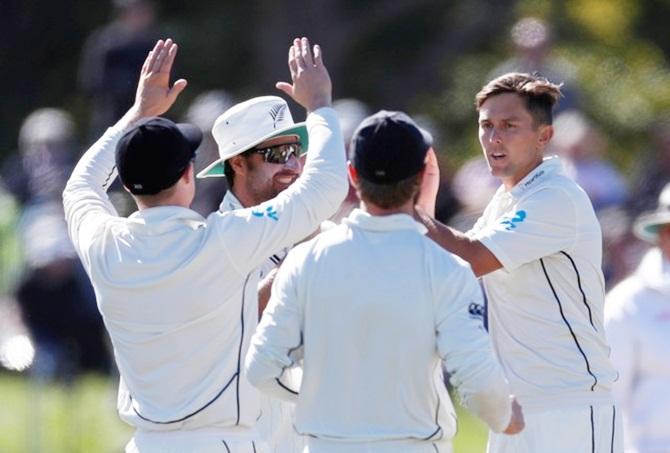 IMAGE: New Zealand pacer Trent Boult celebrates after dismissing England opener Alastair Cook. Photograph: Paul Childs/Reuters
Stoneman was caught by wicketkeeper BJ Watling off Tim Southee for 60, before Vince was snapped up by Ross Taylor at first slip off Trent Boult for 76.
Vince had earlier been dropped by Taylor at a wide first slip by Colin de Grandhomme while on 55.
Alastair Cook was the only wicket to fall in the middle session when he was caught by Watling off Boult for 14.
Stuart Broad had earlier completed his 16th five-wicket haul, finishing with six for 54, while his new ball partner James Anderson had four for 76 as they bowled New Zealand out for 278.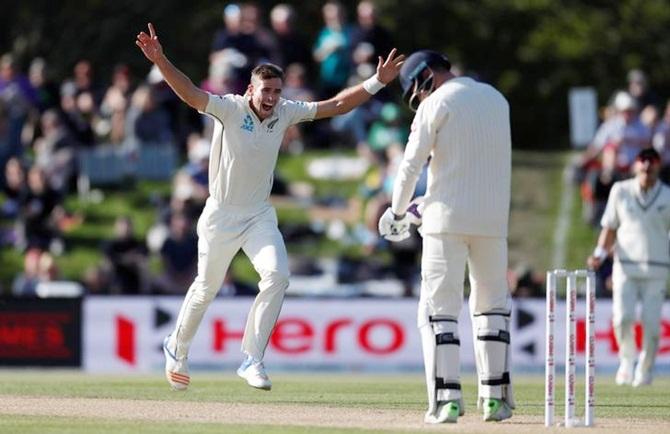 IMAGE: New Zealand pacer Tim Southee appeals for the wicket of England's James Vince. Photograph: Paul Childs/Reuters
Watling top-scored with 85 before he was bowled by Anderson, while Tim Southee scored his fourth Test half century before he was bowled by the 35-year-old for 50.
Neil Wagner (24 not out) and Boult (16) then provided a swashbuckling 10th-wicket partnership of 39 runs to get their side within sight of England's first innings of 307.
England need a win to deny New Zealand their first series victory against them since 1999.
The hosts won the first Test at Eden Park in Auckland by an innings and 49 runs.
Scorecard
England (1st innings):
A. Cook b Boult 2
M. Stoneman c Latham b Southee 35
J. Vince lbw Southee 18
J. Root b Southee 37
D. Malan lbw Boult 0
B. Stokes c Watling b Boult 25
J. Bairstow c Taylor b Boult 101
S. Broad c Sodhi b Southee 5
M. Wood b Southee 52
J. Leach c Watling b Southee 16
J. Anderson not out 0
Extras: (B-9, LB-5, W-1, NB-1) 16
Total: (for 10 wickets; 96.5 overs) 307
Fall of wickets: 1-6, 2-38, 3-93, 4-94, 5-94, 6-151, 7-164, 8-259, 9-307, 10-307.
Bowling: Boult 28.5-5-87-4, Southee 26-7-62-6, de Grandhomme 17-4-44-0, Wagner 20-5-69-0, Sodhi 5-0-31-0.
New Zealand (1st innings):
Jeet Raval c Bairstow b Anderson 5
Tom Latham c Bairstow b Broad 0
Kane Williamson c Bairstow b Anderson 22
Ross Taylor c Cook b Broad 2
Henry Nicholls lbw b Broad 0
B.J. Watling b Anderson 85
Colin de Grandhomme c Bairstow b Broad 72
Tim Southee b Anderson 50
Ish Sodhi c Bairstow b Broad 1
Neil Wagner not out 24
Trent Boult c Malan b Broad 16
Extras: (lb-1) 1
Total: 278 all out in 93.3 overs
Fall of wickets: 1-0, 2-14, 3-17, 4-17, 5-36, 6-178, 7-226, 8-231, 9-239, 10-278
Bowling: James Anderson 24-5-76-4, Stuart Broad 22.3-5-54-6, Mark Wood 21-3-69-0, Jack Leach 19-3-52-0, Joe Root 1-0-9-0, Ben Stokes 6-2-17-0.
England (2nd innings):
Alastair Cook c Watling b Boult 14
Mark Stoneman c Watling b Southee 60
James Vince c Taylor b Boult 76
Joe Root not out 30
Dawid Malan not out 19
Extras: (lb-1, w-1, nb-1) 3
Total: 202 for three in 66 overs
Fall of wickets: 1-24, 2-147, 3-165
Bowling: Trent Boult 15-3-38-2, Tim Southee 13-3-42-1, Colin de Grandhomme 12-0-37-0, Neil Wagner 15-2-38-0, Ish Sodhi 11-0-46-0.