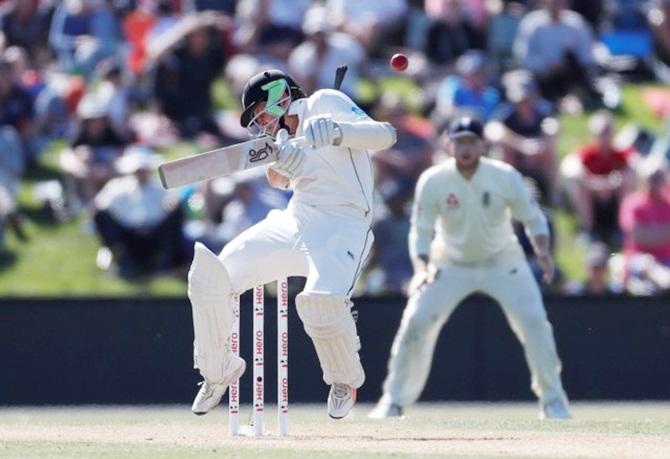 IMAGE: New Zealand batsman B J Watling is struck on the helmet by a delivery from England's Mark Wood on Day 2 of the second Test at Hagley Oval, Christchurch. Photograph: Paul Childs/Reuters
B J Watling continued to defy England as he combined with Colin de Grandhomme to resurrect New Zealand's innings and lead them to 192 for six, as the second day of the second Test at Hagley Oval ended about 30 minutes early due to bad light.
Watling was 77 not out after he and de Grandhomme had come together at 36 for five and then combined for 142 runs for the sixth wicket to drag the hosts back into the match after Stuart Broad and James Anderson had blasted the top off the innings.
Tim Southee was 13 not out after de Grandhomme had been dismissed for 72 about an hour before the scheduled end of play.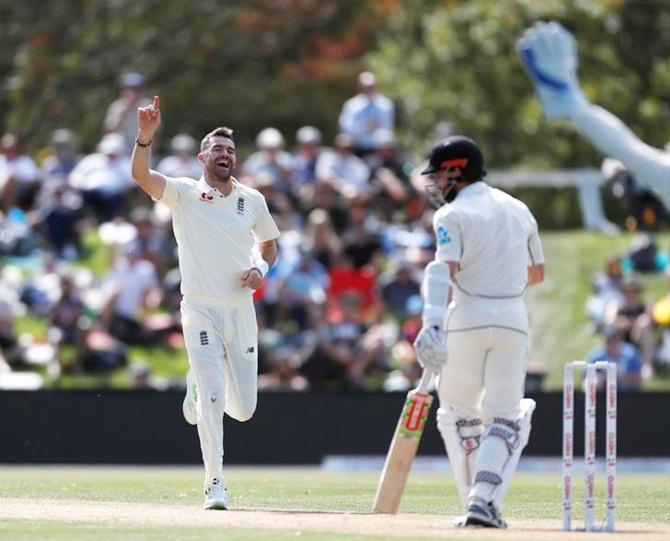 IMAGE: England pacer James Anderson celebrates after dismissing New Zealand's Kane Williamson. Photograph: Paul Childs/Reuters
England were dismissed for 307 early on Saturday; Jonny Bairstow was the last man out for a well-deserved 101.
Bairstow had rescued England's innings from 94 for five to marshal a stubborn rearguard action with the bowlers as they scored 156 runs for the final four wickets -- 95 of those coming in an eighth-wicket partnership with Mark Wood (52).
Broad and Anderson then followed up Bairstow's fifth Test century with four quick wickets to put England in charge as they reduced the hosts to 32 for four at lunch.
The hosts lost Kane Williamson shortly after the break for 22, the home captain becoming Bairstow's third catch.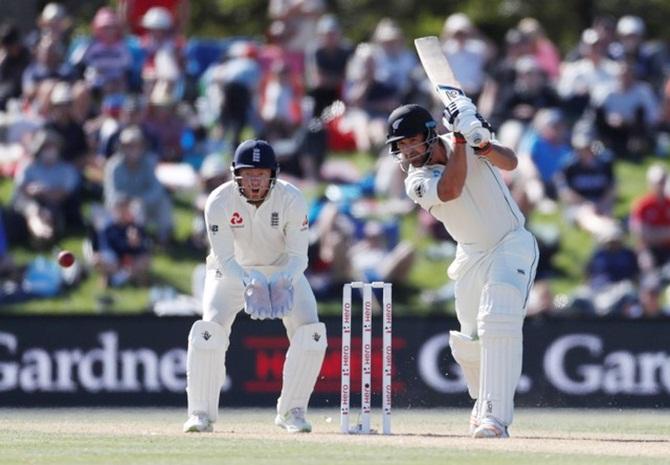 IMAGE: New Zealand batsman Colin de Grandhomme bats during Day 2 of the second Test against England. Photograph: Paul Childs/Reuters
The 28-year-old had already caught Tom Latham for a duck and Jeet Raval for five before lunch as Broad and Anderson ran riot with the new ball.
Broad took three of the first four wickets to fall, also capturing Ross Taylor for two and trapping first Test centurion Henry Nicolls in front for a duck.
Anderson and Broad, however, were less effective after lunch as the ball softened and de Grandhomme and Watling were able to fight back.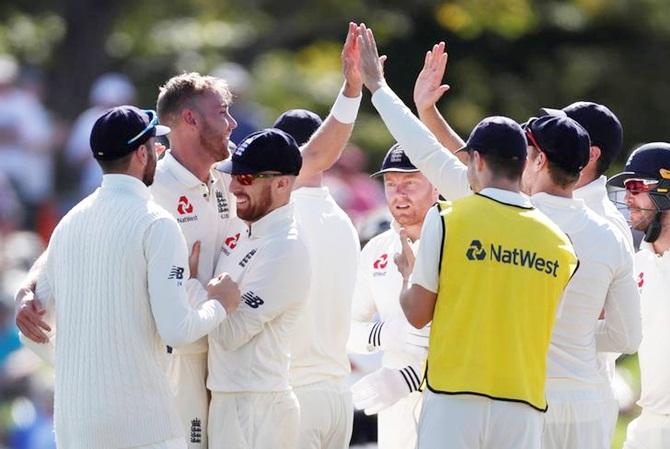 IMAGE: England pacer Stuart Broad is congratulated by teammates after taking the wicket of New Zealand's Henry Nicholls. Photograph: Paul Childs/Reuters
De Grandhomme, who had started his innings in typically quick fashion, slowed considerably after he reached his third Test half century from 75 balls as England adopted defensive tactics and bowled to a stacked off side field.
New Zealand scored just nine runs in the 10 overs before de Grandhomme slashed at a wide delivery from Broad and was caught by Bairstow.
England need a win to stop New Zealand clinching their first series against them since 1999.
The hosts won the first Test at Eden Park in Auckland by an innings and 49 runs.
Scorecard
England (1st innings): (overnight 290-8)
A. Cook b Boult 2
M. Stoneman c Latham b Southee 35
J. Vince lbw Southee 18
J. Root b Southee 37
D. Malan lbw Boult 0
B. Stokes c Watling b Boult 25
J. Bairstow c Taylor b Boult 101
S. Broad c Sodhi b Southee 5
M. Wood b Southee 52
J. Leach c Watling b Southee 16
J. Anderson not out 0
Extras: (B-9, LB-5, W-1, NB-1) 16
Total: (for 10 wickets; 96.5 overs) 307
Fall of wickets: 1-6, 2-38, 3-93, 4-94, 5-94, 6-151, 7-164, 8-259, 9-307, 10-307.
Bowling: Boult 28.5-5-87-4, Southee 26-7-62-6, de Grandhomme 17-4-44-0, Wagner 20-5-69-0, Sodhi 5-0-31-0.
New Zealand (1st innings):
J. Raval c Bairstow b Anderson 5
T. Latham c Bairstow b Broad 0
K. Williamson c Bairstow b Anderson 22
R. Taylor c Cook b Broad 2
H. Nicholls lbw Broad 0
B. Watling not out 77
C. de Grandhomme c Bairstow b Broad 72
T. Southee not out 13
Extras: (LB-1) 1
Total: (for 6 wickets; 74.5 overs) 192
Fall of wickets: 1-0, 2-14, 3-17, 4-17, 5-36, 6-178
Bowling: Anderson 19-5-43-2, Broad 14-4-38-4, Wood 17.5-3-50-0, Leach 18-3-46-0, Root 1-0-9-0, Stokes 3-1-5-0.