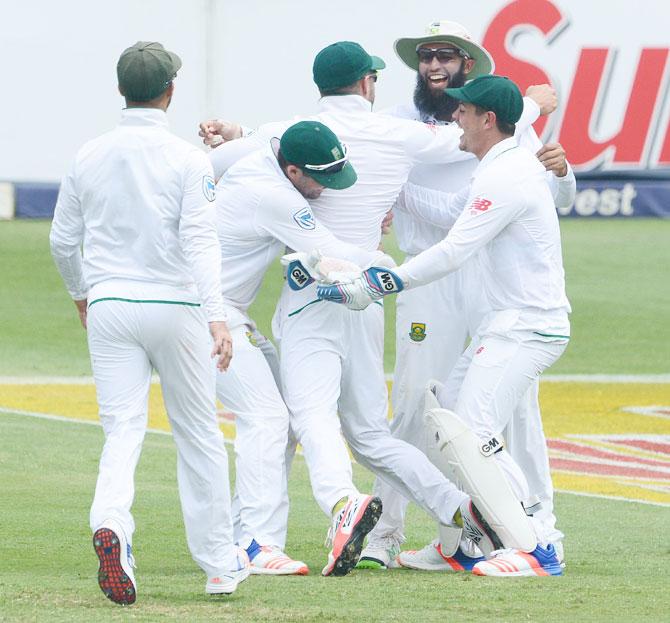 IMAGE: The South African team celebrate the great catch of captain Faf du Plessis to dismiss Sri Lanka's Angelo Mathews on Day 3 of the 3rd Test at Bidvest Wanderers Stadium in Johannesburg on Saturday. Photograph: Lee Warren/Gallo Images/Getty Images
South Africa took 16 Sri Lanka wickets in a little over two sessions to secure a ruthless victory by an innings and 118 runs in the third and final Test at the Wanderers on Saturday.
After posting 426 in their first innings on Friday, South Africa bowled Sri Lanka out for 131 before lunch on day three, before dismissing the out-gunned sub-continent side again for 177 to complete a 3-0 series sweep.
All of the home seamers claimed wickets on a pitch that had plenty of steep bounce and more than enough lateral movement to leave the Sri Lankan batsmen flailing.
Left-arm fast bowler Wayne Parnell, who took six wickets for 89 runs over the two innings, was perhaps the pick, while Kagiso Rabada (5-94) was unlucky not to pick up more with some hostile spells.
Debutant seamer Duanne Olivier (5-57) will be pleased with his return in helpful conditions, while Vernon Philander (4-63) also pitched in.
South Africa made short work of wrapping up the tourists' first innings after Sri Lanka resumed the day on 80 for four.
Philander started the rot when he induced an edge from Dinesh Chandimal to wicketkeeper Quinton de Kock with the batsman on five, before Rabada grabbed the key wicket of Sri Lanka captain Angelo Matthews (19) soon afterwards as De Kock produced a magnificent diving catch in front of first slip.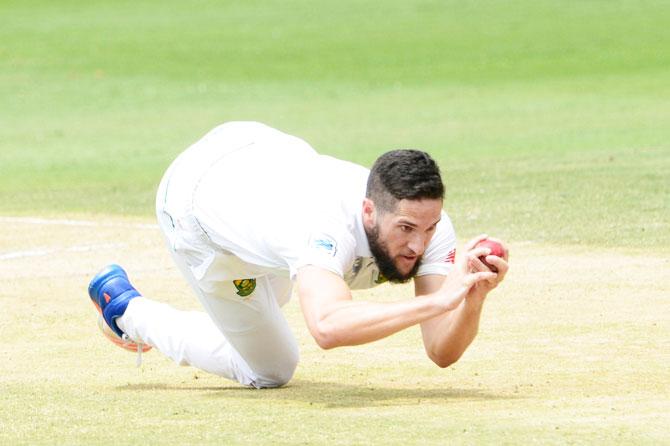 IMAGE: South Africa's Wayne Parnell dives forward to take a catch for the wicket of Sri Lanka's Nuwan Pradeep. Photograph: Lee Warren/Gallo Images/Getty Images
Olivier claimed his first Test wicket when Herath top-edged a vicious bouncer and was caught by Stephen Cook, and later removed Upul Tharanga (24), before Parnell took two wickets to wrap up the tail.
South Africa captain Faf du Plessis enforced the follow-on and Sri Lanka were quickly on the back foot again as Rabada accounted for opener Kaushal Silva for a first-ball duck.
The tourists simply could not cope with the accuracy of the home side's seamers.
The impressive Olivier snapped up two more quick wickets, with Dhananjaya de Silva (12) and Mathews (10) both caught at second slip by Du Plessis, who leapt to an almost impossible height to pluck the ball out of the air for the latter dismissal.
The game was up for Sri Lanka when Rabada rattled the stumps of opener Dimuth Karunaratne (50), who had a provided lone resistance.
Sri Lanka went to tea at 124 for six in their second innings and tried to hit their way out of trouble after the interval, but the home side proved too clinical and wrapped up the innings less than 10 overs after the restart.
SCOREBOARD (at close of play on Day 3)
South Africa: 1st innings 426 (J. Duminy 155, H. Amla 134; N. Pradeep 4-78, L. Kumara 4-107)
Sri Lanka: 1st innings (Overnight: 80-4)
D Karunaratne c de Kock b Philander 0
K Silva c de Kock b Rabada 13
K Mendis c Duminy b Rabada 41
D de Silva c Bavuma b Philander 10
A Mathews c de Kock b Rabada 19
D Chandimal c de Kock b Philander 5
U Tharanga c Elgar b Olivier 24
R Herath c Cook b Olivier 8
S Lakmal c Rabada b Parnell 4
L Kumara not out 1
N Pradeep c&b Parnell 4
Extras: (lb-2) 2
Total: (all out, 45.4 overs) 131
Fall of wickets: 1-0 D Karunaratne, 2-47 K Silva, 3-62 K Mendis, 4-70 D de Silva, 5-90 D Chandimal, 6-100 A Mathews, 7-108 R Herath, 8-126 S Lakmal, 9-126 U Tharanga, 10-131 N Pradeep
Bowling: V Philander 14-5-28–3; W Parnell 10.4-2-38–2; D Olivier 9-3-19-2; K Rabada 12-3-44- 3.
Sri Lanka: 2nd innings
D Karunaratne b Rabada 50
K Silva c de Kock b Rabada 0
K Mendis b Parnell 24
D de Silva c du Plessis b Olivier 12
A Mathews c du Plessis b Olivier 10
D Chandimal c Amla b Philander 10
U Tharanga c Duminy b Parnell 26
R Herath c Bavuma b Parnell 10
S Lakmal c Philander b Parnell 31
L Kumara c Cook b Olivier 0
N Pradeep not out 0
Extras: (lb-2 nb-1 w-1) 4
Total: (all out, 42.3 overs) 177
Fall of wickets: 1-2 K Silva, 2-39 K Mendis, 3-59 D de Silva, 4-87 A Mathews, 5-108 D Chandimal, 6-108 D Karunaratne, 7-134 R Herath, 8-177 U Tharanga, 9-177 L Kumara,10-177 S Lakmal.
Bowling: V Philander 10-1-35-1; K Rabada 12-3-50-2(w-1); W Parnell 10.3-1-51-4; D Olivier 9-2-38- 3(nb-1); J Duminy 1-0-1-0.