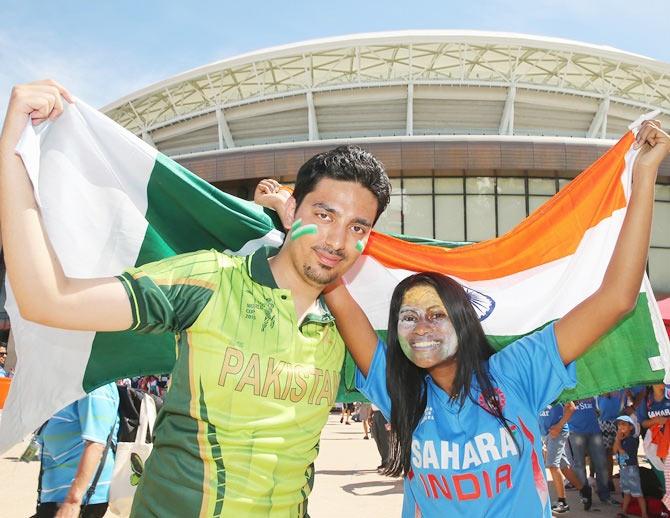 IMAGE: Pakistan and India supporters pose with their national flags ahead of a cricket match between the countries. Photograph: Scott Barbour/Getty Images
The Pakistan Cricket Board has confirmed a bilateral series with India is not happening.
PCB chief Shahryar Khan said that there will be no cricket series between India and Pakistan, adding that hopes of resumption of bilateral cricketing ties later this month are "dying" with too little time left to organise the big ticket event.
Shahryar said the Islamabad visit of Indian Foreign Minister Sushma Swaraj did not help in revival of the series, virtually hinting that the proposed series in Sri Lanka may not take place at all.
"We were hopeful that Sushma Swaraj's visit will make things better but it did not happen," he was quoted as saying by Waqt News.
"We wanted to play, but India did not respond positively. It is already too late to organise the series and we don't have time for the series anyway," he said referring to the proposed series in Sri Lanka where the teams were expected to play three ODIs and two T20 Internationals, scheduled to be held between December 24 and January 5.
The PCB said that they are mulling legal options if the series is indeed cancelled.
"We will decide our future plan after analysing our options under legal aspects and consultation," he said.
Sri Lanka emerged as the host for the series between arch-rivals after India refused to play in UAE.
According to FTP, India and Pakistan are supposed to play six series between 2015 and 2023 with four to be hosted by Pakistan.
Pakistan and India have not played a bilateral series since 2007. India stalled cricketing ties in the aftermath of 2008 terrorist attacks on Mumbai, which were blamed on militants based in Pakistan. Pakistan, however, had toured India for a short ODI series in 2012.
Reports claimed Pakistan Prime Minister Nawaz Sharif had already given the clearance for the series but the Board of Control for Cricket in India was waiting for a nod from its central government.
Last year the PCB and the BCCI signed a Memorandum of Understanding (MoU) agreeing to play six series between 2015 to 2023, subject to clearance from their respective governments.