'Indians aren't aware that ahead of the Pakistani army, it is the Pathans who are standing.'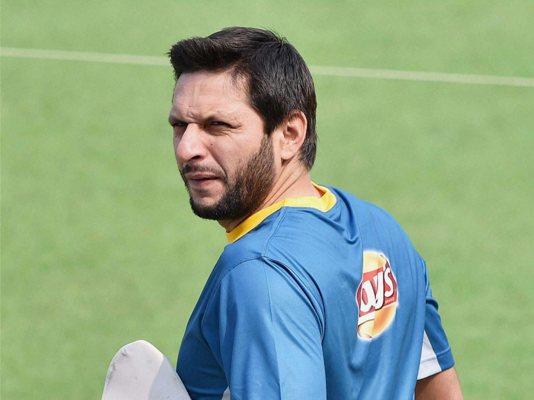 IMAGE: Pakistan captain Shahid Afridi during their practice session at Eden Gardens. Photograph: PTI.
After appealing for peace between India and Pakistan, former Pakistan cricket captain Shahid Afridi has now taken an aggressive stance with respect to strained relations between the two neighbouring countries.
Speaking at a cricket show, the all-rounder was asked to react on an article by an Indian news portal that allegedly ridiculed his tweet and stated that 'Afridi was scared of Indian Army.'
- Miandad says Indians are cowards, Modi a 'rotten egg'
"Indians aren't aware that ahead of the Pakistani army, it is the Pathans who are standing.
"The borders are all protected by the Pathans," Afridi, who himself is a Pathan said.
In a series of tweets, the 36-year old had earlier appealed for peace and called 'Pakistan a peace loving country'.
"Pakistan is a peace-loving nation, why talk about extreme measures when things can be resolved through dialogues?" the all-rounder tweeted.
- Miandad has not recovered from shock over Pak's defeat: Thakur
"Pakistan wants cordial relationship with all. When two neighbours fight both homes are effected (affected). Say No to war," Afridi added.
Afridi isn't the only Pakistani batsman to add fuel to the bursting fire of war between the two nations, earlier Javed Miandad also made provoking statements.
In an interview to Pakistani channel Samaa TV, Miandad said every Pakistani was ready for martyrdom in the war against India, and also made some rather unpleasant comments about Prime Minister Narendra Modi.
Reacting to Javed Miandad's tirade against India, BCCI president Anurag Thakur on Tuesday hit out at the former Pakistan captain, saying he was still in a state of shock over Pakistan's win-less record in both the battlefield and cricket field.