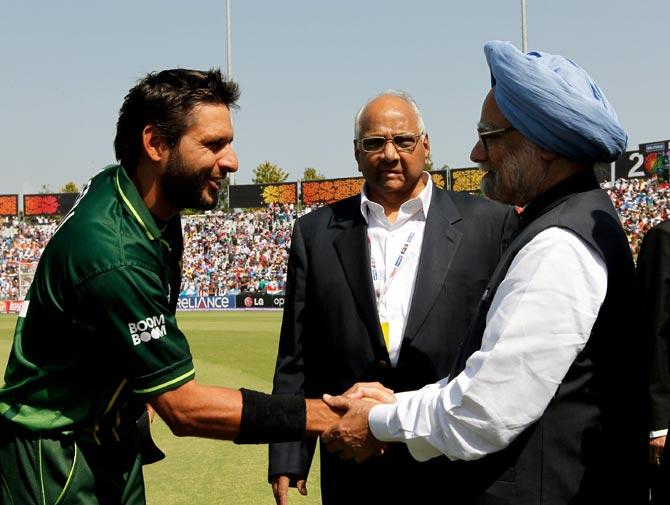 IMAGE: A file photograph of Pakistani cricketer Shahid Afridi, left, shaking hands with India's then prime minister Manmohan Singh, as then ICC president Sharad Pawar looks, during the 2011 World Cup semi-final between India and Pakistan in Mohali, on March 30, 2011. Photograph: Daniel Berehulak-Pool/Getty Images

Amid rising tensions between India and Pakistan, former Pakistan cricket captain Shahid Afridi has asked both the neighbouring countries to show some restraint towards each other and pleaded for peace in the region.
"Pakistan is a peace-loving nation, why talk about extreme measures when things can be resolved through dialogues?" the all-rounder tweeted.
"Pakistan wants cordial relationship with all. When two neighbours fight both homes are effected (affected). Say No to war," Afridi added.
The flamboyant all-rounder was heavily criticised for his remarks of 'receiving more love in India than Pakistan' during the World T20 held earlier this year.
"I've not enjoyed playing anywhere as much as I have in India. I am in the last stage of my career and I can say that the love I have got in India is something that I will always remember. We have not got this much love even from Pakistan," Afridi had said.
Afridi had later drawn flak from India after Pakistan's last game during the same tournament, when he made a comment on Kashmir.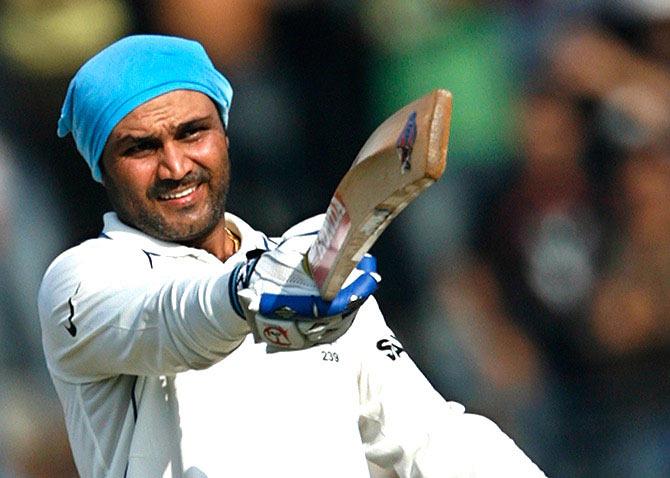 IMAGE: Former India opener Virender Sehwag. Photograph: Punit Paranjpe/Reuters.
Meanwhile, former India opener Virender Sehwag lauded India's befitting reply to the Pakistan-backed terrorists.
"Salute to Indian Army. The boys have played really well. Jai Hind," Sehwag tweeted post the surgical strikes conducted by Indian army on the terrorists camps in Pakistan Occupied Kashmir.
After the terrorist attack in Uri, the former India opener was devastated at the death of Indian soldiers.
"They had a family, they had a son, they had a daughter. They were serving our motherland. Pains to see this," Sehwag said.
India Test captain Virat Kohli had also had expressed his grief at the Uri terror attack as he tweeted a picture of the carnage at the Uri camp.
"This picture fills me with emotions I can't explain. To all the brave hearts, Jai Hind #UriAttack #Kashmir," he said.