'As a team, as a squad of 17 plus our team management, all of us are going to support Mohammad Aamir'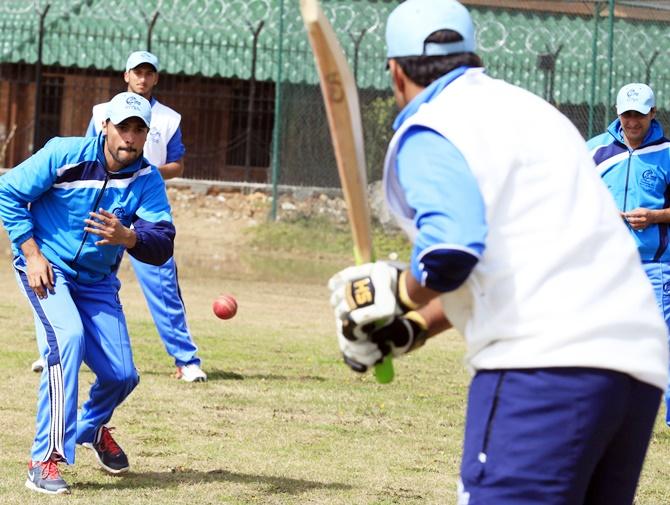 IMAGE: Pakistan pace bowler Mohammad Amir takes part in a practice session. Photograph: Faisal Mahmood/Reuters.
Mohammad Aamir is part of the Pakistan family and will always have the support of his team mates as he prepares to return to Lord's six years after the scandal that derailed his career, fast bowler Wahab Riaz has said.
The paceman spent time in jail and served a five-year ban for spot-fixing after admitting he had deliberately bowled no-balls at predetermined times in the fourth test against England at the fabled London venue in 2010.
Then 18, Aamir was rated among the world's most exciting fast bowlers before the high-profile incident stalled his progress and resulted in similar penalties for fellow accused parties, former test captain Salman Butt and fast bowler Mohammad Asif.
The 24-year-old has now returned to the Pakistan setup and the left-arm paceman will be firmly in the spotlight should he be selected for the first test of the four-match series starting at Lord's on July 14.
"Obviously he has struggled a lot," Wahab told a cricket website. "He has learned a lot of things in the past five years, he has become more strong and he wants to answer everyone with his performances, and that's what he's really looking for.
Amir's return to the national side was initially resented by some of his team mates but the paceman has enjoyed steady and growing support from the Pakistan Cricket Board (PCB).
"As a team, as a squad of 17 plus our team management, all of us are going to support Mohammad Aamir," Wahab added. "We are all behind him, we are all supporting him, whenever he needs us, however he needs us, we will be around him all the time.
"So he is not the one who is being left alone, he is a part of our family. He is the youngest part of our family, so he is like a kid to us, he's like a little brother to us, a son to most of our senior players.
"We are always here for him, we are going to support him, and we will push him up because we know what kind of capability he has in his bowling and how he can perform."
The 30-year-old Wahab said Pakistan would try to retain a positive attitude throughout what appears to be a tough series in England.
"What is in our hands is to go into the ground and have a smile on our faces," Wahab said. "We know what our goal is and we know how to achieve our goal, so we have to do that.
"We have to enjoy our cricket, we have to laugh all the time, if anyone says anything, a smile can do everything for them."