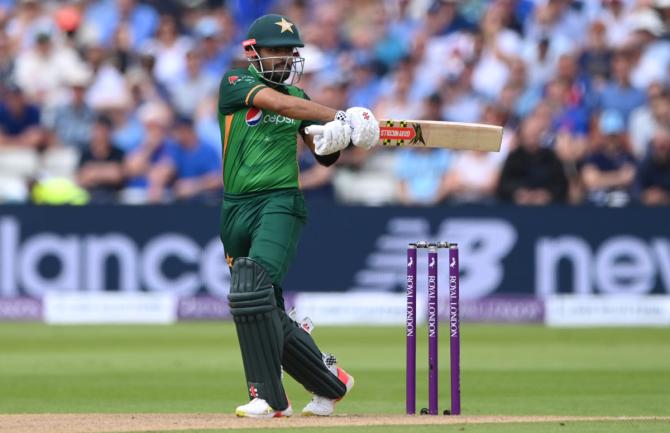 Pakistan captain Babar Azam on Thursday bagged the 'Sir Garfield Sobers Trophy' for the ICC Men's Cricketer of the Year 2022.
Azam continued to raise the bar for himself in 2022, breaking more personal records while making sure Pakistan's star shone brightly. Babar blew beyond that milestone while accumulating a huge 2598 runs at an intimidating average of 54.12. He was the only player to surpass the 2000-run barrier throughout the calendar year across all formats.
A haul of eight hundred and 17 fifties during the calendar year was Babar's best of his career to date.
The 50-over format was ruled by the 2021 and 2022 ICC Men's ODI Player of the Year, who amassed 679 runs in nine games. A consistent performer, he recorded scores of 50 or more in eight of his ODI innings. It came as no surprise that the 28-year-old was named the ICC Men's ODI Player of the Year for a second consecutive year given that he continues to occupy the top rank in the ICC Men's ODI Player Rankings.
Babar also had a fantastic year in Test cricket, despite the fact that his team's results weren't always favourable. In the longer format, he carried out the majority of the heavy lifting for Pakistan, scoring 1184 runs in just nine games.
Also the Captain of the ICC ODI Team of 2022, Babar's year as captain in the white-ball formats was especially noteworthy because Pakistan won all three ODI series they participated in, dropping just one game out of nine to Australia.
Stokes, Men's Test Cricketer of Year
Talismanic England skipper and allrounder Ben Stokes, who redefined Test cricket in 2022, was adjudged the best in the longer format.
Since taking over as England captain, Stokes has led the team to nine wins from 10 Tests, completing series victories over New Zealand and South Africa at home, beating India in the one-off postponed Test to level the series at 2-2, and hammering Pakistan 3-0 away from home -- England's best ever margin of victory in the country.
Prior to his appointment as captain, England had been beaten in each of their four most recent completed series and had won just one of their previous 17 Tests.
Personally, he scored 870 runs at an average of 36.25 and claimed 26 wickets at an average of 31.19.
England's scoring rate of 4.13 across 15 Tests in 2022 was the second highest in history and the most since Australia in 1910.
In the matches in which Stokes led England, the team struck at a game-changing 4.77 per over.
England's 506/4 on the opening day of the first Test against Pakistan was the most runs scored by any team on the first day of a Test and it came off just 75 overs.
Sciver reigns supreme in women's cricket
England skipper and star allrounder Nat Sciver also made it a double.
She was declared winner of the 'Women's ODI Cricketer of the Year' as well as the 'Rachael Heyhoe Flint Trophy for ICC Women's Cricketer of the Year'.
Sciver hit 1,346 runs and took 22 wickets in 33 matches in the year, captaining England for much of her side's home summer.
She was exceptional in the ICC Women's Cricket World Cup 2022, finishing as the tournament's third-highest scorer and playing a huge part in England's qualification for the final.
In ODIs, she scored 833 runs and took 11 wickets from 17 matches.
Illingworth, best umpire
Englishman Richard Illingworth was adjudged 'ICC Umpire of Year' for a second time. In 2019 too he was adjudged the 'Best Umpire'.
The awards:
Men's Cricketer and ODI Cricketer: Babar Azam (Pakistan)
Women's Cricketer and ODI Cricketer: Nat Sciver (England)
Men's Test Cricketer: Ben Stokes (England)
Umpire: Richard Illingworth (England)
Spirit of Cricket: Aasif Sheikh (Nepal).