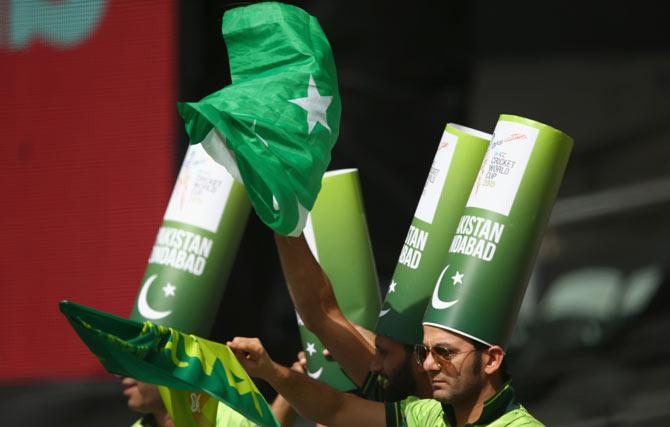 IMAGE: Pakistan cricket fans. Photograph: Mark Kolbe/Getty Images
Pakistan has expressed its displeasure over the nation getting lower share of matches in the new proposed ICC Future Tours Programme (FTP).
In the new tentative four-year FTP discussed recently at the ICC chief executives meeting in Singapore, Pakistan have been allotted just 28 Tests, the joint-lowest of the established Test sides alongside New Zealand, with only Zimbabwe, Afghanistan and Ireland playing fewer games.
In comparison, India play 37 Tests, England play 46 and Australia play 40. Even Bangladesh, still considered as one of the minnows by many, play 35 Tests -- 25 per cent more than Pakistan.
Pakistan has also got just 38 ODIs in the new FTP as it is the lowest of all teams, even lower than that of Afghanistan (41), Zimbabwe (40) and Ireland (42).
India in comparison play 61 ODIs, West Indies which are yet to qualify for the next World Cup play 62 and Sri Lanka play 48.
Pakistan also plays 38 T20Is in the four years – also the joint-lowest of the established Test-playing nations.
Even Ireland play six more T20Is, India play 61, West Indies 55 and New Zealand play 49.
Pakistan Cricket Board (PCB) chairman Najam Sethi has reiterated that they would only approve the new FTP after the dispute with India over resumption of bilateral series is resolved.
Sethi said that either India should agree to play bilateral series or pay the compensation of around $60 million demanded by Pakistan in the ICC Disputes Resolution Committee.
Former chief executive of PCB Arif Ali Abbasi was upset at the snub Pakistan got in the proposed FTP.
Abbasi felt the ICC are biased against Pakistan.