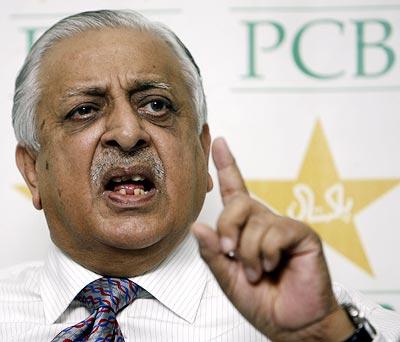 Governor of the Punjab province Salman Taseer has asked Pakistan president Asif Zardari to direct the Pakistan Cricket Board (PCB) to boycott its 2011 World Cup matches in India.
A powerful political figure and an influential businessman, Taseer has sent a letter to Zardari asking him to direct the PCB to shun its World Cup matches in India.
"Taseer, in his letter to President Zardari, has suggested that the PCB should pressurise the International Cricket Council to schedule its World Cup matches at Dubai instead of playing them in India," a PCB official said.
President Zardari is also the chief patron of the board and directly appoints the PCB chairman.
The PCB official said Taseer, who belongs to the ruling Pakistan Peoples Party, felt if Pakistan is forced to play in India, it could make things difficult for the players, officials and the fans.
Taseer is of the view that given Pakistan's relations with India, fans might struggle to get visa, while the players could also face a very hostile atmosphere in India.
"Taseer has suggested that the President ask the Board to tell the ICC that it must allow Pakistan to play its matches of the World Cup in Dubai where it would be easier for Pakistani people to travel and gets visas," the official said.
Incidentally, PCB chairman Ejaz Butt had squarely blamed the Punjab government for the lapse in security that led to the attack on the Sri Lankan team in Lahore on March 3, prompting the ICC to shift the World Cup matches from Pakistan for security reasons.
Butt told a press conference on Thursday in Karachi that if Pakistan is drawn up to play any matches in India then it would have to first seek government clearance.
"If we don't get clearance from our government to play in India then Pakistan might have to pull out of the World Cup disrupting it badly," Butt said.
Image: Pakistan Cricket Board chairman Ejaz Butt
Photograph: Reuters