'Push-up celebration promotes a negative image of Pakistan and needs to be revisited.'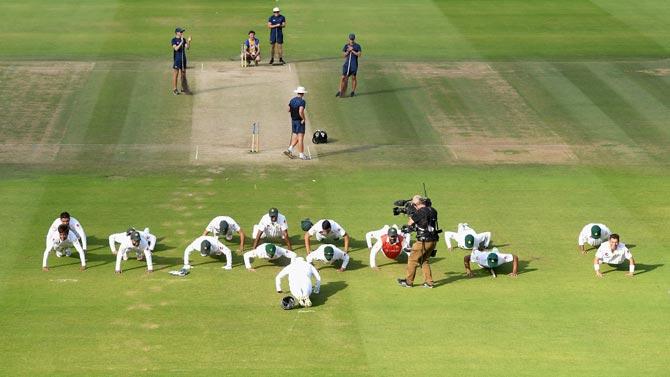 IMAGE: The Pakistan team perform push ups in celebration after winning a Test match against England at Lord's on July 17, 2016. Photograph: Gareth Copley/Getty Images
A ruling party lawmaker on Wednesday criticised Pakistan cricketers for promoting a negative image of the country by celebrating with push-ups on the field after winning a match, prompting the Pakistan Cricket Board to discontinue the practice.

Pakistan Muslim League-Nawaz Senator Rana Afzal Khan raised the issue during meeting of Senate Standing Committee on Sports.

The Express Tribune reported that Khan said the players should perform "nafl prayers or do sajdas" rather than push-ups.

He said cricket is "a gentleman's game" and the act of doing push-ups does not reflect the calibre of the sport.

"Push-up celebration promotes a negative image of Pakistan and needs to be revisited," Khan said.

PCB official Najam Sethi assured the lawmaker and the committee that players no longer will celebrate victories with push-ups.

"It only happened during the England tour and won't happen again," Sethi said.

Push-ups became a popular mode of celebrating personal feats among Pakistani players during their tour of England following their training camp with the Pakistan Army.

Push-ups to celebrate a landmark was started by skipper Misbah-ul-Haq after he completed his century in a Test match against England in July. After that, the entire Pakistani team did the same after their Test win at Lord's.