The entire world is waiting with bated breath in anticipation of his coveted 50th Test ton but Sachin Tendulkar feels that in his illustrious career spanning over 21 years, there is lot more to talk about the game than a particular milestone.
"There is much more to Test cricket than my 50th Test ton. This is not the only thing. I always focus on playing well for my country and presently I am focusing on winning the series against the New Zealand," Sachin said on the penultimate day of the second cricket Test against New Zealand in Hyderabad.
"I don't open the newspapers (to see what's written about me). I don't read them and you can see them hanging at the stand outside my hotel room. I focus on my game only. Last 21 years have been really special for me and I throughly enjoyed my joyful journey," said Tendulkar, who managed to score 13 runs in the first innings.
On Harbhajan Singh's fairytale run with the bat in the ongoing three-Test series against the Kiwis, where the feisty off-spinner became the first number eight batsman in Test cricket to slam back-to-back centuries in a match, the maestro said, "I have always maintained that Harbhajan can score century and it was long due."
"When he scored his first century in Test cricket at Ahmedabad, I told him what took you so long to score a hundred. You have the gifted power as when you hit the ball, it covers a long distance. He is good with the bat," said the iconic batsman, who has 46 ODI hundreds to his name.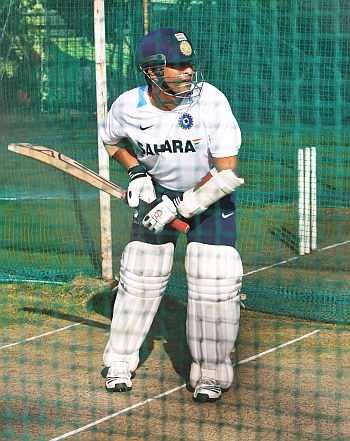 Harbhajan slammed unbeaten 111 and was involved in a record 105-run partnership for the 10th wicket with S Sreesanth to help the hosts take a first innings lead of 122 runs here at the Rajiv Gandhi international stadium.
In the first Test at Ahmadabad, the 'Turbanator' scored his maiden century and a fifty.
Tendulkar said, on the fifth and final day, India would look to get New Zealand's remaining six wickets as early as possible.
"Today, towards the end, we needed couple of New Zealand's wickets to develop pressure on them before the final day. We managed to get one (Jesse Ryder) but another wicket would have been good. Nevertheless, we are in a good situation. There will be some pressure on the visitors especially in the morning session.
"Our focus would be to get remaining six New Zealand wickets as early as possible before we start our chase. We had a crucial partnership between Harbhajan and Sreesanth which helped us a lot," said Tendulkar. Tendulkar, the highest run-getter in both Test and ODI cricket, also praised New Zealand's fighting abilities and said they are performing like a unit.
"They have really played well. At the international level, you expect competition from the opponent and they are competing like a unit."
When asked about the Test opening pair of Virender Sehwag and Gautam Gambhir, Tendulkar said, "both are world class players and performed consistently with the bat."
"They have on many occasions made things easier for middle-order. Everybody is chipping in and doing their bit whether it's the batsmen or bowlers," he said.
Tendulkar also praised chief coach Gary Kirsten, who has proved to be a great man-manager and motivator and whose calmness in the dressing room has worked wonders for the team.
"I am enjoying my time with Gary. His practice sessions are just fabulous as he gives you plenty of balls to play during nets. He has great amount of impact on the team," said the ICC cricketer of the year.