'You don't want to compromise too much on the toss factor. You want to completely take that away. I like the idea of an early start, but don't know if it is possible. The broadcasters will decide.'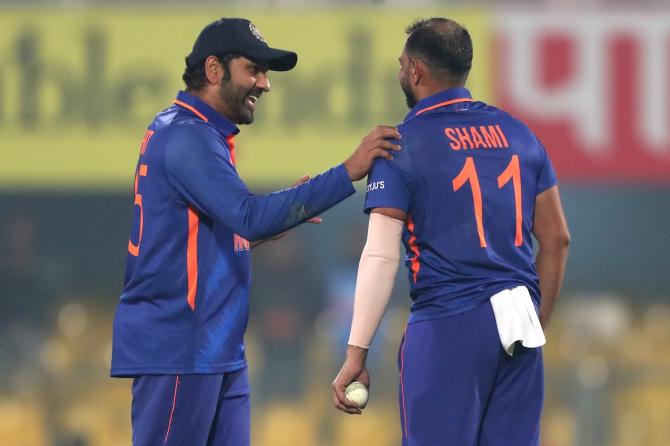 Rohit Sharma has backed Ravichandran Ashwin's idea of an early start in the ODI World Cup to negate the dew factor. India's captain does not want any team to gain undue advantage in a major event.
It becomes difficult for the bowlers to grip the ball when dew covers the field in the evening and makes batting easier for the chasing team.
Ashwin had proposed an 11.30 am start for the World Cup, to be played in India in October-November. In India, usually, matches start at 1:30 pm.
However, the broadcasters who pay big money to get the media rights are expected to have the final say on the subject.
"It is a good idea. It is a World Cup right. You don't want to compromise too much on the toss factor. You want to completely take that away. I like the idea of an early start, but don't know if it is possible. The broadcasters will decide (laughs)," said Rohit, ahead of the first ODI against New Zealand in Hyderabad on Wednesday.
"Ideally you don't want to see teams getting advantage of dew. You want to see cricket being played without one having an advantage of batting under lights with dew around."
India's captain also confirmed that Ishan Kishan, who sat out of the series against Bangladesh despite scoring a double ton in his last ODI innings, will be accommodated in the middle-order.
"Kishan will be batting in the middle order and I am glad he could get a run here after that fine knock in Bangladesh," he said.
Mohammad Siraj, Mohammad Shami and Umran Malik were India's preferred pace trio against Sri Lanka. Add leggie Yuzvendra Chahal to the playing eleven and tail looks a lot longer.
Rohit said Shardul Thakur has been brought back to the squad to address that issue but it is one of the areas to work for the team ahead of the World Cup.
"I don't want to compromise on anything, honestly," he said, when asked about playing seven batters and four specialist bowlers.
"You want to play your best eleven at the end of the day. Number eight and nine is going to be a challenge for us, someone who can bat at that point. That is why we got Shardul in; he can give us that edge at number eight.
"That is one aspect where we can be challenged if we lose early wickets or in the middle order. It is something that can worry you. But having said that if you have good seven batters who can do the job for us in any situation is then you can look at playing combinations as well.
"We will be playing (World Cup) all over India in different conditions. We need to assess everything. Whether we can play with three spinners. Luckily we have got spinners who can bat – Axar (Patel), Washy (Washington Sundar), Shahbaz (Ahmed)and Jaddu (Ravindra Jadeja) .
"Those are the guys that can give us depth that we are looking for but not to forget the two quality wrist spinners also that we have," he said, referring to Chahal and Kuldeep Yadav.
Rohit raved about Siraj ahead of the pacer's maiden ODI at his home ground, saying the pacer has improved massively in the last two years across formats. He was also the standout pacer against Sri Lanka.
"He is a very important player for us. He has improved his line and length a lot in the last two years. Now we are getting to see his outswing. He was not known for his swing but he did that against Sri Lanka. That is very good for the team if he can do that with the new ball consistently.
"He understands his bowling a lot better now, which is a big thing in my view. He also knows what the team wants from him. All in all, he has become a very good bowler for us. He can take wickets in all phases and we need bowlers like him. We need to manage him and keep him fresh for the World Cup as well upcoming Tests against Australia."
Rohit added that New Zealand will post a big challenge for his team.
"It is a great opportunity and great opposition. We can challenge ourselves to achieve what we can as a team. They are coming from a good series in Pakistan.
"At the same time it is important not to look too much into the opposition. They keeping changing but your planning and execution should not change. That has been conveyed to the team members. Last series was a perfect example and we played fearless cricket."