Michael Dalvi, who played first class cricket for Delhi, Tamil Nadu and Bengal, once hit a century against a fiery Malcolm Marshall and the West Indies.
At 77, he has a razor sharp memory, a ready wit and is a rare cricketing treasure.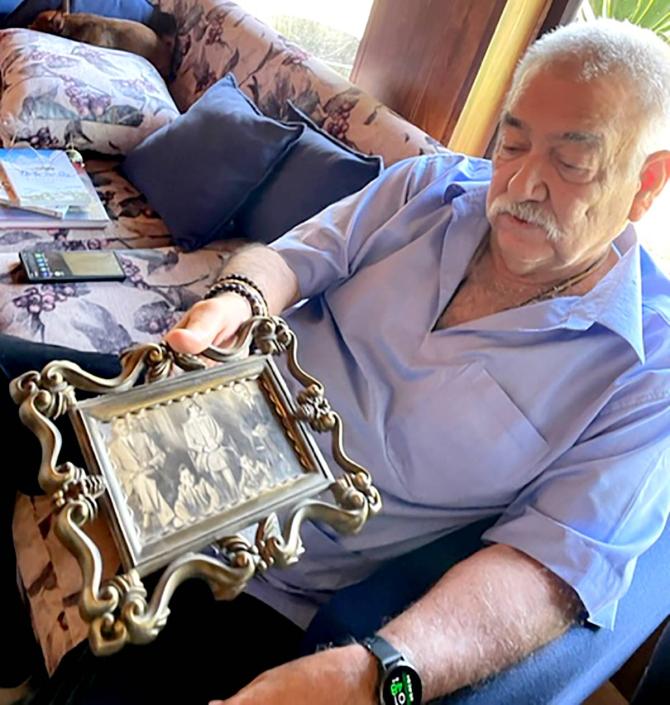 Seated with two dogs on either side is Michael Dalvi, a former Ranji Trophy cricketer who smashed 112 runs against the lethal attack of Malcolm Marshall in Jamshedpur 44 years ago.
Marshal took 11 wickets in both the innings of the match.
Dalvi was the highest scorer, batting at number 4 for the East Zone against Alvin Kallicharran's West Indian team that toured India in 1978.
"The ball was coming in at great speed and my attempt was to get the bat in line with the ball. The speed would just take it to the boundary," chuckles Michael Dalvi, 77 who played First Class Cricket for Delhi, Tamil Nadu and Madras between 1976-1982.
He may have scored the highest runs in that match, but Dalvi was dropped from the team in the next match.
The cricketer, a brilliant raconteur with a string of fascinating stories, has been part of the 14 member Indian squad for seven-eight test matches, but never got the opportunity to be part of the playing XI.
"I was in the best team that never played for India," he says with dry humour.
"I was a good fielder which was a big plus for me in those days," says Dalvi, sitting on a couch at Mike's Forest Retreat, a charming hotel that he runs on the outskirts of Dehradun.
The resort's walls are covered with photographs and memorabilia dedicated to the Indian Army, Cricket, Doon School -- his alma mater -- and fishing.
A few weeks after spending a memorable afternoon with him talking about his father Brigadier John Dalvi, a hero of the 1962 War -- I discovered V Ramnarayan's book Third Man which had this to say about the cricketer:
'Solid in defence, Mike played very proper cricket, with the right proportion of aggressive shots, which he played all round the wicket. He was a brilliant fielder patrolling the covers. His distinguished career included impressive innings for zone teams, one of them a hundred against the touring Englishmen.'
On Mike not being picked in the playing XI, Mr Ramnarayan wrote: 'Distinctly unlucky to miss the bus, he had the consolation of fielding in a Test as a substitute.'
Michael Dalvi was encouraged by his army officer father to play cricket. A brilliant field commander who fought in the 1962 and 1965 wars - Brigadier Dalvi was a prisoner of war in Tibet for seven months (you can read about the brave officer here.
Michael travelled to various stations where his father was posted -- Wellington, Pune, Meerut, Lucknow, Kashmir...
Brigadier Dalvi had fixed a ball to a string suspended from the ceiling so that a young Michael could practise his shots.
"I was playing cricket when my dad was in the fauj. I played for Delhi when I was a student in St Stephen's College," says Dalvi.
St Stephen's presented him the college colours a few years ago that occupy a place of pride in the room he is sitting in.
After his graduation, one of his teachers in St Stephen's Mr Pearson, who had been a director of a tea company in then Calcutta, set up an interview with cricketer Derrick Jeffers, captain of the Madras state cricket team.
"I reached Madras after a three day train journey. The interview panel included Englishmen who played for Madras. They were all ex-army and knew my father. I was really grilled by the Englishmen and a Mr Bhatt."
Mike played for around a decade for Madras and Tamil Nadu. He got a job with Binny Textiles in the city.
He subsequently joined a tea company in Calcutta for 12-13 years during which he played cricket for Bengal.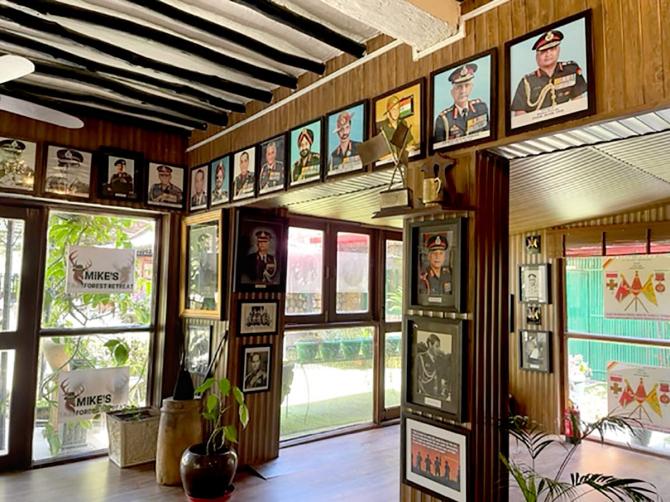 In a playing career lasting 18 years, he played around 100 matches for which he receives a pension of around Rs 52,000 from the Board of Control for Cricket in India.
"You can get an expensive whiskey for that," he says with a twinkle.
Going back to those years, giving fascinating glimpses of cricketers' lives of those times, he says, "The first 3-day match we played, we got Rs 10 per day -- 30 rupees! We used to travel third class for Ranji Trophy matches and stayed in the railway waiting room."
"Our food allowance was Rs 7," says Mike, a brilliant narrator of his cricketing past, replete with gestures, sound effects and voice modulation.
"Today's cricketers travel with their own chefs!"
With three hundreds against New Zealand and the West Indies, he played the University series against cricketing legend Gary Sobers who went on to become a good friend and played golf with Dalvi whenever in Delhi.
Remembering the deadly West Indian bowling attack, he remembers some of the bowlers he faced -- Gary Sobers, Wesley Hall, Charlie Griffith...
"One bowler would be taken off and the next was faster than the last."
"When you entered the ground to bat, Derek Murray, the West Indian wicket-keeper, was almost near the boundary line, he used to stand so far back from the stumps!"
In those days, there were no thigh guards, elbow guards or chest guards; cricketers just wore the abdominal guard.
"I've never worn a helmet. I once went to play a match between old boys versus present at Doon School and they gave me a helmet. I just couldn't lift my head up in that," he laughs.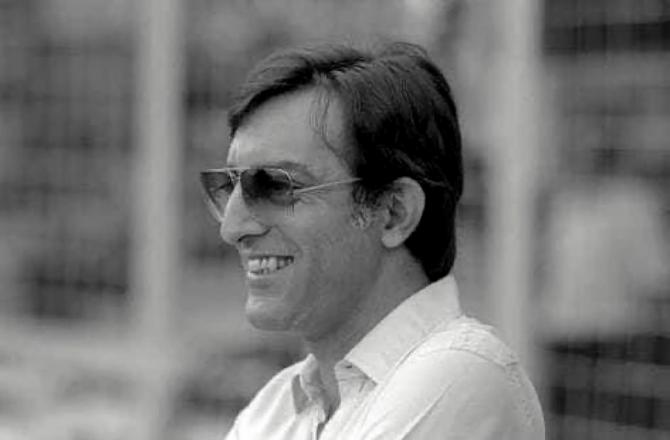 His cricketing contemporaries in that era were Bishan Singh Bedi, Mansur Ali Khan 'Tiger' Pataudi, Abbas Ali Baig, Gundappa Vishwanath, S Venkatraghavan, E A S Prasanna among others.
"Tiger Pataudi was a natural -- wah! He was a great fielder," he says in appreciation of India's youngest captain. "He studied right here in Dehradun -- at Welham Boys School."
"Vishy was a genius. He had a great eye. He could see the ball and would make up his mind very fast."
"He saw the ball really, decided early and so he played the ball late."
"Venkat was very fit with a never say die attitude. He never gave up."
"He was short tempered. Thank god he used to abuse me in Tamil which I didn't understand much!" he says with a hearty laugh, reminiscing about mates from his time.
"Pras (Erapalli Prasanna) lives in Bengaluru," he says, and picks up the mobile phone to call him.
"I have a photograph of all the spinners who were my contemporaries. I played against Bishan when I was in Delhi University."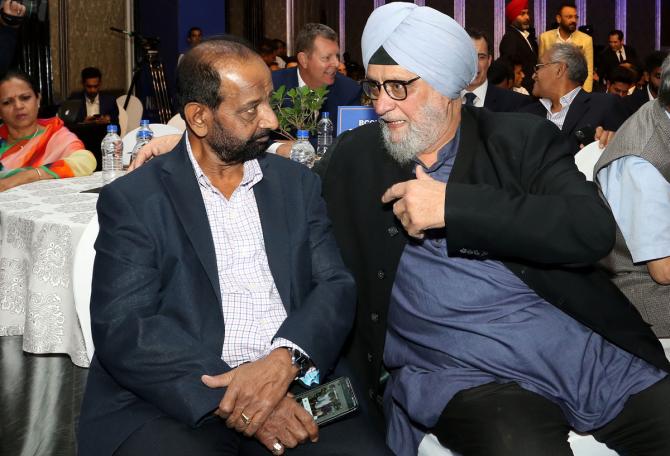 From his bottomless sack of stories, he pulls out another gem that reveals the mettle of Bishan Singh Bedi, his captain who was part of Indian cricket's legendary spin quartet with Venkatraghavan, Prasanna and Bhagwat Chandrasekhar.
"In 1976, there was a flood in Madras and the water had entered the ground floor of my bungalow that had been provided by Binny's, the textile company that I worked for at that time," remembers Mike.
"My furniture, clothes, cricket gear was all gone."
"I got a phone call on my landline from Chepauk stadium where India was playing New Zealand. The voice on the other end told me that Bishan wanted to speak to me."
The captain came on the line and said he wanted Mike to be in the team's 14.
Mike did not have a kit, but managed to reach the stadium. He wore some other player's pants that were too short and went on to field for India.
After the match when the players were doing a post-mortem of the day's play, Bedi came to thank Mike for showing up despite the floods and without a kit.
"He told me, 'Mikey, I have something for you,' and what he did tells you about the quality of the man."
"He gave me a Duncan Fearnley cricket bag. I opened it and found a brand new bat, pads, gloves -- everything a cricketer needs was in there."
"I was choked. Bishan said, 'You lost all your equipment and this is for you'.
Overwhelmed with memories, Mike Dalvi once again picks up his phone and calls Mr Bedi, this time. The affection he feels for his skipper is clearly visible.
Mrs Bedi answers.
"How is my skipper?" he asks in his jolly voice and invites the couple for a holiday at his hotel in Dehradun that he has been running for the last ten years.
The decades haven't faded the camaraderie of old times.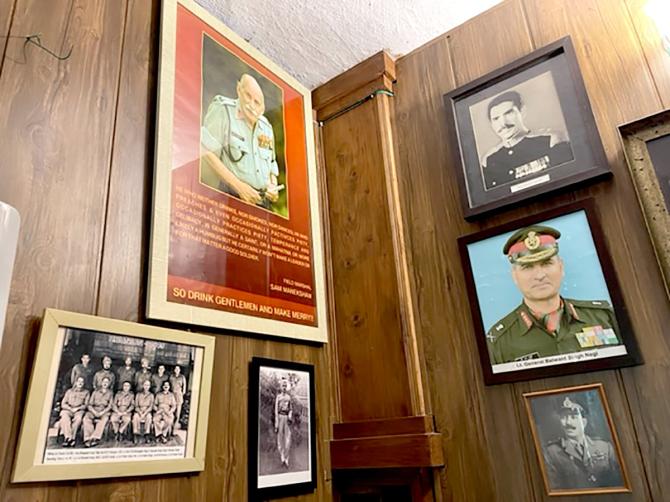 A purist of the game of cricket, Mike Dalvi does not watch the IPL. He does not like the 20-20 format; and watches the 50 overs format 'only if there is nothing better to do.'
"I only watch 5 day cricket," he says.
When trials were taking place for the first cricket World Cup in 1975, Mike played in both the trial matches.
He played with a broken hand and was the highest scorer in both the 60 over matches.
After his cricketing days drew to an end, he bought land in Dehradun in 1988 which houses his home and Mike's Forest Retreat (formerly known as Vishranti). The vast area used to be a jungle then and continues to have a rich and diverse cover of Sal and other trees. Sakshi Singh Rawat and Mahendra Singh Dhoni's wedding took place here.
The resort has an aviary, organic farm and several fruit bearing trees.
Mike says the fauj is in his blood and is a repository of stories of India's military history. The walls of the hotel are a veritable museum dedicated to the country's soldiers -- one of the best you would ever see -- created by a sportsman who has done his bit for the glory of Indian cricket.
Feature Presentation: Aslam Hunani/Rediff.com