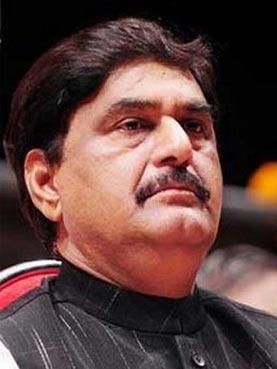 Bharatiya Janata Party leader Gopinath Munde has become the latest senior politician from Maharashtra to evince interest in being part of Mumbai's cricket administration.

A local club on Tuesday sent a letter to the Mumbai Cricket Association (MCA), saying the former Deputy Chief Minister of Maharashtra would represent it at the biennial elections of the association's office-bearers scheduled on October 18.

However, it's not known whether Munde, deputy leader of BJP in Lok Sabha, would be contesting the elections after his name was forwarded to MCA by Stylo Cricket Club from Mazgaon as its representative at the polls.

The interest in the elections shot up on Monday when the Mazgaon Cricket Club sent a letter to the association, saying Maharashtra Chief Minister Prithviraj Chavan, who belongs to Congress, would represent the club, fuelling speculation he would contest against former MCA chief and NCP leader Sharad Pawar for the president's post.

Incidentally, both these clubs are owned by the same person, according to MCA sources.

Pawar's name has already been sent to the MCA for the elections as a representative of another club.

Union Agriculture Minister Pawar, a former president of the Board of Control for Cricket in India and also the International Cricket Council, has shown interest in contesting the election, according to incumbent MCA president Ravi Savant.

"He (Pawar) has declared he will be contesting the election. Anybody can contest if he has got proper representation of a club, and he has got it.

"Recently, he changed his address, because of the technical objection raised last time. He has expressed his wish to me and it is quite likely that he will contest," Savant had said earlier.

The presence of these three big politicians, from different parties, has livened up the election scene.

According to rules, a candidate needs representation of an MCA-affiliated club to contest polls. Tuesday was the last
date for clubs to prepare representative voter list.
The MCA election dates were announced after a long delay and the last date for nomination is October 11. The papers would be scrutinised on October 12 and withdrawals, if any, would take place on October 15.
Former India captain Dilip Vengsarkar is also one of the voters in the elections along with his wife Manali.
While the ex-chief India selector would be representing the club for which he had played in his career, Dadar Union, Manali is to represent her husband's cricket foundation, according to MCA sources.
Also on the voters' list are former Maharashtra Chief Minister Narayan Rane, who is the Industries Minister in the government headed by Chavan, representing Eleven Seventy Seven, and Shiv Sena chief Udhav Thackeray of Merry Cricket Club.
Thackeray's son Aditya is another voter in the elections, representing Young Friends, along with Maharashtra Minister of State for Housing and Poverty Alleviation, Sachin Ahir (representing M B Union), and Brihanmumbai Municipal Corporation's standing committee chairman Rahul Shewale, giving the elections a distinct political tinge.
Queried about the presence of a number of politicians, including Pawar, as voting members in the elections, MCA president Savant said, "Politicians are required to improve cricket infrastructure. For improvement of cricket, you need cricketers. It depends on what you need at a particular time."
From two decades - from 1992-93 to 2012-13 till Savant took over when Vilasrao Deshmukh died in office - MCA has been headed by politicians.
Asked about this trend, Savant said, "When Sharad Pawar came a man was needed who could help us get more grounds and he fulfilled that. I don't know why he's keen to return."
Pawar was at the helm of MCA for a decade till Deshmukh took over.
Savant also hopes that the MCA elections would not turn into a political fight.
"Political fights shouldn't happen. In BCCI also so many politicians are there but they are very united (for the cause of cricket)," he added.